Google has dominated search for decades. But since Microsoft integrated AI functionality with OpenAI's ChatGPT, Microsoft Bing has seen dramatic growth in users.
So, Google vs. Bing—which search engine is better? And how are they different in terms of user experience and SEO?
We used Semrush data to analyze the market share and traffic trends of Google vs. Bing. Read on to find out which search engine is better for you and how they differ.
A Short History of Bing and Google
First, a bit of history.
Let's take a look at how each search engine started out. And how they've developed over the years. 
Google
While pursuing their PhDs at Stanford University in 1998, Larry Page and Sergey Brin started working on Google—then named "Backrub"—from their dorm rooms. Their mission was to organize the vast amount of information on the internet and make it accessible to users. 
While there had been attempts at making basic search engines, Google was different.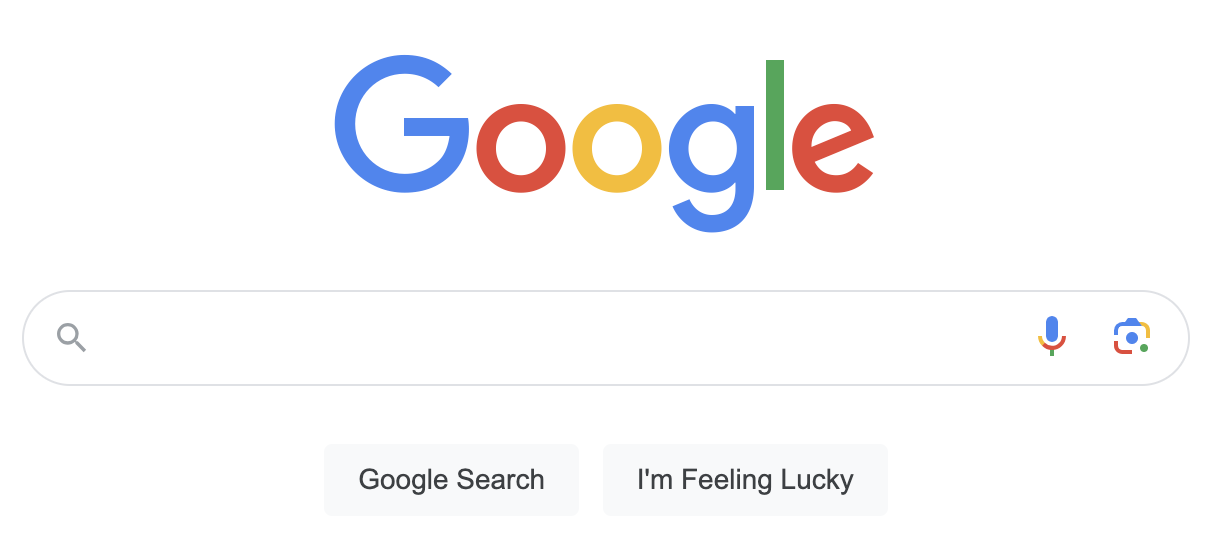 Google's search algorithm, PageRank, was the first to consider a webpage's backlinks to assess its quality and deliver highly relevant search results.
Over the years, Google grew exponentially. Not only as a search engine but in many other areas. Such as business tools (Google Docs), email (Gmail), cloud storage (Google Drive), navigation (Google Maps), translation (Google Translate), video sharing (YouTube), browsers (Google Chrome), and much more.
Also, Google recently launched a generative artificial intelligence chatbot named Bard.

The tech giant also unveiled a new generative search experience with AI-powered answers. The technology is still under development, but it will be interesting to see how the search engine evolves in the near future.
Bing
Microsoft, a tech giant founded in 1975, introduced Bing in 2009, replacing its previous search engine, Live Search.

Bing came with new features, such as search suggestions and related queries, to provide more intuitive and relevant results.
Over time, Microsoft consistently worked to improve Bing's performance, speed, and user experience. Redesigns and technological advancements were part of their strategy to compete in the search engine market effectively.
Bing is currently the second most popular traditional search engine in the world. Microsoft has been investing billions of dollars in ChatGPT since 2019.
They integrated AI technology into their search engine in 2023.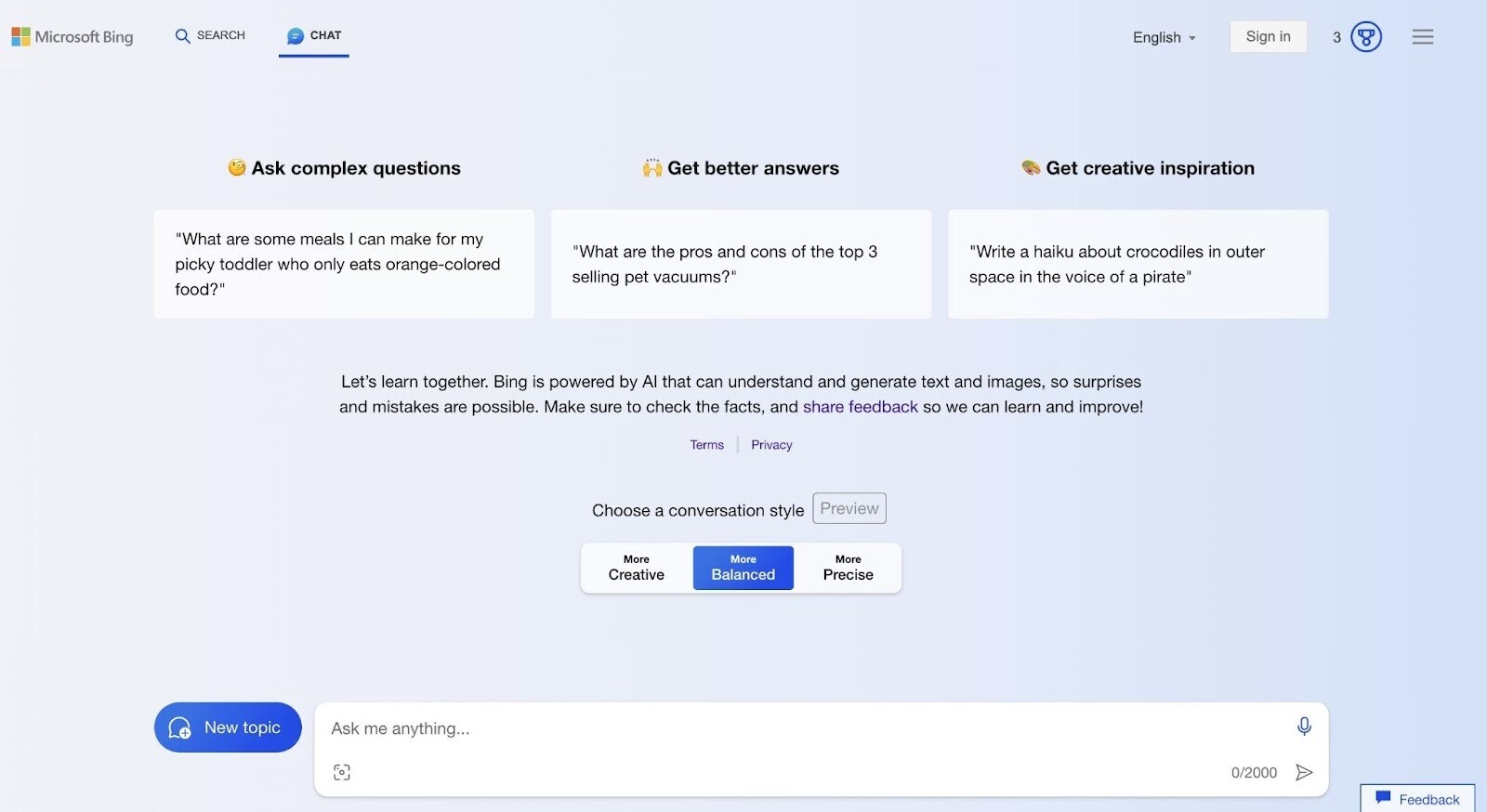 This gave Bing a big upgrade with AI-enabled features for easier and faster search.
Bing vs. Google in 2023: Market Share & Usage
The Semrush Market Explorer tool shows that Google is clearly the market leader. In fact, Google.com accounts for 95.87% of the global search market.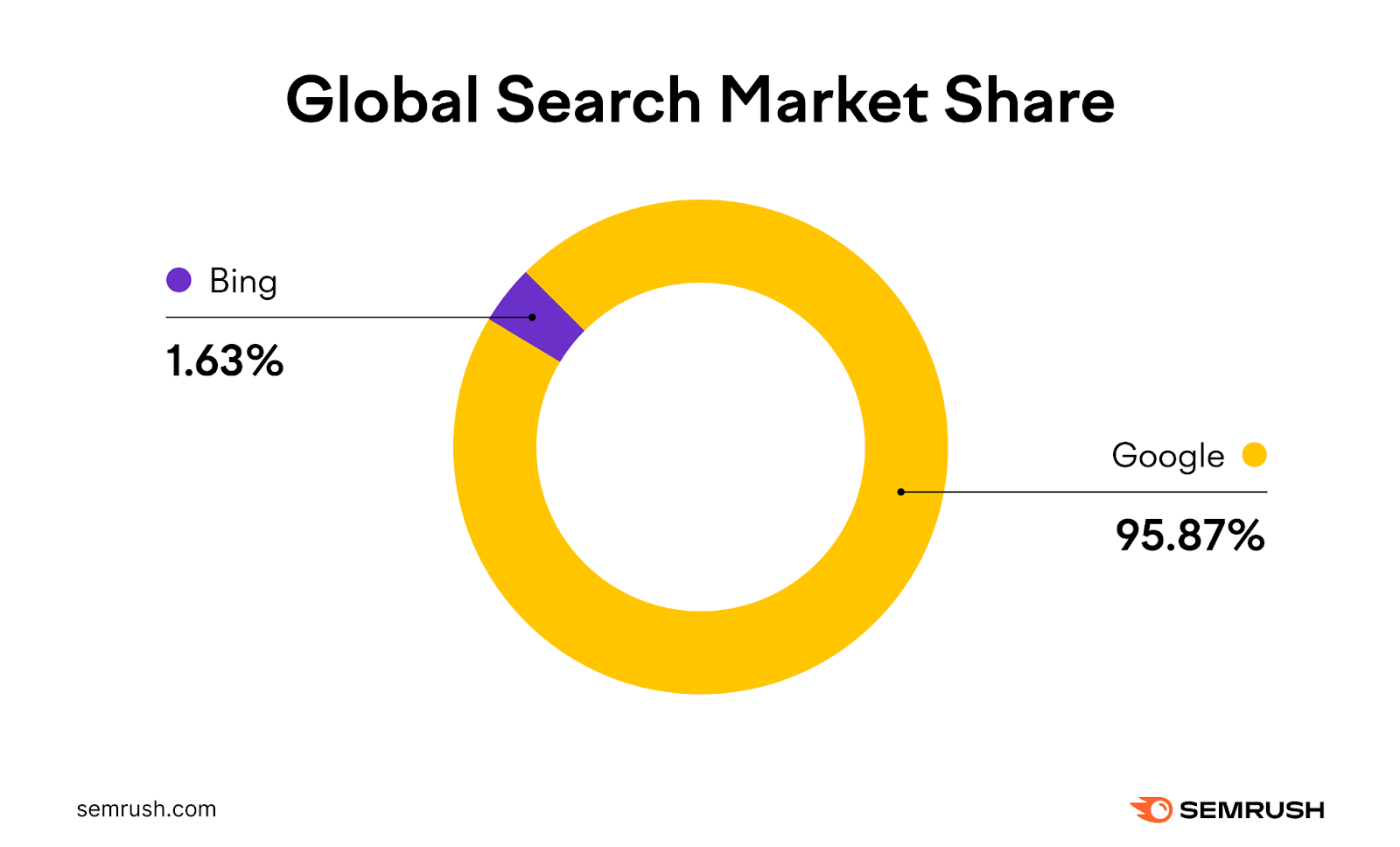 Bing comes in at 1.63%, and Yahoo (also powered by Bing) has a share of 2.51%.
Pro tip: Compare your brand with your competitors' brands using Semrush's Market Explorer.
How Many People Use Bing vs. Google
Microsoft's search engine was seeing significant growth in 2023.
Bing reached 100 million daily active daily users a few weeks after launching their new AI chatbot powered by Open AI's GPT-4
In fact, according to Traffic Analytics, Bing got 660.5 million unique visitors in June of 2023.

Google is still in the lead with 8.2 billion unique visitors over the same time period.

Nonetheless, Bing's AI integration makes the search engine a real competitor to Google. Even electronics manufacturer Samsung briefly considered switching the default search engine on its phones and products from Google to Bing.
Pro tip: Learn more about your audience using the Semrush Traffic Analytics tool. Find out where your audience is from, which pages they visit the most, and more.
The latest data shows that Bing's growth has slowed now that the AI hype has somewhat calmed down.
Nonetheless, Bing may be forcing Google to up its game. And is accelerating the pace of AI adoption in search.
Bing SEO vs. Google SEO: Comparing Search Results, Algorithms, & Ranking Factors
Bing and Google have some differences in how they produce and display search results.
Here is a detailed comparison of the two search engines in terms of search results, relevance, and ranking factors.
Bing vs. Google: Comparing Search Result Pages
Google and Bing search results pages are similar but not entirely the same:
Bing and Google both show a lot more than just external links. They include a bunch of rich features, such as image carousels, snippets, and answer boxes.
Google's featured snippet is known as "Q&A" on Bing
Bing introduced an update called the "whole page algorithm," which presents the results in a highly visual, infographic style
Bing and Google SERPs Deep Dive
Search engines personalize the search engine results pages (SERPs) for each query and user. So, we can't say that all Google searches look like X or all Google searches show Y. 
So, let's take a look at some examples. 
A search for "chocolate cake recipe" on Google shows searchers:
Search suggestions
Recipes with pictures, ratings, time to cook, and a list of ingredients
Links to more recipes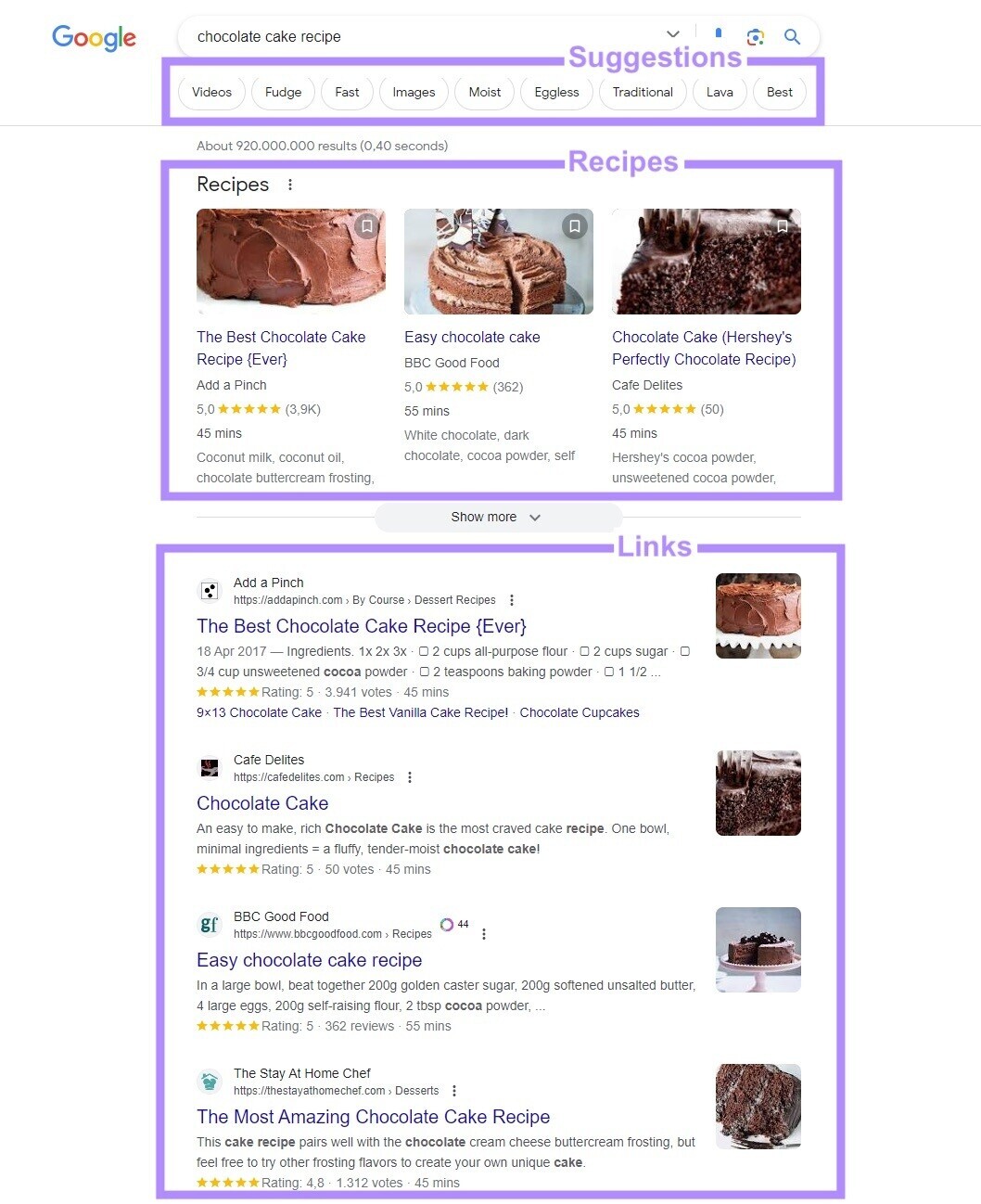 The same search on Bing delivers more image-rich results. More specifically, the page contains:
Search suggestions
Recipes with pictures, ratings, and time to cook (layout is different from Google)
Links to other recipes
A knowledge panel that explains what a chocolate cake is
Videos
But if you search for something like "Who is the US president," both results pages would look very different.
On Google, in addition to the standard blue links, you also get the following:
The name of the current US president, along with their picture
A list of names that people usually also search for (e.g., past presidents)
A "People also ask" section
A knowledge panel on the current president with their date and place of birth, edited works, organizations founded, family members, and marriage location
Links to their social media profiles, found under the knowledge panel
Bing presents similar information. It also presents the name of the current US president at the top of the page. In addition to that, Bing also presents the following:
An expanded Wikipedia page that gives an overview of US presidents
Links with more information
A knowledge panel that includes timelines, a comparison of the current president and vice president, some quotes from the president, and some fun facts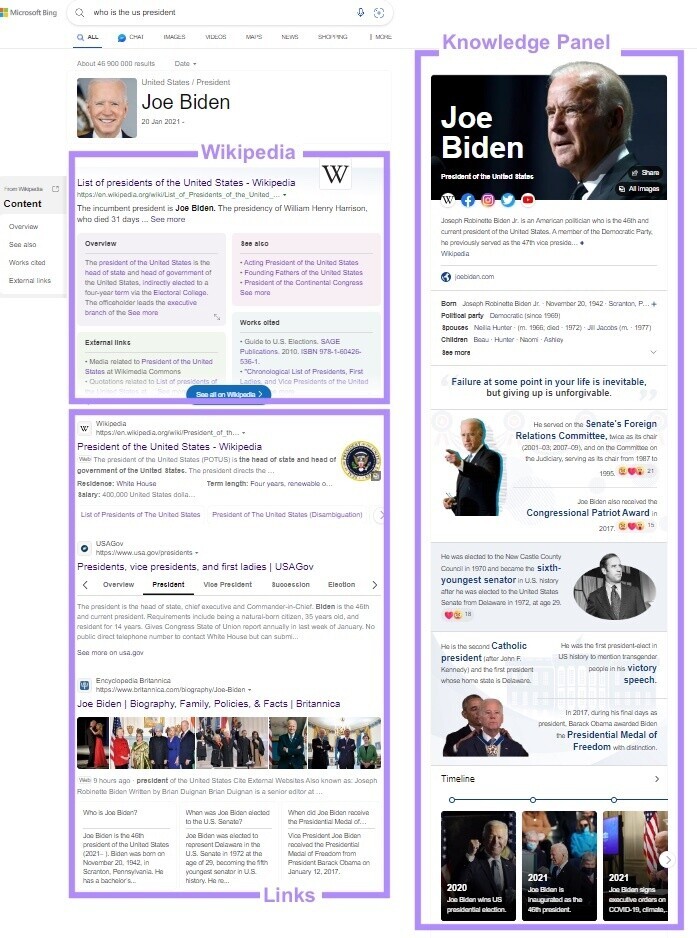 Bing vs. Google: Generative AI
Bing makes use of AI directly on its SERPs. Google has begun testing this technology and has rolled it out for selected users in the U.S.
For example, if you search for "where to go on vacation france," you won't just get a simple list of popular websites and travel blogs.
Instead, Bing can provide a summary of travel advice tailored to your query. This is a product of "generative AI."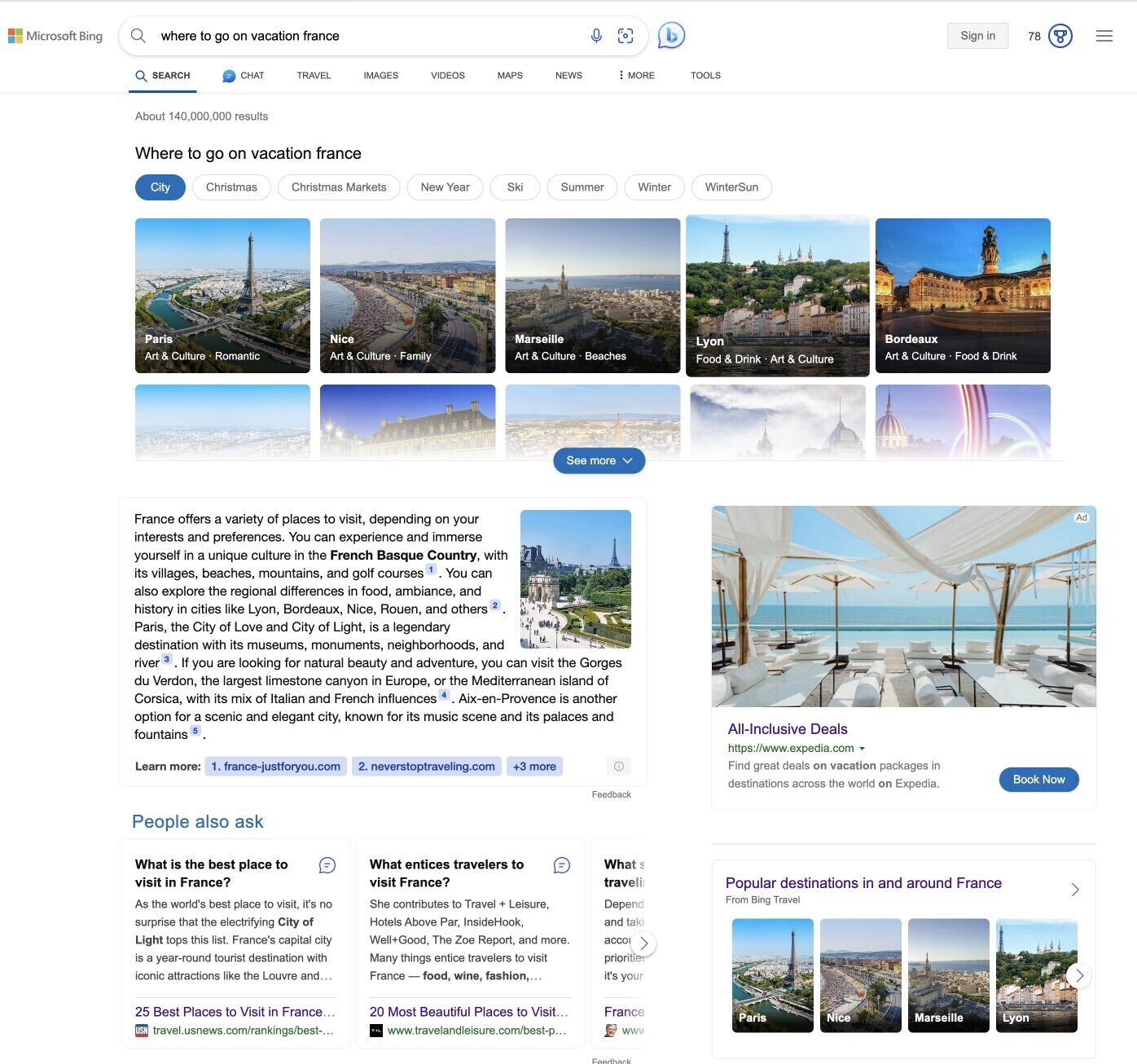 Pro tip: Read our SERP features guide to learn about SERP features and how they can benefit you.
Comparing Search Algorithms
Google and Bing use different search algorithms to analyze, rank, and display webpages based on users' queries. Both try to deliver the most relevant and useful results for each user.
But there are some key differences in how they approach that, which is why you get slightly different results on each search engine.
For example, the first result for searching "chocolate cake recipe" on Bing is from "All Recipes." While the first one on Google is from "Add a Pinch."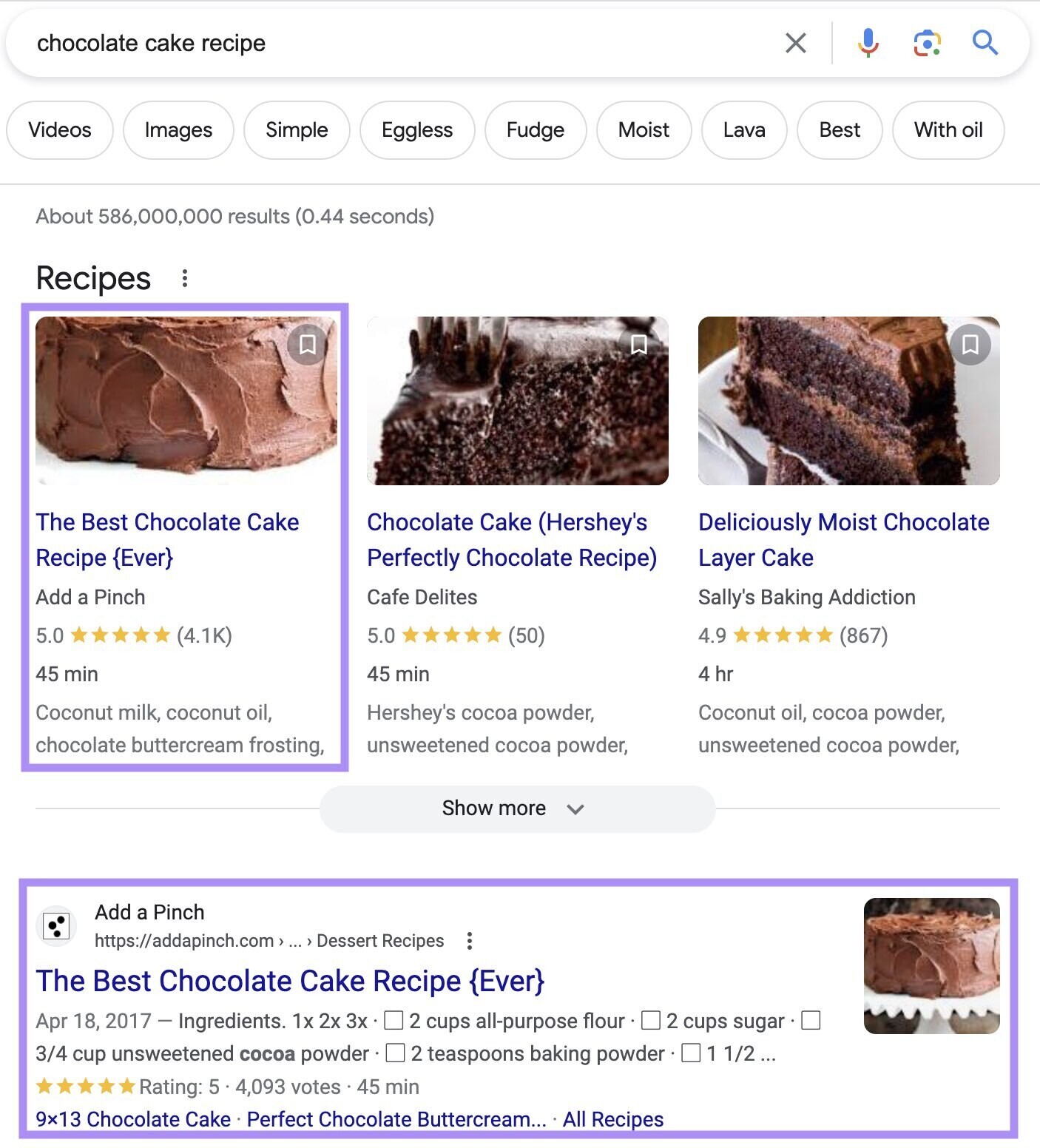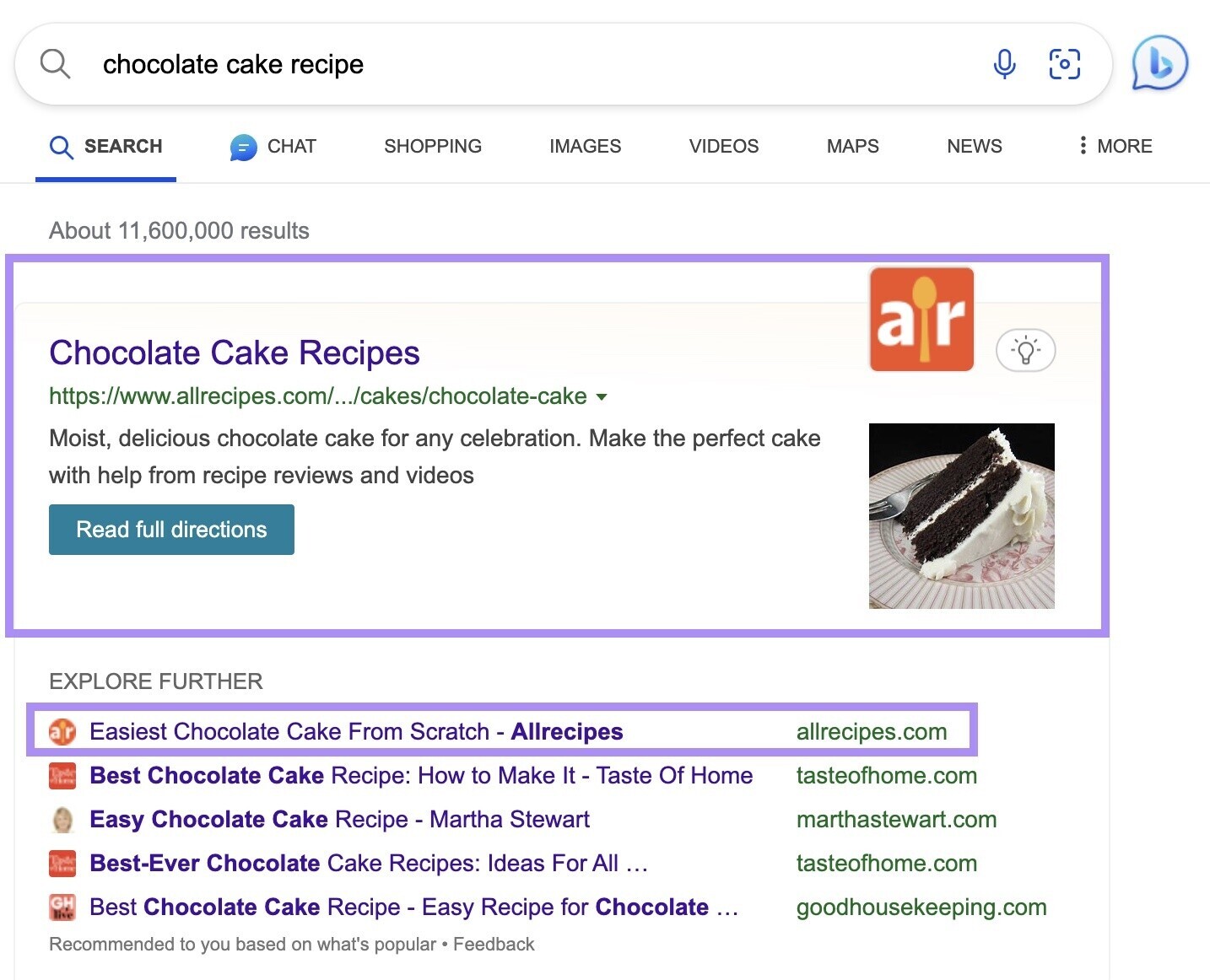 Here's why:
Google's algorithm incorporates an unknown number of ranking factors (likely in the hundreds), such as relevance, quality, authority, popularity, freshness, location, language, and user behavior. 
Google relies on a machine learning algorithm called RankBrain, which has been in use since 2015. It uses natural language processing to understand the meaning of words and phrases in context. RankBrain is great at handling ambiguous or new queries. 
Bing's algorithm is different. It also uses AI and machine learning, as Bing integrated OpenAI into its core search this year. But there is no denying that Google has a massive head start.
Comparing Ranking Factors
SEO is important for both search engines.
But Google and Bing use slightly different ranking factors (i.e., criteria search engines use to determine the order and position of webpages on the search result pages).
Here are some key differences: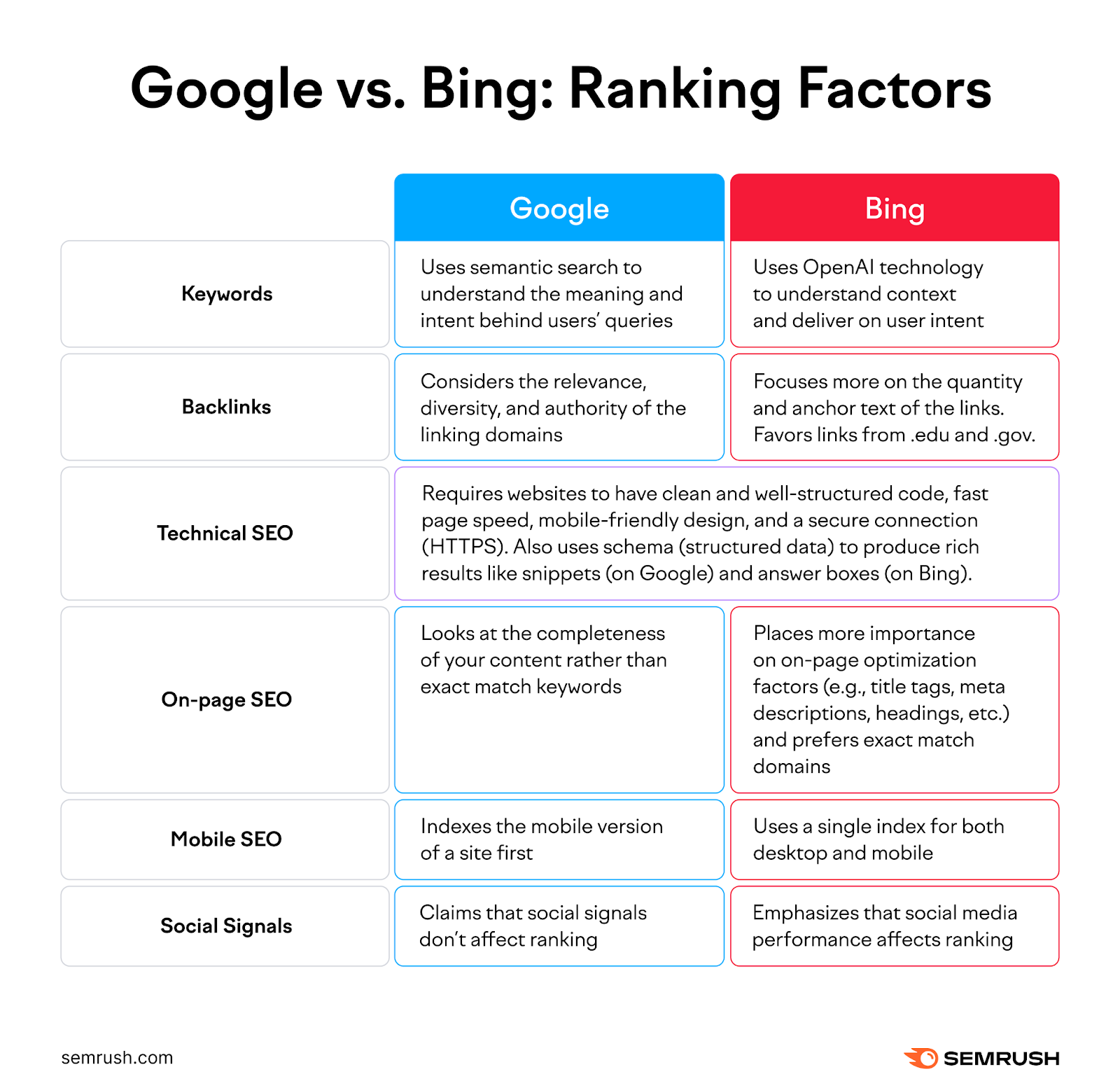 Keywords: Google uses semantic search to understand the meaning and intent behind users' queries. Google understands synonyms, variations, and natural language better than Bing. Though Bing has improved in this area since integrating OpenAI. 
Backlinks: Both Google and Bing value backlinks as a signal of trust and authority. But Google places more emphasis on link quality (relevance, diversity, and authority). Bing focuses more on the quantity and anchor text of the links. Bing also favors links from .edu and .gov domains.
Technical SEO: Google and Bing want websites to have clean and well-structured code, fast page speed, a mobile-friendly design, and a secure connection (HTTPS). Bing also uses schema (structured data) to produce rich results like snippets (on Google) and answer boxes (on Bing).
On-Page SEO: Bing places more importance on on-page optimization factors, such as title tags, meta descriptions, headings, and image alt tags. Bing also prefers exact match domains (website names that contain the exact keyword).
Mobile SEO: Both search engines value mobile-friendly websites. However, only Google indexes the mobile version of a site first. Microsoft Bing uses a single index for both desktop and mobile.
Social Signals: Google claims social media doesn't affect rankings, while Bing says it can boost your site's performance on their results page.
Comparing Search Quality
Google and Bing both value high-quality, original, and relevant content that provides value to users. But they have different ways of measuring content quality. 
Google uses various signals, factors, and methods to evaluate content and improve the quality of its search results, such as:
E-E-A-T: Google's guidelines on Experience, Expertise, Authoritativeness, and Trustworthiness to evaluate the quality and credibility of webpages
BERT (Bidirectional Encoder Representations from Transformers): A natural language processing model that Google uses to better understand the meaning and context of words in queries and webpages
Core updates: These are periodic updates that Google makes to its algorithm to improve its overall performance and quality
Bing uses different signals and methods to evaluate content and share high-quality results with users. These signals include:
Readability: How easy it is for users to read and understand the content of webpages. Bing favors webpages that have clear and simple language, structure, and formatting.
Freshness: How up-to-date and timely the content of webpages is. Bing favors webpages that have recent and relevant information, especially for news, events, or trending topics.
Multimedia: This is a measure of how well the content of webpages is enhanced by images, videos, or other media elements. Bing favors webpages that have rich and engaging multimedia content that matches the query.
Comparing Index Size
Google claims to have hundreds of billions of web pages in its index. That's more than 100,000,000 gigabytes. Google updates its index more frequently than Bing, which means it adds new pages faster.
Bing's index size is estimated to be between 8 to 14 billion webpages. Bing updates its index less frequently than Google. So, it may not have as much recent or new information.
Bing vs. Google: Advanced Features and Tools
Google and Bing started off as basic, keyword-based search engines. You typed in what you were looking for. Then, they showed you results relating to your query. Today, both offer more advanced options, like visual and voice search.
Visual Search
Visual search is the act of using images instead of text to search for information. Both search engines offer this feature. 
To perform a visual search on Bing, just click the camera icon. Then, upload an image or use your camera to search for similar images or information. This is useful for identifying landmarks, plants, animals, celebrities, and so on.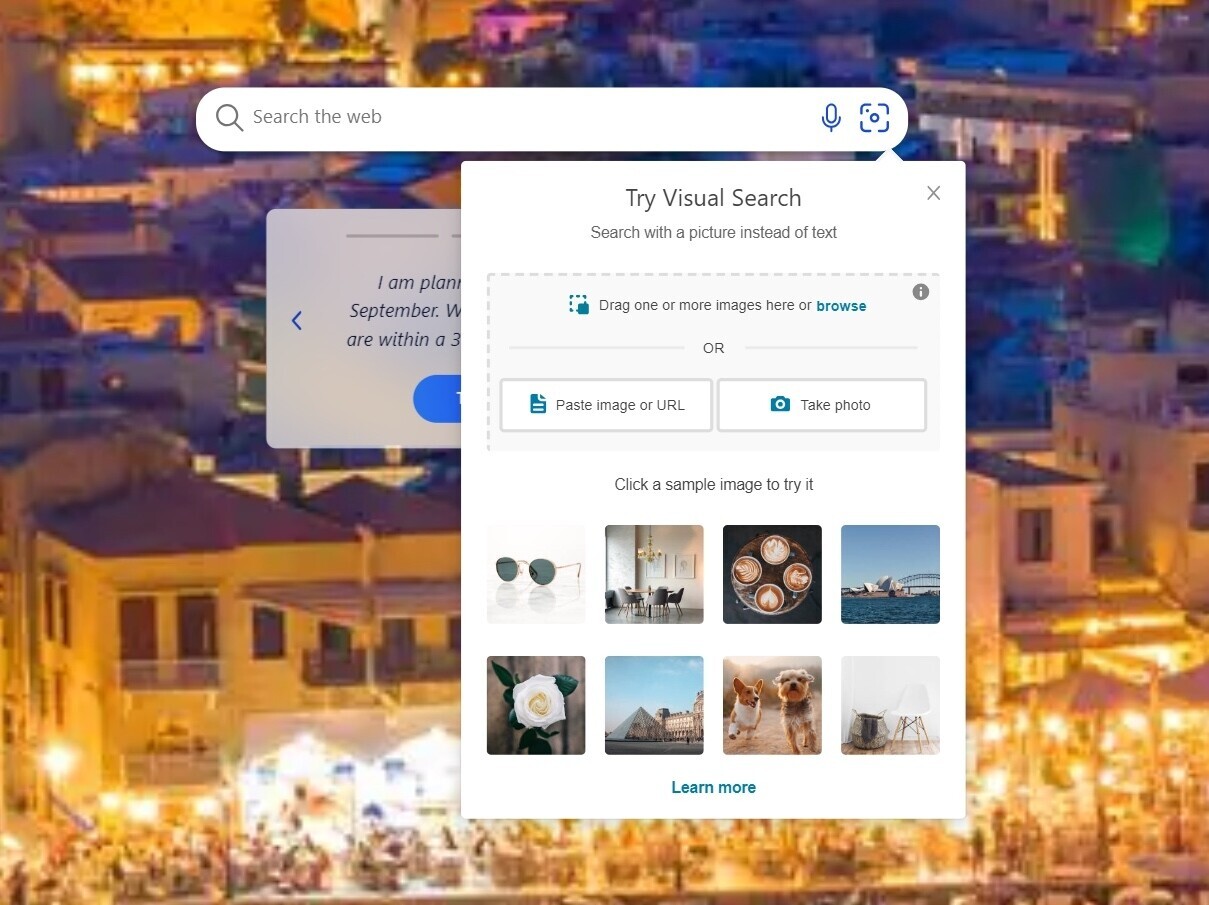 Visual search looks almost the same on Google, although the browser experience limits you to pasting image URLs or uploading them from your computer. To take a photo with your phone directly, you would need to use the app.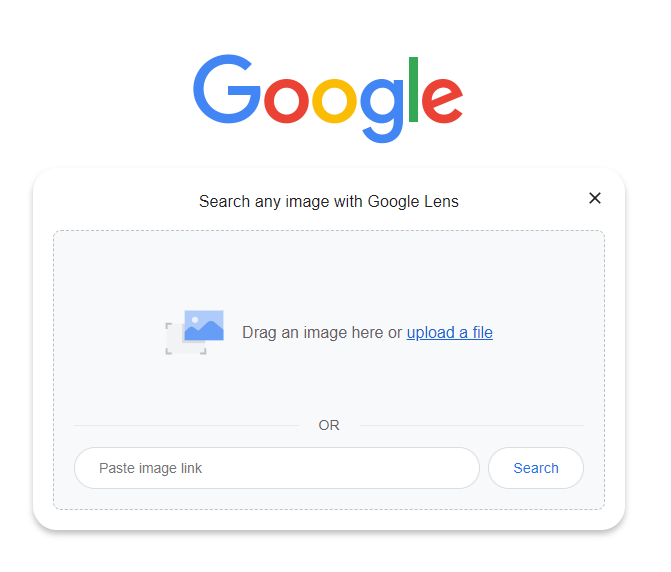 Google takes visual search technology one step further. It allows users to combine images and text, known as multisearch. 
For instance, you can upload a screenshot of a gray shirt and type "blue" to find similar styles in a different color. 
However, multisearch has not been integrated into the main Google search engine yet. It is currently only available via the Google Lens app and within other apps, like Google Photos and Google Assistant.
Voice Search & Assistants
Google and Bing have both incorporated voice search and virtual assistants into their platforms. This offers users hands-free and convenient search experiences. 
Voice search works almost the same on both platforms: 
Just click the microphone icon, and start speaking. Both search engines provide a short verbal summary, and show you the results for your query.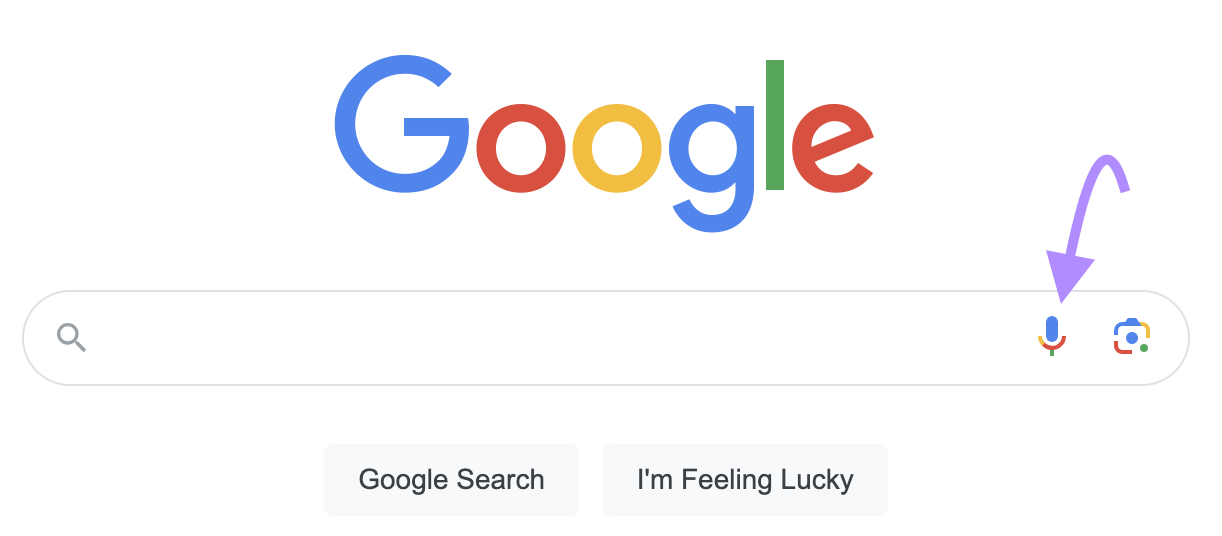 Google's voice search is powered by the Google Assistant. Bing is retiring its assistant Cortana but has integrated voice search into the bing.com main search engine and the AI-powered Bing Chat.

The Role of AI: How Bing and Google Leverage Artificial Intelligence 
Bing and Google use artificial intelligence to enhance their search capabilities and provide a better user experience. 
However, there are some key differences in how Bing and Google leverage AI in search. Here are some of the main ones:
AI Algorithms for Search
Google has been using AI for years.
Google introduced its first AI-based search algorithm RankBrain in 2015. RankBrain helps Google understand and rank content.
But recent moves from Bing go beyond using AI to evaluate content. Let's dive into those developments.
Chatbot Technology
Bing has integrated OpenAI's GPT-4, a powerful natural language generation (NLG) model, into its search engine.
That means Bing can create its own texts to respond to users' queries. Such as, "How do I write a good resume?" or "What are some fun things to do in New York?"
Google, on the other hand, has not adopted chatbot technology for its search engine yet. But it has introduced generative AI to its experimental AI search program called Search Labs. 
Google launched SGE (Search Generative Experience) on an experimental basis for selected users in the US. So, watch this space.
Content Generation
Bing can use ChatGPT to create various types of content. Need help writing an email, essay, or even a poem or song? No problem.
Google, however, does not offer content generation yet. Google says they are taking a "responsible and deliberate approach" to bringing generative AI capabilities to search. 
Advertising Platforms: Bing Ads vs. Google Ads
Both search engines offer paid ad solutions to reach their target audiences online.
Bing Ads is Microsoft's advertising platform. Google Ads, formerly known as Google AdWords, is Google's advertising platform.
Both platforms are pretty similar. You can run pay-per-click (PPC) campaigns targeting search engine users. Bing and Google offer keyword targeting and other options such as device and demographic targeting. 
The main difference is that traffic on Bing is significantly lower. However, Bing can still be worthwhile for advertisers. 
On Bing, advertisers can tap into new audiences that they could miss if they only advertised on Google.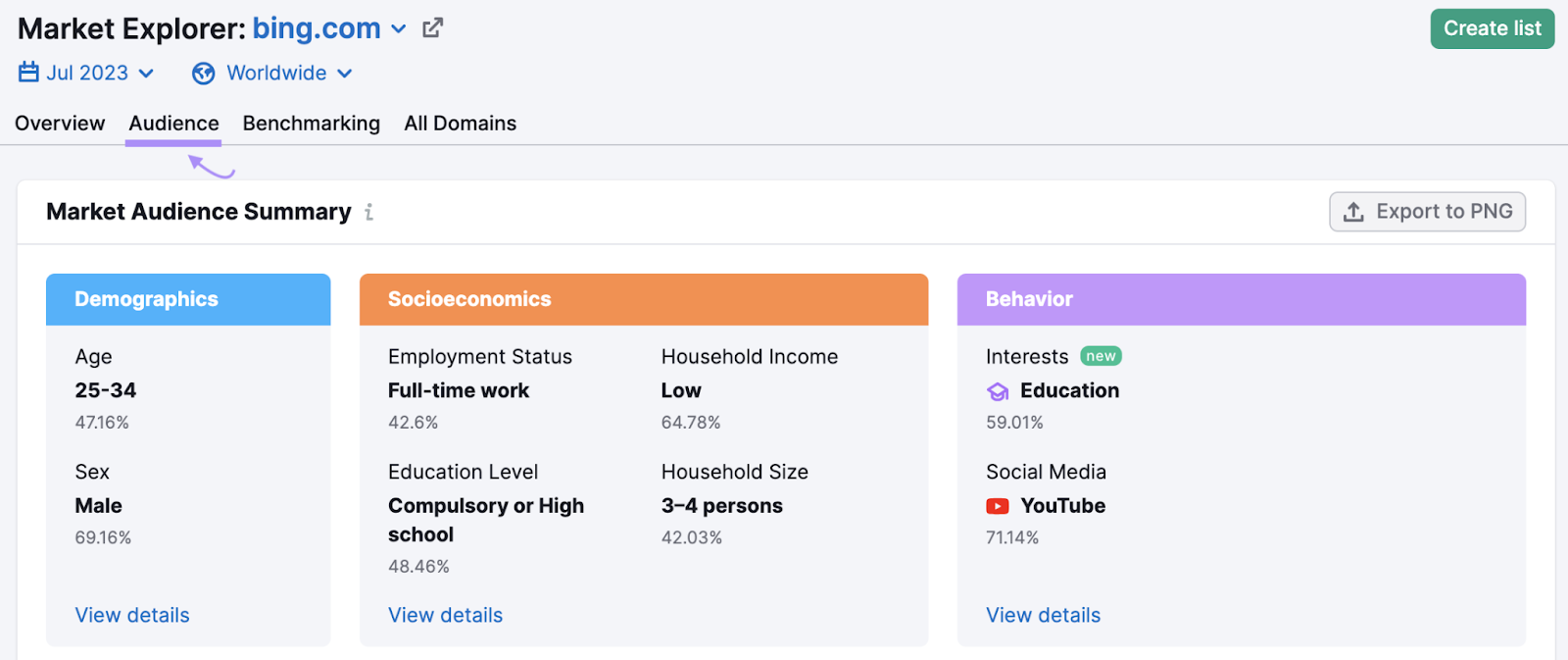 Bing Ads can also be more cost-effective, with many advertisers claiming to get a cheaper cost per click (CPC) on Bing. Some studies show the average CPC is 70% lower on Bing than on Google.
Bing vs. Google: Privacy
Bing and Google have similar privacy policies. In its privacy policy, Microsoft explains that it uses user data to personalize products, make recommendations, and enable targeted advertising. 
Microsoft stores your search history and collects the search terms you type in, along with other information, such as your IP address and location. 
Google also saves your search data. But it automatically deletes the search history of new accounts after 18 months, and users can choose to delete their search data at any time.
And Google offers the option to turn off data collection for advertising purposes: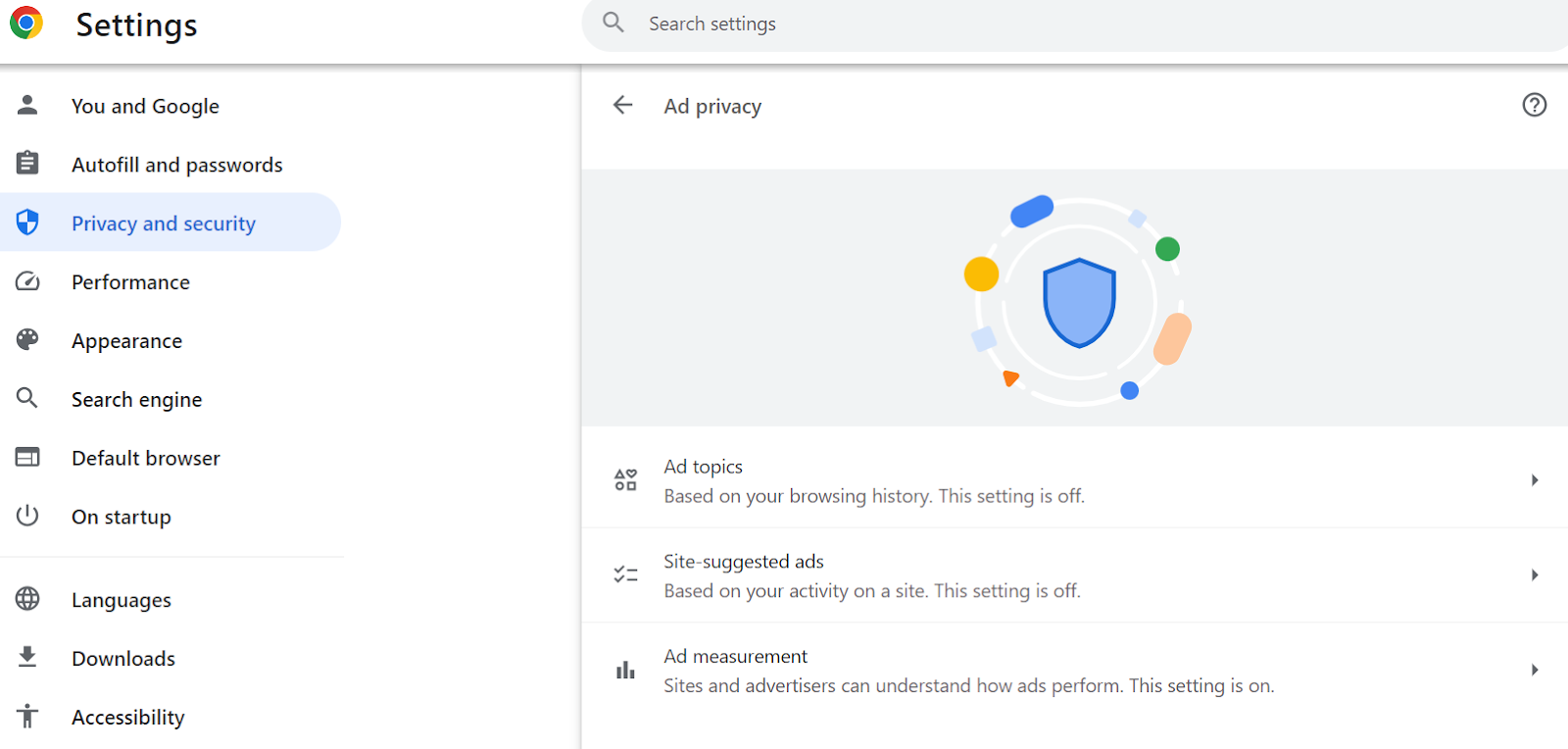 Microsoft enables you to delete your search history. But there is no option to turn off data collection or disable personalized search results.

Bing vs. Google: Market Analysis Deep Dive
Competition between the search engines is heating up. So, we tapped into our data to analyze the traffic, engagement, and audience demographics of Bing compared to Google. 
Google is still the market leader in terms of market share, the number of visitors, and the number of pages indexed.
Let's look at some data from the Semrush .Trends toolkit:

The data also shows Bing has a slightly higher bounce rate: 46.3%, compared with Google's 42.68%. That indicates fewer users visit google.com and leave straight away, compared with bing.com.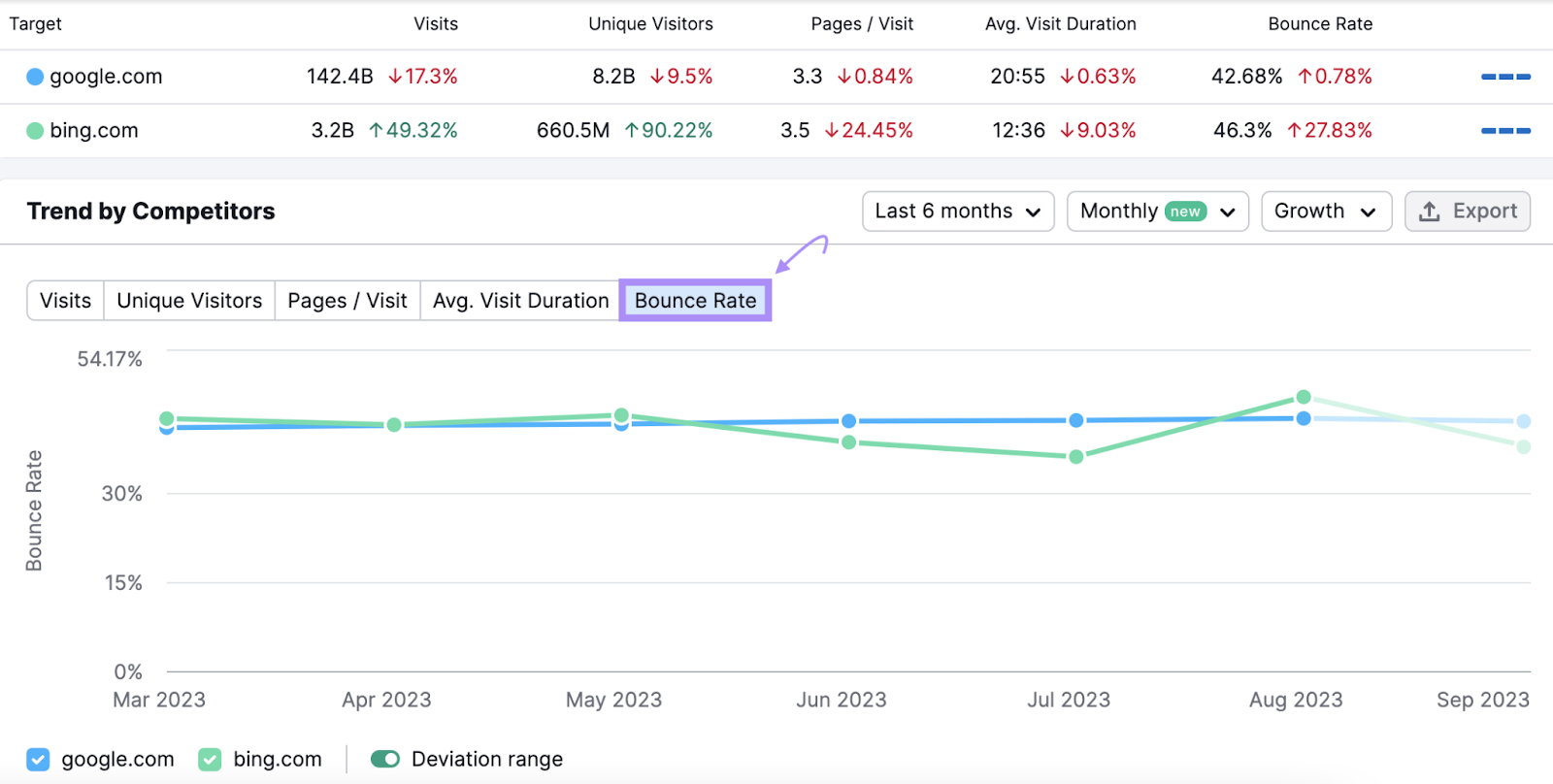 Bing also has more pages/visit than Google. This could mean users are happy with the experience they are getting on Bing. Or it could suggest that Google answers their queries faster, reducing the need for further interactions.
Audience data from Semrush's One2Target tool shows that over 60% of Bing's users are in the 25-34 age range. And it's more popular than Google among users aged 45-54. Nonetheless, Google is more popular with users of all age groups overall. 
So, Which Is Better: Google or Bing? 
Both search engines offer a great user experience. And with AI and new ways of searching, like voice and visual search, they are getting better every day. Whether you prefer Google or Bing depends on your personal preferences. 
Compare Yourself with Your Competitors
Want more insights like these? To compare your company performance with competitors, try out the Market .Trends Report from Semrush today.
With the Semrush .Trends toolkit, you get full access to:
Traffic Analytics with a full overview of any company's online performance
Market Explorer to analyze industry-based and organic competitors
EyeOn to track competitors' ads and content strategies
One2Target for audience insights showing demographics, socioeconomics, behaviors, and audience overlaps