Audiences aren't usually moved by ads.
But they are by branded content.
In this guide, we'll look at what branded content is, why it matters, and some great examples of branded content. Plus, how you can leverage it to your company's advantage.
What Is Branded Content?
Branded content is content you create in partnership with a publisher or advertiser to convey your company's values and ideas in ways that connect with audiences. Which can increase brand awareness.
Like this example from technology company Lenovo: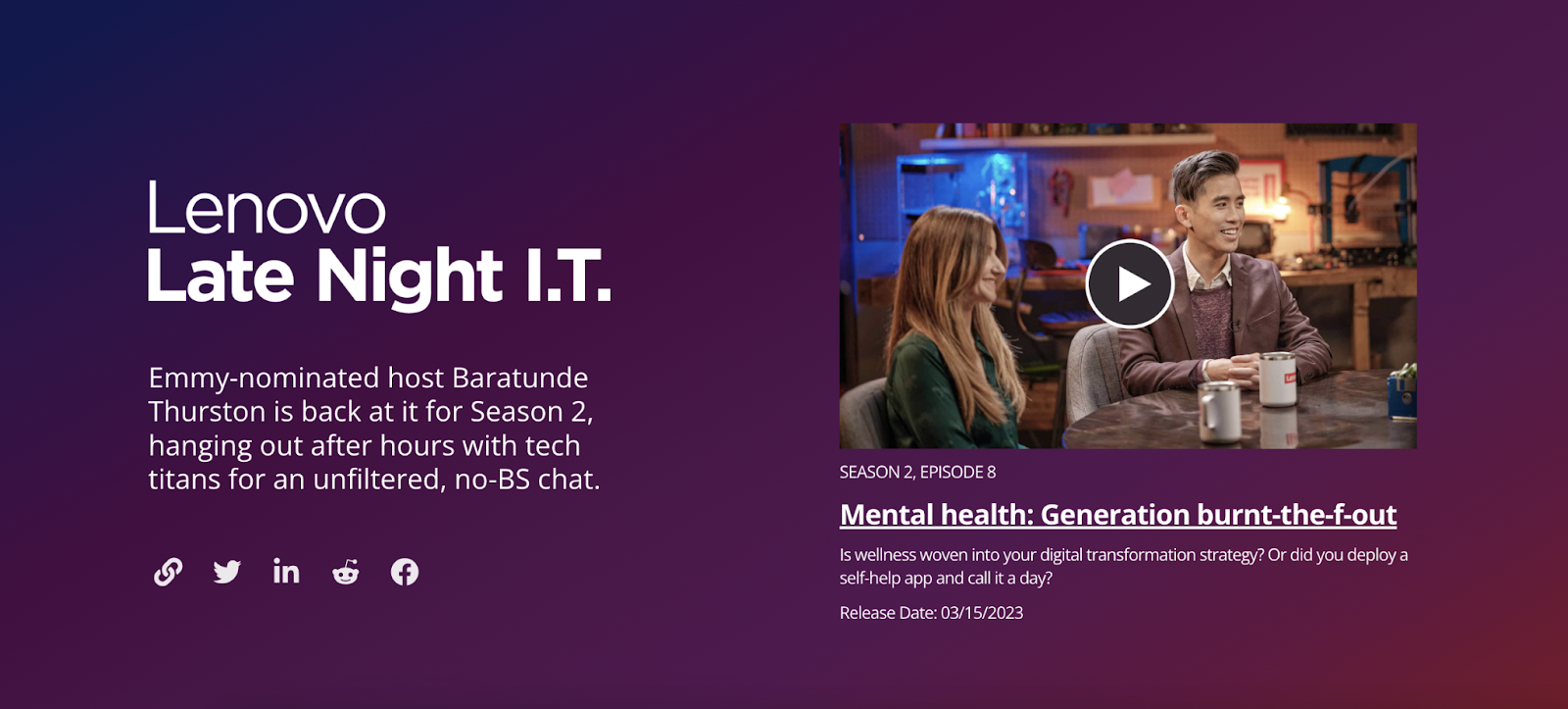 Branded content is different from conventional marketing approaches.
Why?
Because instead of only delivering product- or service-focused information, it inspires emotion and makes people think. And avoids blasting the viewer with pushy sales tactics.
In other words, it makes people feel like they aren't being sold to at all.
So, viewers are more likely to share and interact with the content. 
Branded content can also be defined by some of its core features. And it:
Connects with consumers on an emotional level
Establishes a brand's identity and personality as more than just a company
Generates conversations by creating shareable, likable content that sparks engagement
Promotes brand values over products or services 
Employs storytelling tools and techniques to weave a narrative
Generates value by giving consumers something they want, like humor or entertainment
Is often collaborative, partnering with celebrities, professionals, influencers, or users
What Branded Content Isn't
Based on what we just went over above, you can see that branded content takes a nuanced approach to marketing.
That means branded content isn't focused on products and services. And brand content marketing doesn't typically take the form of:
Commercials
Clickable ad banners
Pop-up ads
Branded content differs from product placement, content marketing, and conventional advertising in a variety of ways.
Let's explore the distinctions.
Branded Content vs. Product Placement
Product placement doesn't tell a story the way branded content does.
While a product might be featured in a storytelling vehicle like a TV show or movie, the story really isn't about the product in any way.
And product placement makes the product obvious by putting it front and center. Some branded content doesn't feature the product clearly. Or even at all.  
Branded Content vs. Content Marketing
Content marketing is an umbrella term that covers creating all types of content (like the examples shown below) and distributing it to drive awareness and interest for your brand.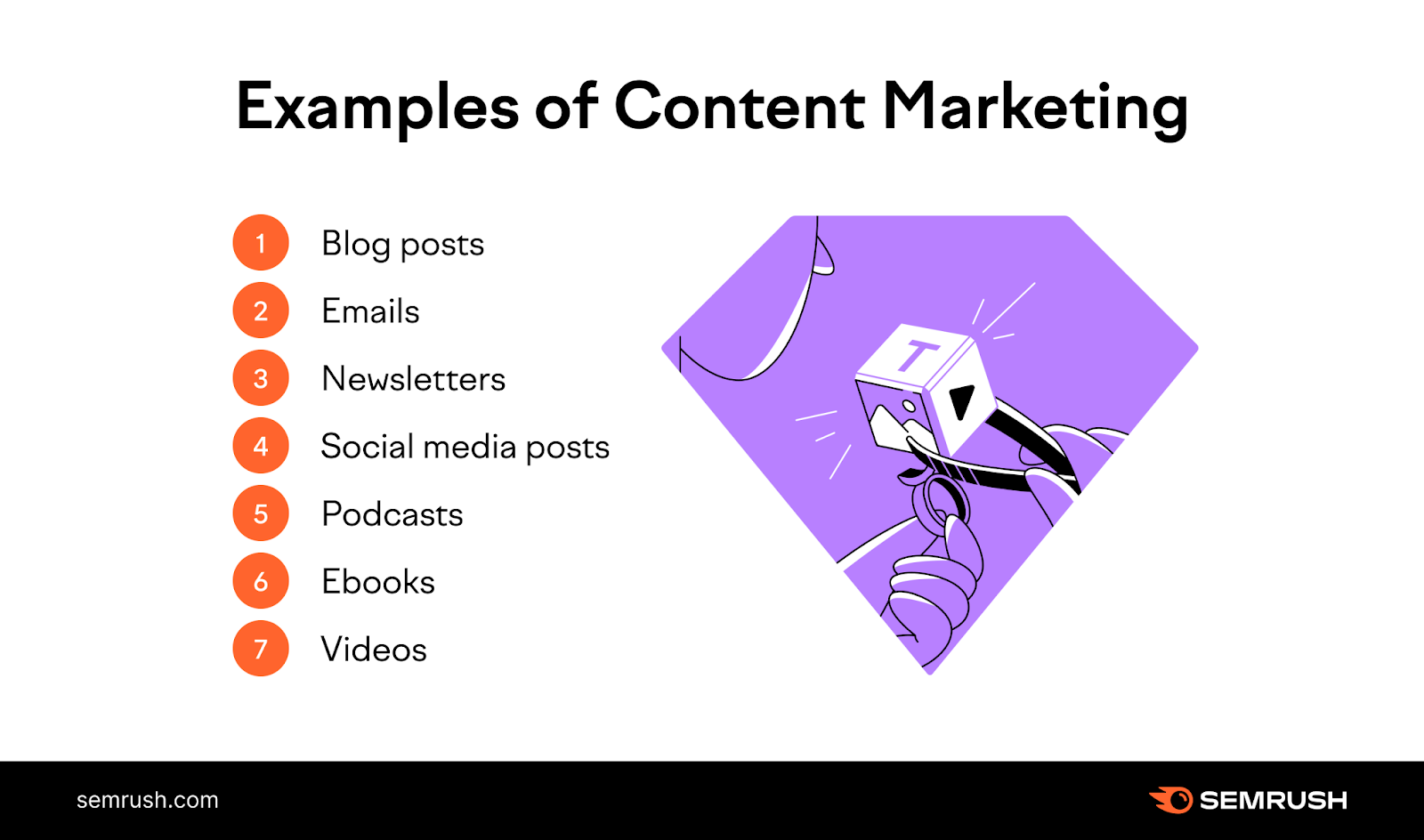 Branded content could be one component of a brand's larger content marketing plan.
Branded Content vs. Traditional Advertising
Traditional advertising aims to directly promote a product or service through banners, pop-up ads, TV spots, and other methods. 
Here's an example of traditional advertising: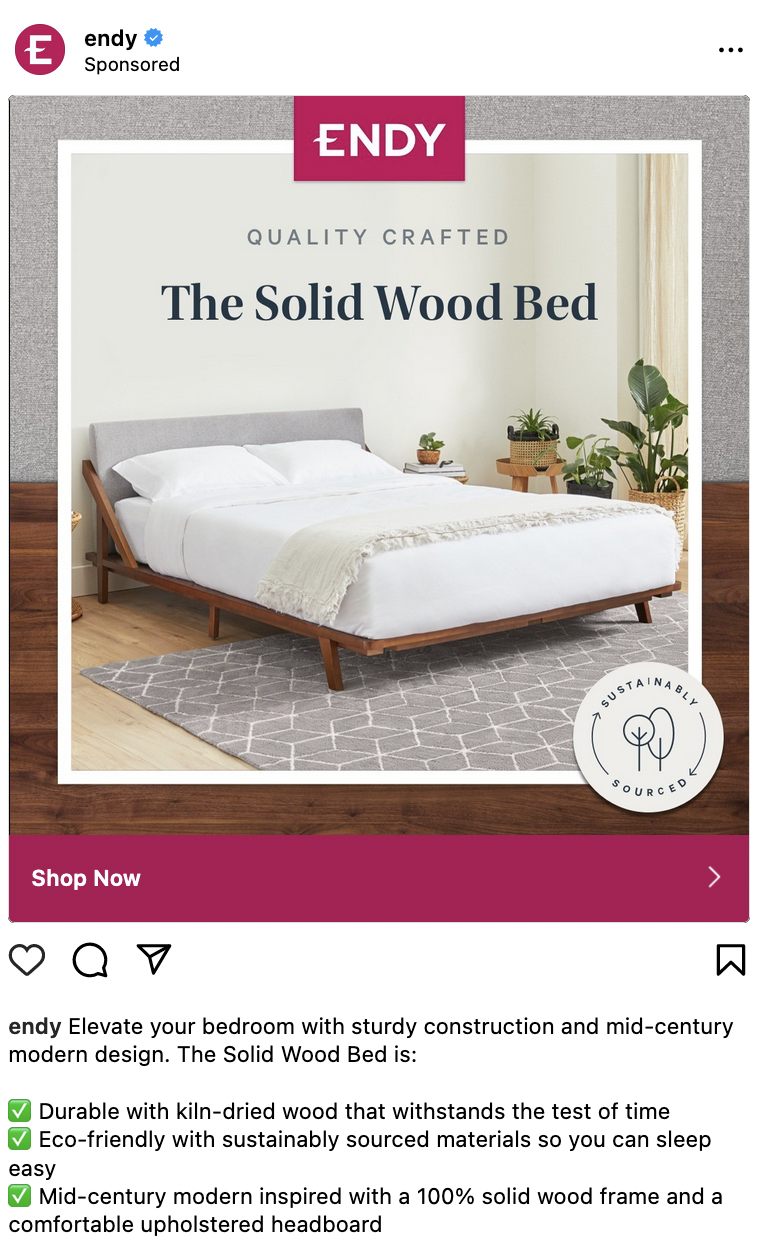 But branded content may not even mention the product or service. And instead focus on a story, idea, or value that customers will eventually associate with the product or service.
Why Is Branded Content Important?
Branded content marketing matters because it's a long-term investment in your brand's future. And done right, it strengthens customer loyalty, inspires word-of-mouth marketing, and generates leads.
Branding content has the power to change people's perceptions of a company.
Let's look at an example.
A pet food company called Bark & Meow partners with a filmmaker to create a series of short videos about pet adoption from local shelters. And includes interviews with pet owners and shelter volunteers talking about the impact adopting makes.
Bark & Meow shares these videos on their social media accounts. And encourages viewers to engage and comment with their own adoption stories.
Now, when people hear the name Bark & Meow, they have positive impressions of a brand that cares about shelter pets.  
When customers connect with a message like this, they become loyal to the brand. And talk to others about it. 
The next time those customers are ready to make a purchase, they're more likely to return to that brand. Because they already believe in it.  
Why Knowing Your Audience Is Key to Effective Branded Content
You must understand your audience to create relevant and impactful branded content. 
This involves analyzing:
Your audience's beliefs, values, and ideals
What your audience is entertained by
Topics your audience is interested in
Which channels and content types your audience prefers
Figures, personalities, and characters your audience identifies with
Ways your product or service can meet a need or fill a gap
And a whole lot more
For example, HP's Generation Impact series of short videos does a great job of homing in on what the brand's audience cares about.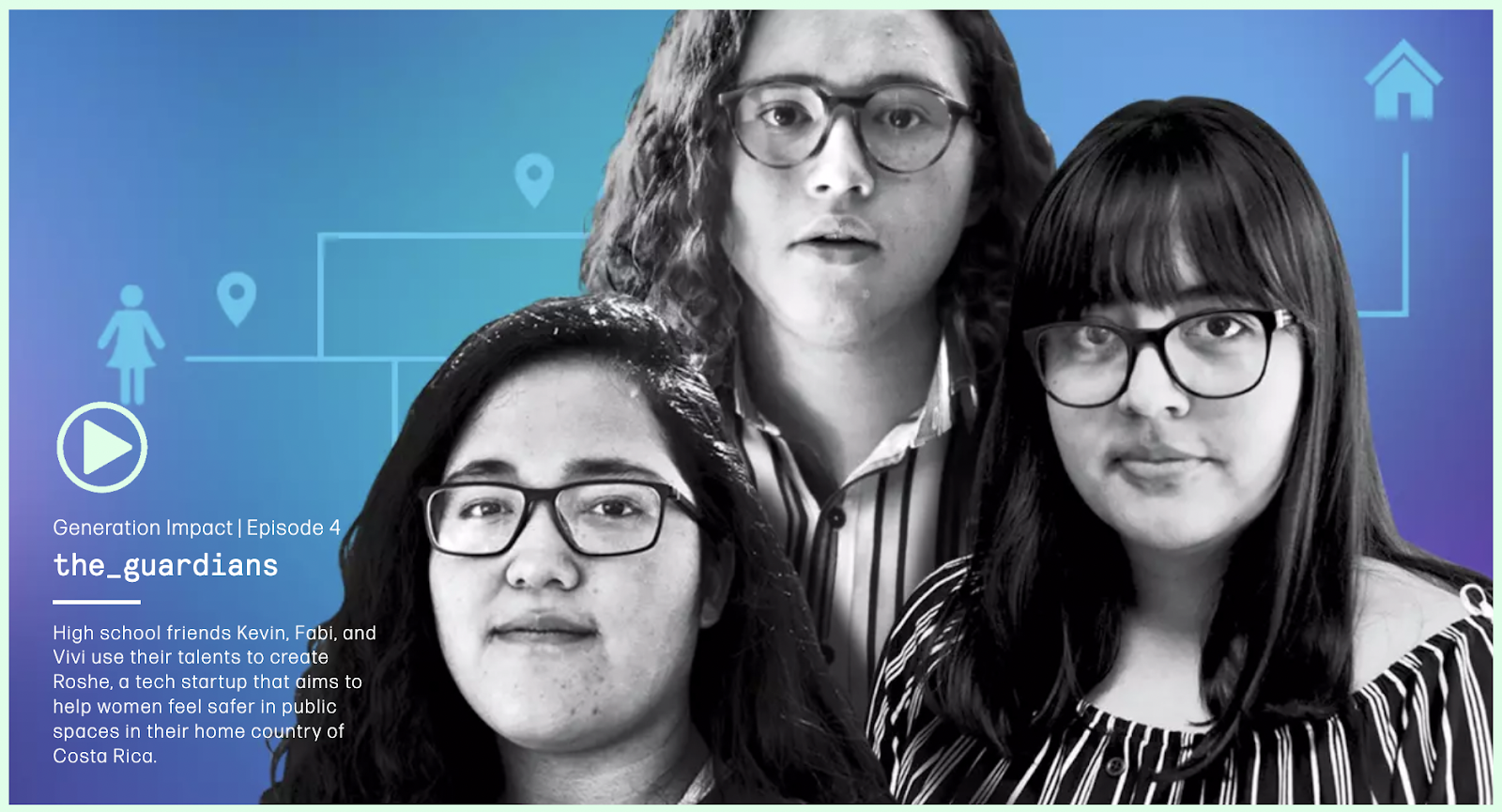 Each episode of Generation Impact highlights a young person who's "using technology to make the world a better place." HP speaks directly to the people who purchase their products: tech users, students, and young professionals.
If you're not sure where to start, use Market Explorer to start gaining insights on your target audience. 
Open the tool and select the "Analyze Category" tab. 
Then, select your category and click "Research a market."

You'll first see an overview report that provides a high-level look at your market.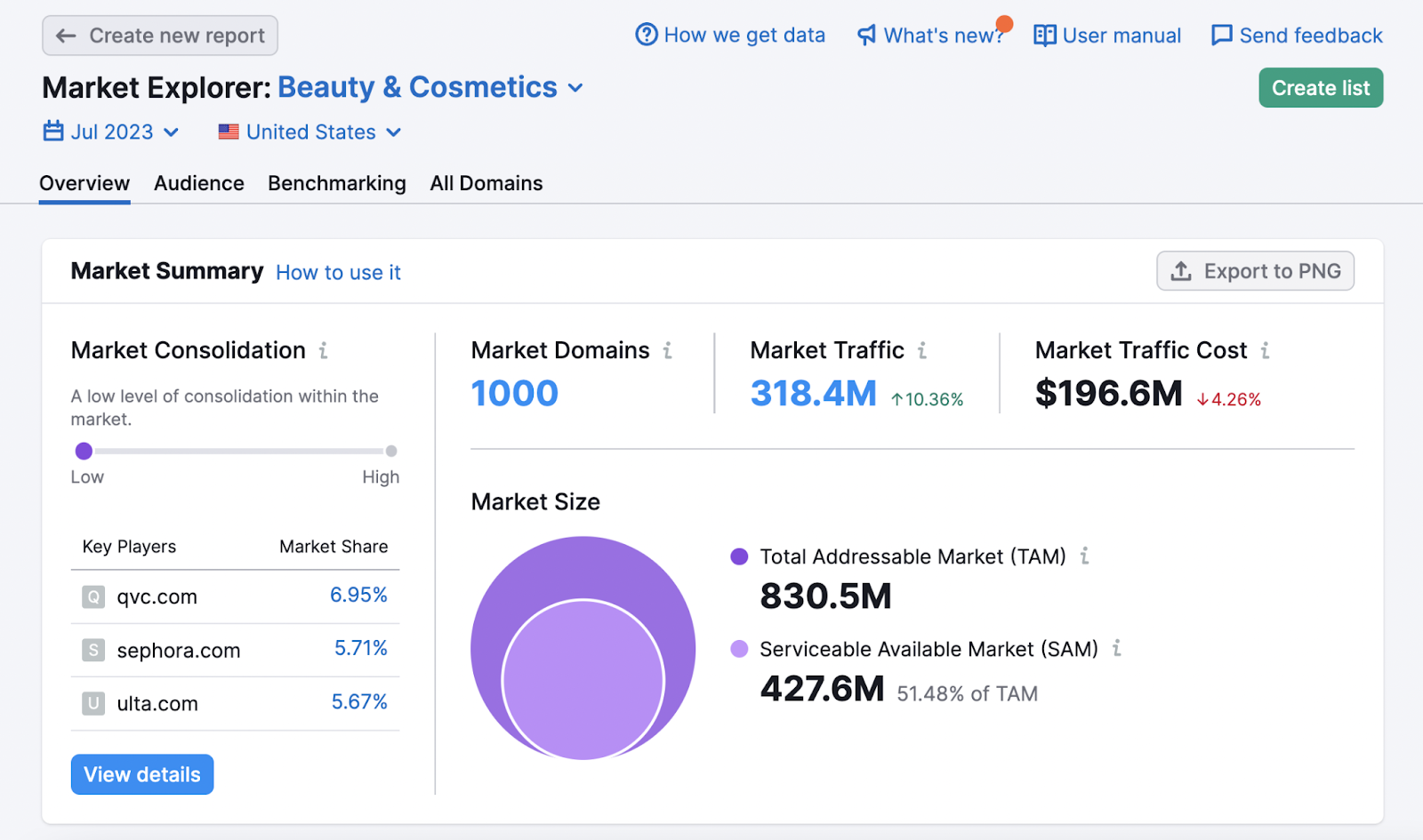 Next, click the "Audience" tab.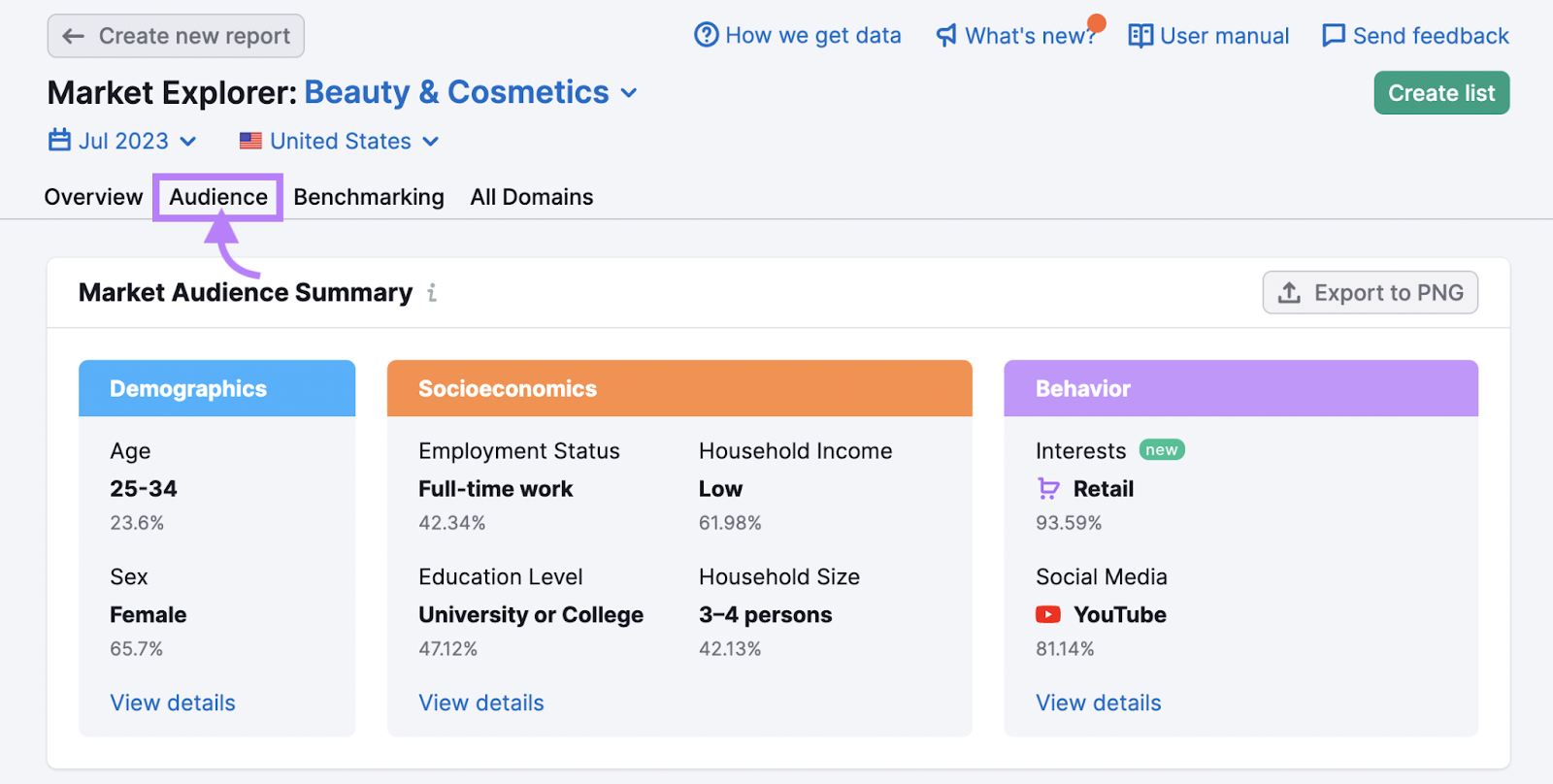 You can now see information about this audience's demographics, socioeconomics, interests, and more.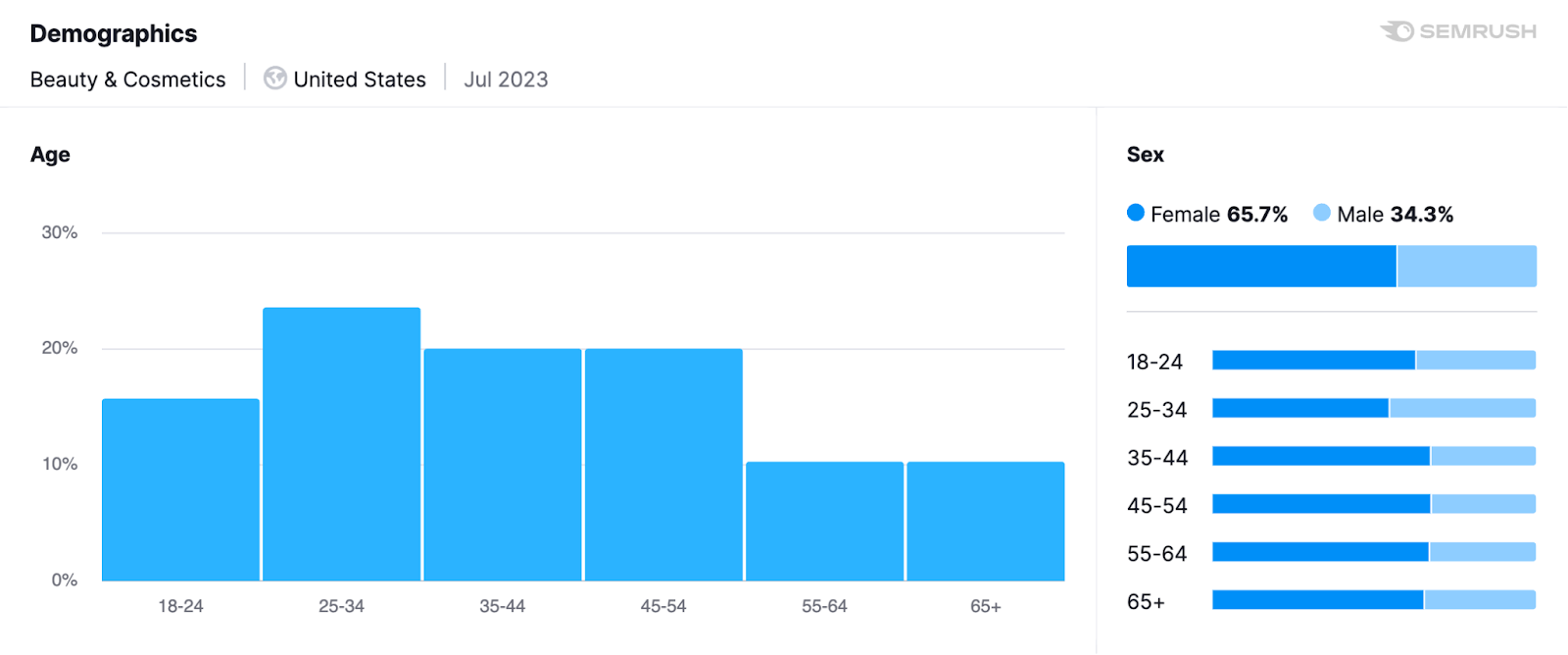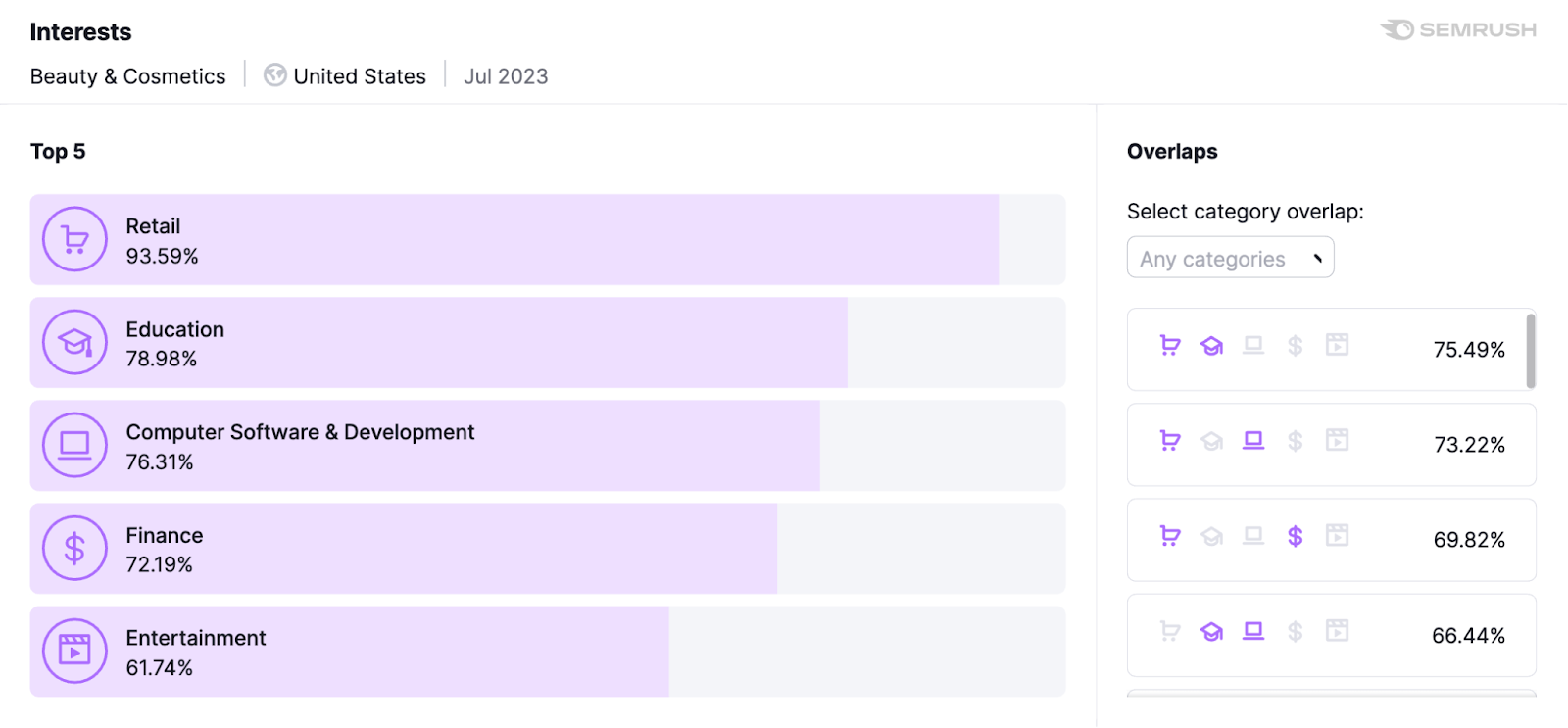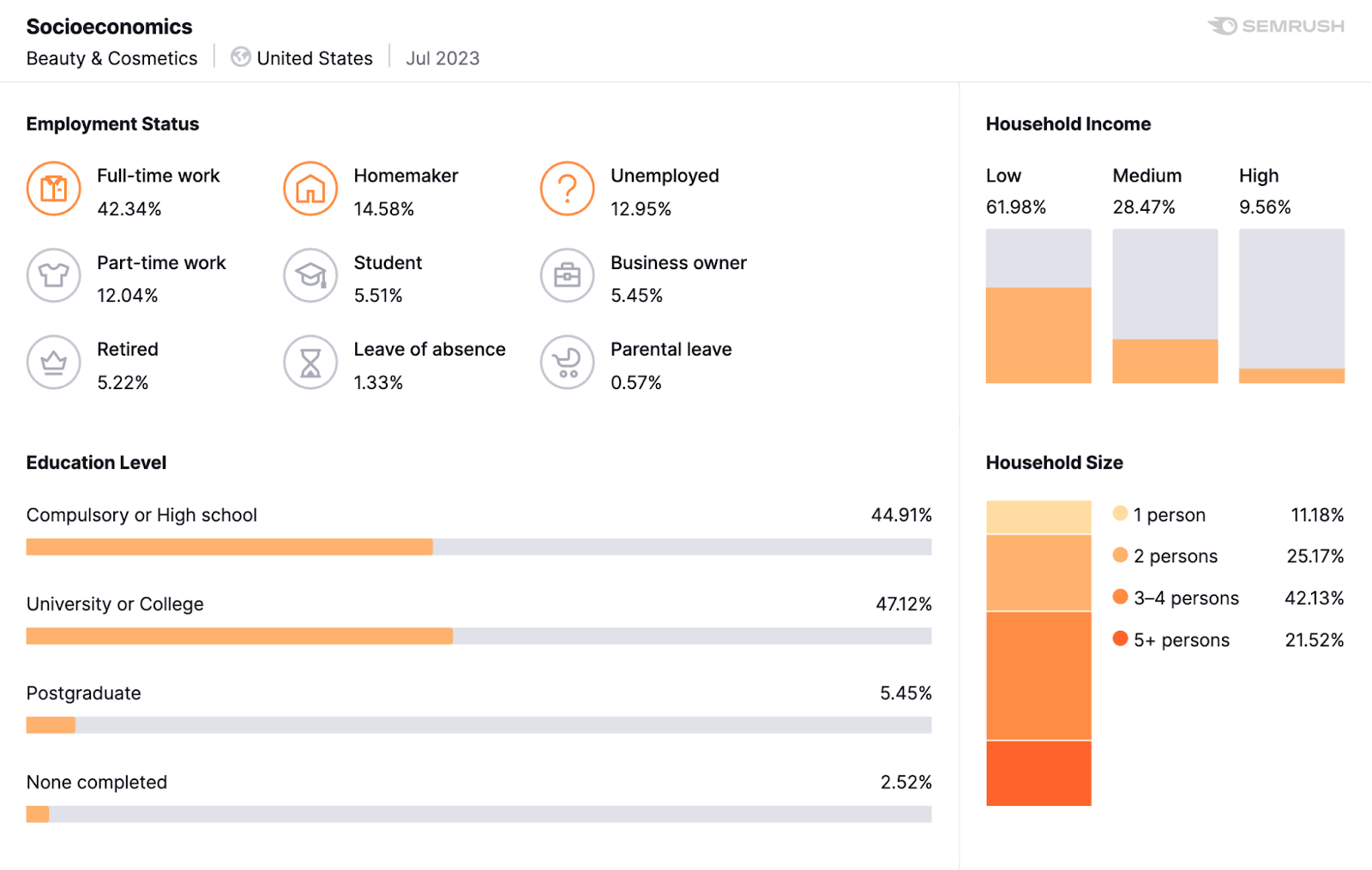 With this information, you can begin brainstorming branded content concepts that are equally aligned to your customers and your brand goals.
How to Create Engaging Branded Content
Here's a step-by-step guide that can help you begin creating branded content that helps you connect with audiences and build your brand identity:
1. Identify What Your Brand Wants to Say
It's important to nail down exactly what your brand is and what it stands for. Because it informs the themes and messaging you'll use in the content your brand creates.
If you can't state your brand's values, tone, and identity with conviction, it's time to go back to the drawing board.
To identify what your brand wants to say, here are some questions to get the ball rolling:
What sets your brand apart?
What problems can your brand solve?
What do you want people to think of when they hear the brand's name?
What tone should your content use?
How do you want your content to make people feel?
What should your content inspire people to do?
If you have clearly defined personas (like the one below), you can reference them to help answer some of these questions.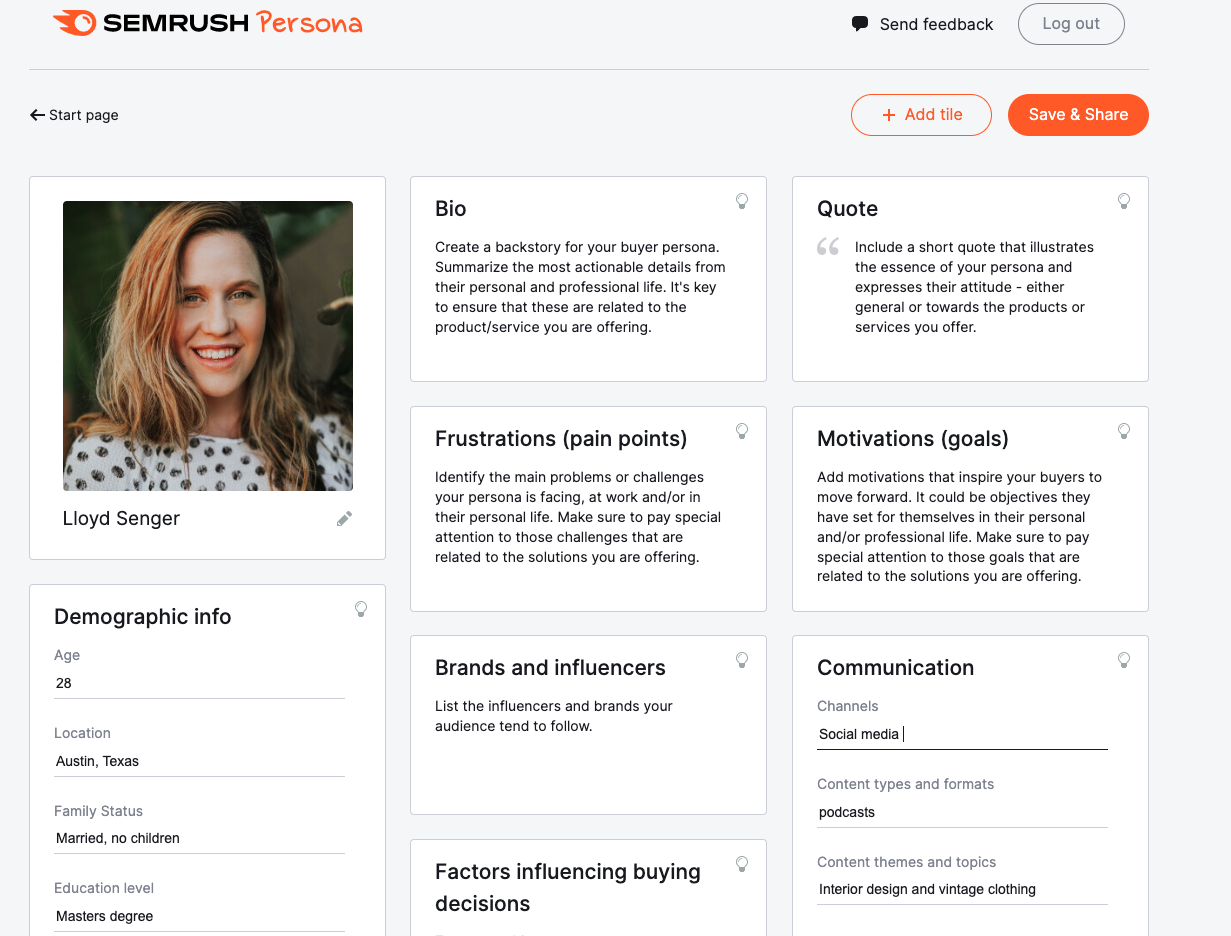 Defining what you want to say clearly at the beginning will put you on a path to reaching your goals.
2. Create Content that Speaks Directly to People
Good branded content puts the customer first by relying on authenticity and emotional appeal. Because that's what resonates with customers and prospective customers.
Traditional advertising methods say, "Here's my product. Like it and buy it."
Branded content says, "I care about you. Let's talk."
But to really connect and build trust with people, you actually need to stand behind the values your campaign promotes.
We can look again at the Bark & Meow pet food brand example from above.
Through its video series, the company positioned its brand as a supporter of shelter adoptions. Let's say that customers also saw Bark & Meow donating food to local shelters and giving money to animal rescue organizations. 
This would fully align with the brand values.
But what if the brand struck a business deal with a puppy mill? Or partnered with a farm that violated animal cruelty laws?
This would undermine the reputation Bark & Meow worked to cultivate.
The takeaway is that branded content should speak to the audience on an emotional level. But also speak authentically.  
3. Tell a Story
Your branded content should tell a story. 
Why?
Because a story is memorable and often teaches you something. And a story is something you'll want to share with others. 
Branded content is all about perfecting the art of brand storytelling.
Like any good narrative, your branded content should have:
Characters to root for
A gripping introduction
Events that inspire emotion
Conflicts and resolution
An ending that makes peoples feel like they learned something
Think about the Generation Impact example we talked about above.
Episode One featured Jay Jay Patton. She and her father founded Unlock Academy—a training program to help youth learn to code. 
She's a hero to cheer for. And someone who inspires action.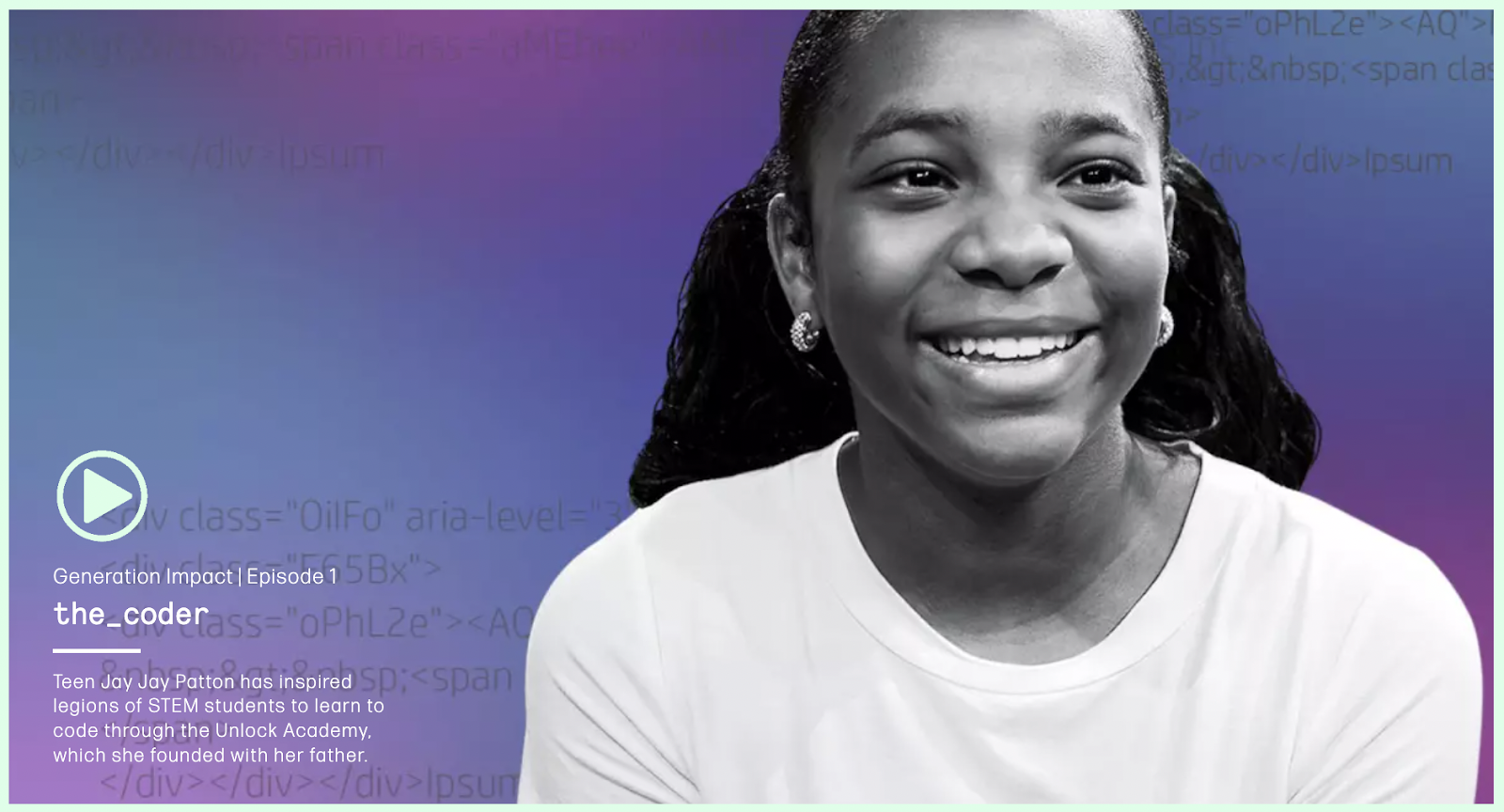 This example can inspire you to tell your own story.
4. Collaborate with the Right People
Collaboration gives you the means to reach a wider audience than your brand could on its own.
Partnering with an influencer, company, advertiser, or publisher has a lot of advantages. But you need to make sure you select the right collaborators to work with.
When working with influencers, choose partnerships that meet these criteria:
A strong following
A following among your target consumers
Values that align with your brand
Authentic, high-quality content
When working with publishers and advertisers, it's also important to partner with companies that share your brand's values. Or at least aren't associated with opposing values. 
Looking at a publisher or advertiser's past work can help determine if they're a good match for your brand.
Exploring social media is a good place to start searching for partnerships. 
Influencer Analytics is a great tool for this.
Open the app, go to the "Influencers Discovery" tab, and select a social media platform.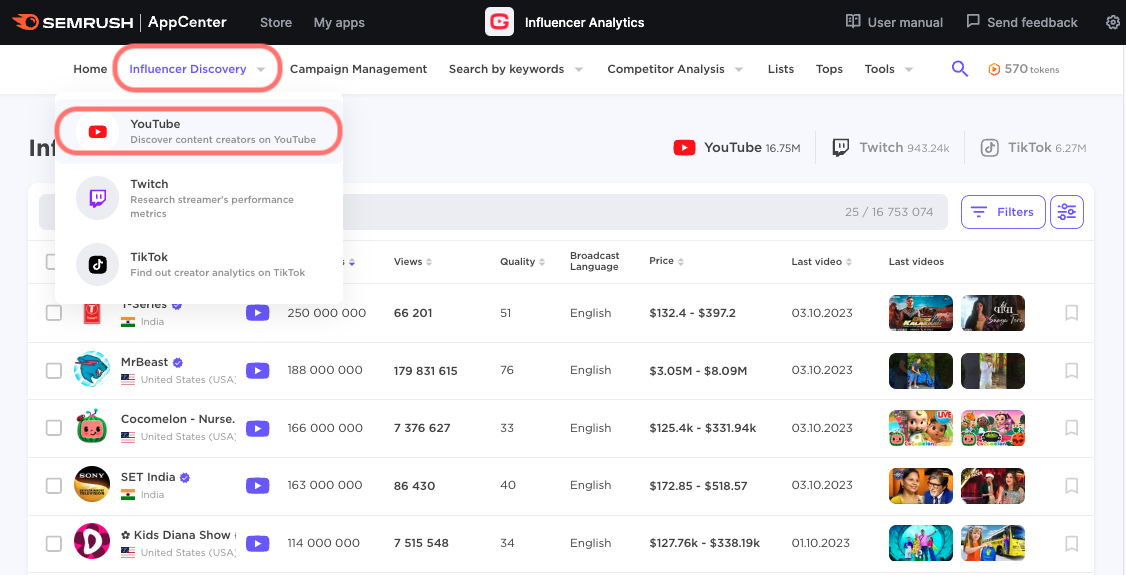 You'll then see a long list of influencers. That you can narrow with filters based on subscriber count, language, country, and much more.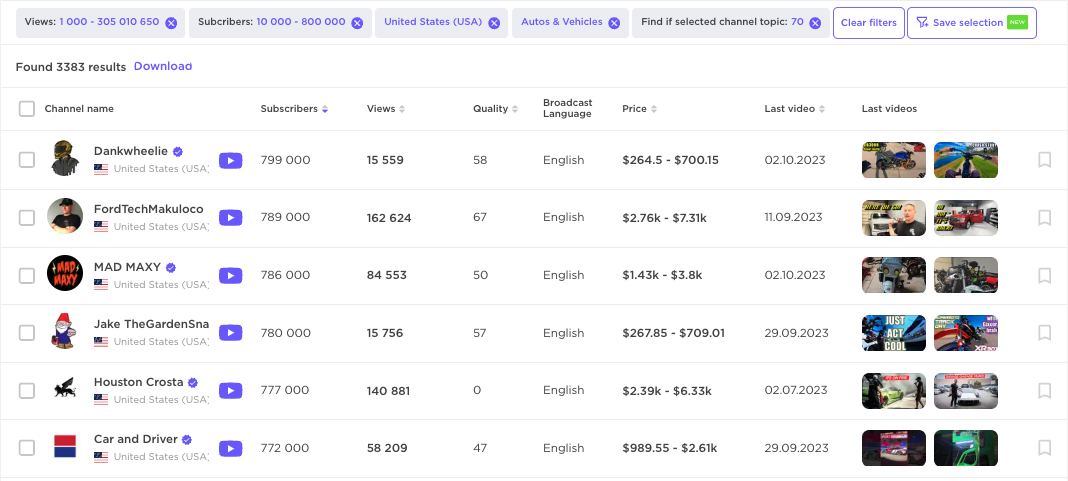 You can then click into individual profiles to learn more about them. And decide whether you want to partner with them.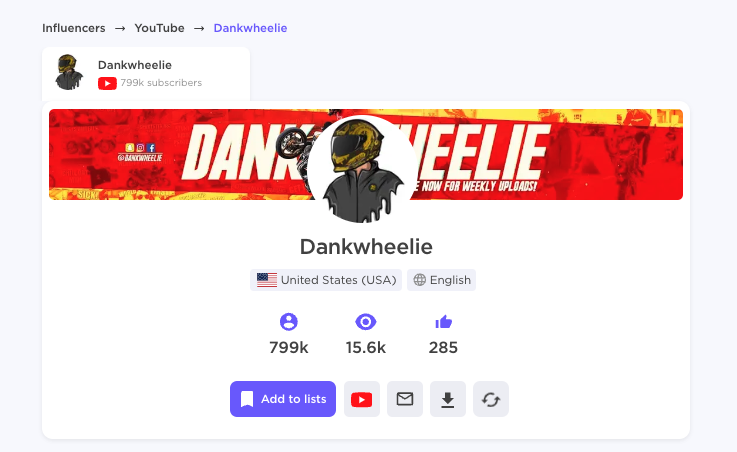 5. Know What to Avoid
Before you dive into creating branded content, make sure you're steering clear of some of the biggest pitfalls. 
You want your branded content to be focused and effective. So it connects with the audiences. 
Here are a few things to avoid.
Don't make your product the main character
Don't create a story without deeply considering the audience
Don't use narratives that are pushy, preachy, antagonistic, or too controversial
Don't try to generate conversations about a product instead of your brand
Don't copy another company's ideas just because it worked for them
Don't try to jump on a topic that's no longer relevant
Don't make your content too niche or technical
Don't tell people—show them
And finally, don't make the mistake ofthinking that branded content will increase company revenue overnight.
Remember, this is an investment in your brand's future. And it may take time to see measurable results. 
So, think of branded content as an ongoing way to support your company's brand visibility.
Ways to Distribute Your Branded Content
Your branded content shouldn't be a single-channel effort. By using a variety of channels and mediums, you can reach a wider audience.
It's easy to focus solely on social media platforms like Instagram, TikTok, X, Facebook, Snapchat, YouTube, etc. And branded content on Instagram is one of the main ways companies tell their stories today.
But don't ignore other channels like:
Your website
Email marketing
Paid media
Live events
PR
Guest posting
And don't forget about repurposing content to meet different channels' needs. This way, you can recycle one topic into a variety of formats. 
Analyze Your Branded Content's Impact
You'll need to evaluate performance to determine whether your branded content is successful.
When analyzing the success of your branded content strategy, look to some reliable metrics (which will differ depending on the format):
Total views
Number of unique users
User comments
Social shares
Hashtag use
Brand mentions
Percentage change in followers/subscribers
Conversions
Dwell time
Event RSVPs
Downloads
Clicks on links
All of this data can be used to inform and optimize future content strategies.
You can use Google Analytics 4 to track overall traffic and user behavior. To give you insight into how audiences are engaging with your branded content.
And Media Monitoring lets you keep track of what people are saying about your brand online.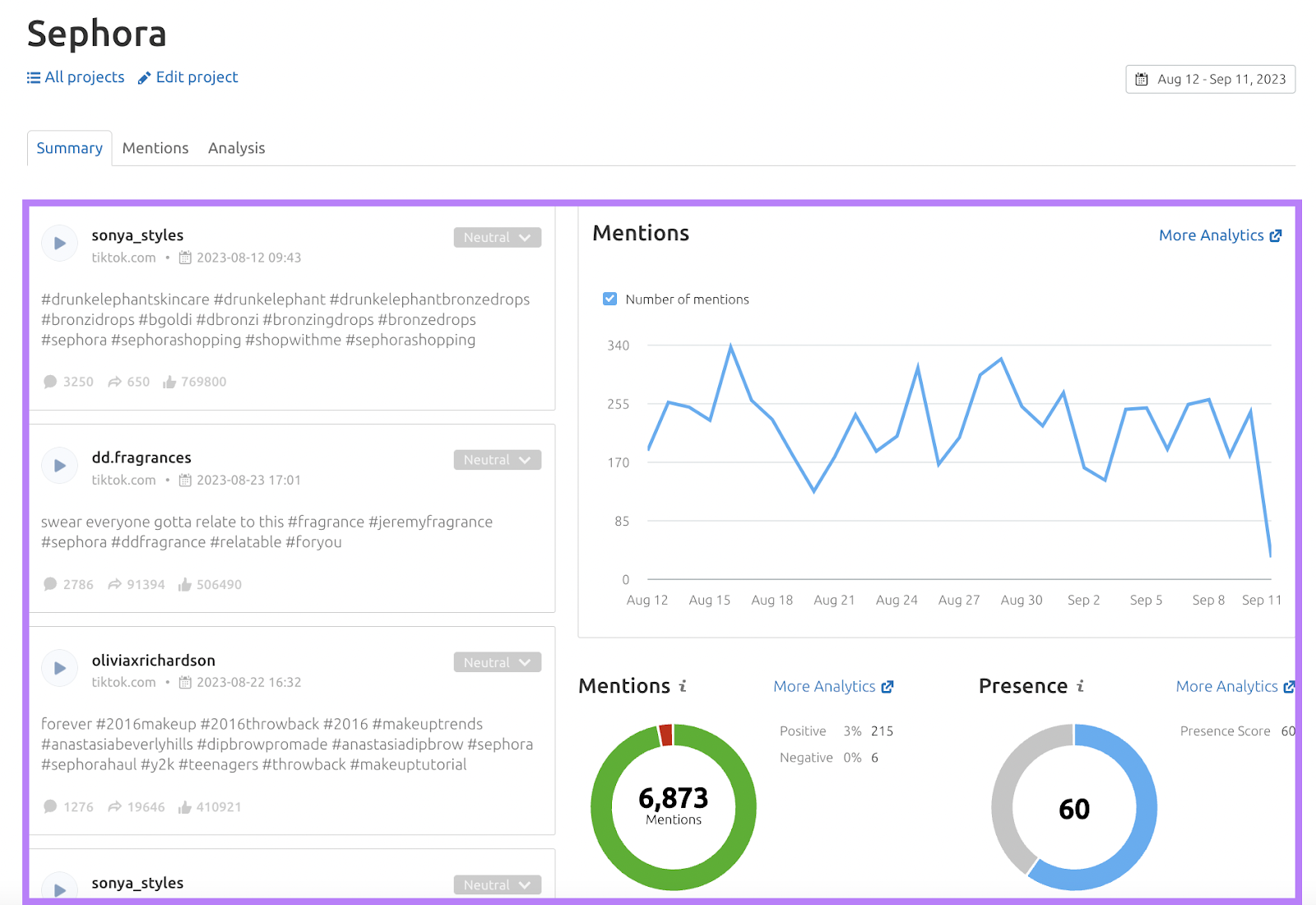 Good Branded Content Examples
Check out these branded content examples for some inspiration.
Gaining Ground: The Fight for Black Land Documentary from John Deere
Agricultural machinery company John Deere partnered with Executive Producer Al Roker to produce this 2023 documentary about Black land ownership in the United States.
The film's title is linked to John Deere's "Gain Ground" campaign, a marketing campaign with slogans that encourage farmers to "Gain Ground on your operation." 
And it was an extension of John Deere's LEAP Coalition, an initiative started by the company in 2020 to support Black farmers.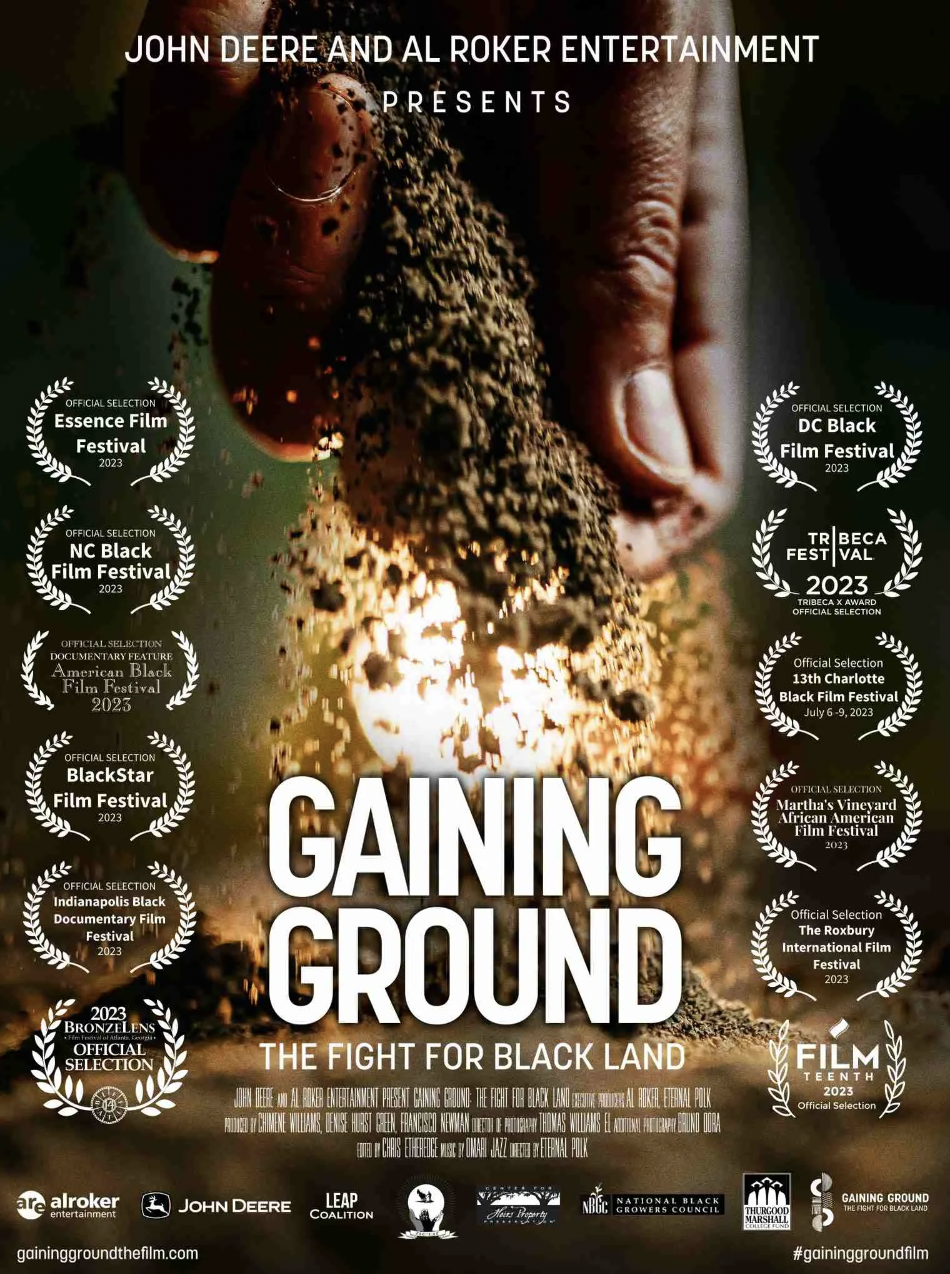 Loki the Wolfdog Collaboration from Mercedes-Benz
To promote the Mercedes-Benz GLS SUV, the automaker partnered with Instagram celebrity Loki the Wolfdog (@Loki_The_Wolfdog) and his human companion Kelly Lund.
Hashtags like #journey and #roadtrip were paired with pictures of the dog-wolf hybrid exploring the mountains. And they used that Mercedes vehicle to get there.  
The popular social media campaign also included a 360° Experience. Which was an interactive VR video experience that let viewers explore the snowy landscape of Colorado with Loki and the GLS.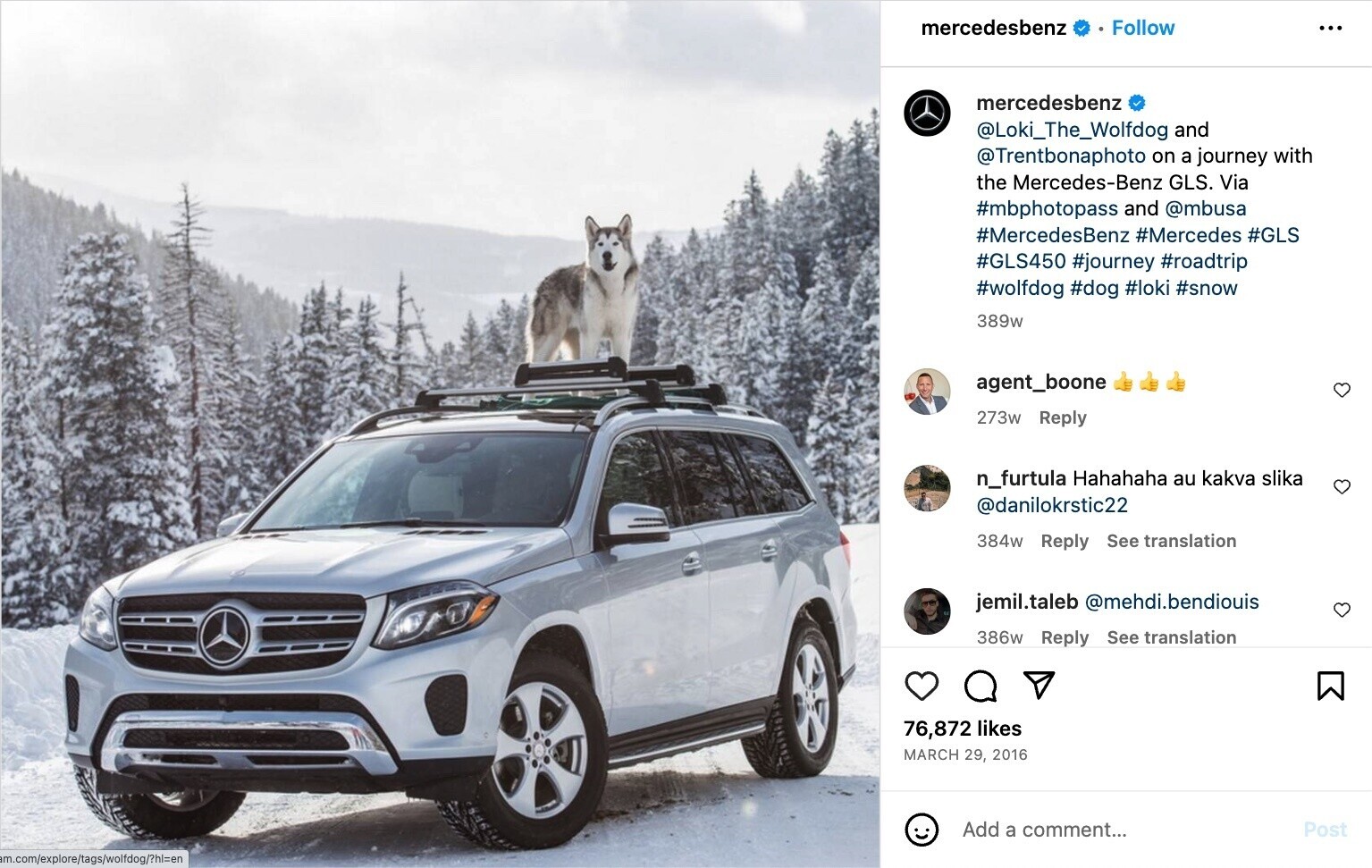 The Barbie Movie from Mattel
One of the biggest movies of 2023 was a successful example of branded content marketing. 
Based on the famous doll, Barbie was branded entertainment that appealed to a wide range of demographics. 
And the movie was about more than just selling toys. 
The movie re-established the Barbie brand image. Positioning the toy alongside big themes like imperfection, self-acceptance, and empowerment.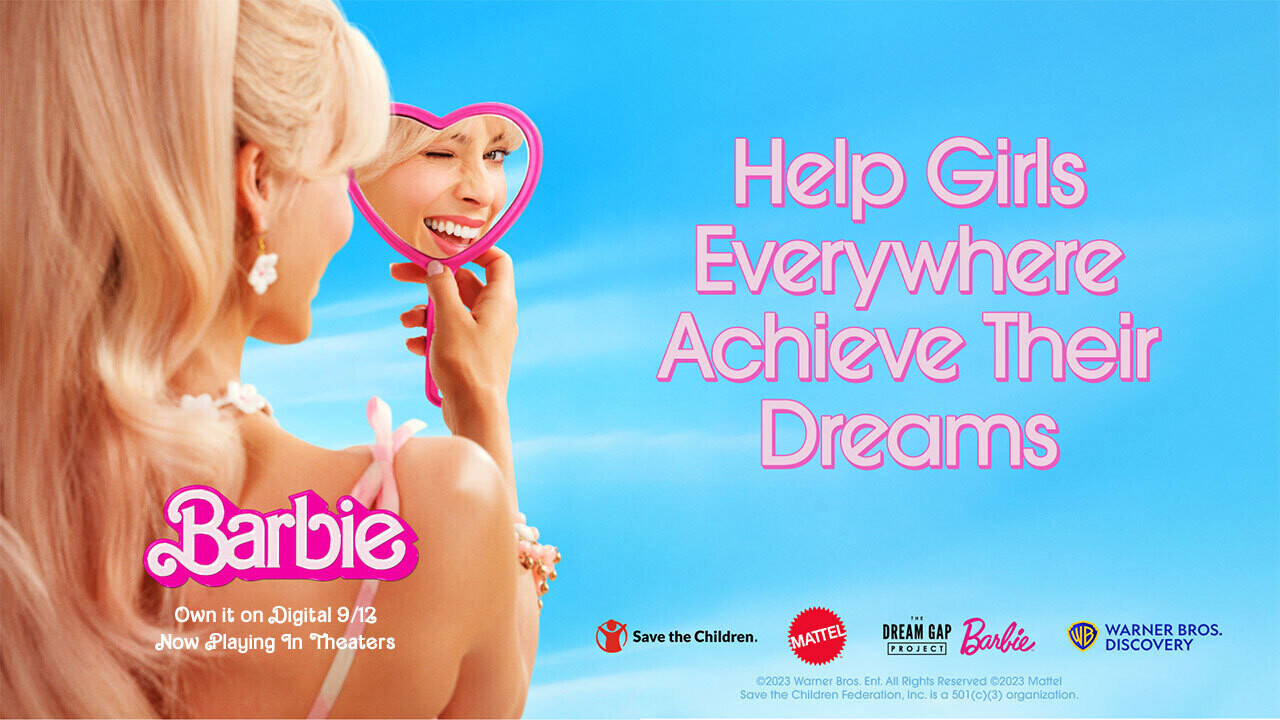 Source: Barbie Movie
Put Your Branded Content on Your Marketing Agenda
Branded content has the potential to engage audiences, build trust, enact change, and convert viewers into loyal customers.  
Need help figuring out how you're going to tell your story?
Start by defining your audience with Market Explorer.