Running a small business means you have to be ready to face countless challenges and find solutions on the fly. To be as effective as possible, you need to organize your work wisely, figuring out what you can handle yourself and what processes you should outsource. 
And here comes the hard part: finding and choosing an expert who will meet your expectations. Marketing agencies can be a true partner to reaching new success, but not all agencies are the same. Some specialize in very niche industries, others encompass different skills and services, and their price tags may vary. Before you make the leap to hire a marketing firm, read our step-by-step workflow on how to hire effectively. 
Benefits of Hiring a Digital Marketing Agency
Digital marketing is powerful, but it's not as easy or simple as many business owners might think. That's why having an expert team by your side can be particularly helpful. For businesses with super small teams, outsourcing could be one of their first considerations.
Let's look at the pros of hiring a digital agency. 
Not every company can afford to have full-time SEOs, data analysts, web designers, content writers, PPC, or other specialists. If you choose to work with a marketing firm, you get access to a broad range of skills in various fields for the exact number of hours or activities you need at a particular moment.
If you're planning to roll out a massive project and need help to fuel your campaign, you can go to an agency that will provide you with a team of professionals who are experts in different areas of marketing strategy.
Rather than having one person's experience and expertise, you can benefit from several marketing minds and the skills you need to launch your project. So, rather than hiring one general marketing person for your business, hiring an agency means you are hiring an entire team of digital experts.
Professional agencies usually work with a large number of specialists in all kinds of areas, which allows you to apply the right mix of expertise to meet your goals. Let's say you own a business and you want to hire an agency in New York that specializes in automation, branding, and analytics. Ideally, you'd want to find one with the industry specialty and experience to match.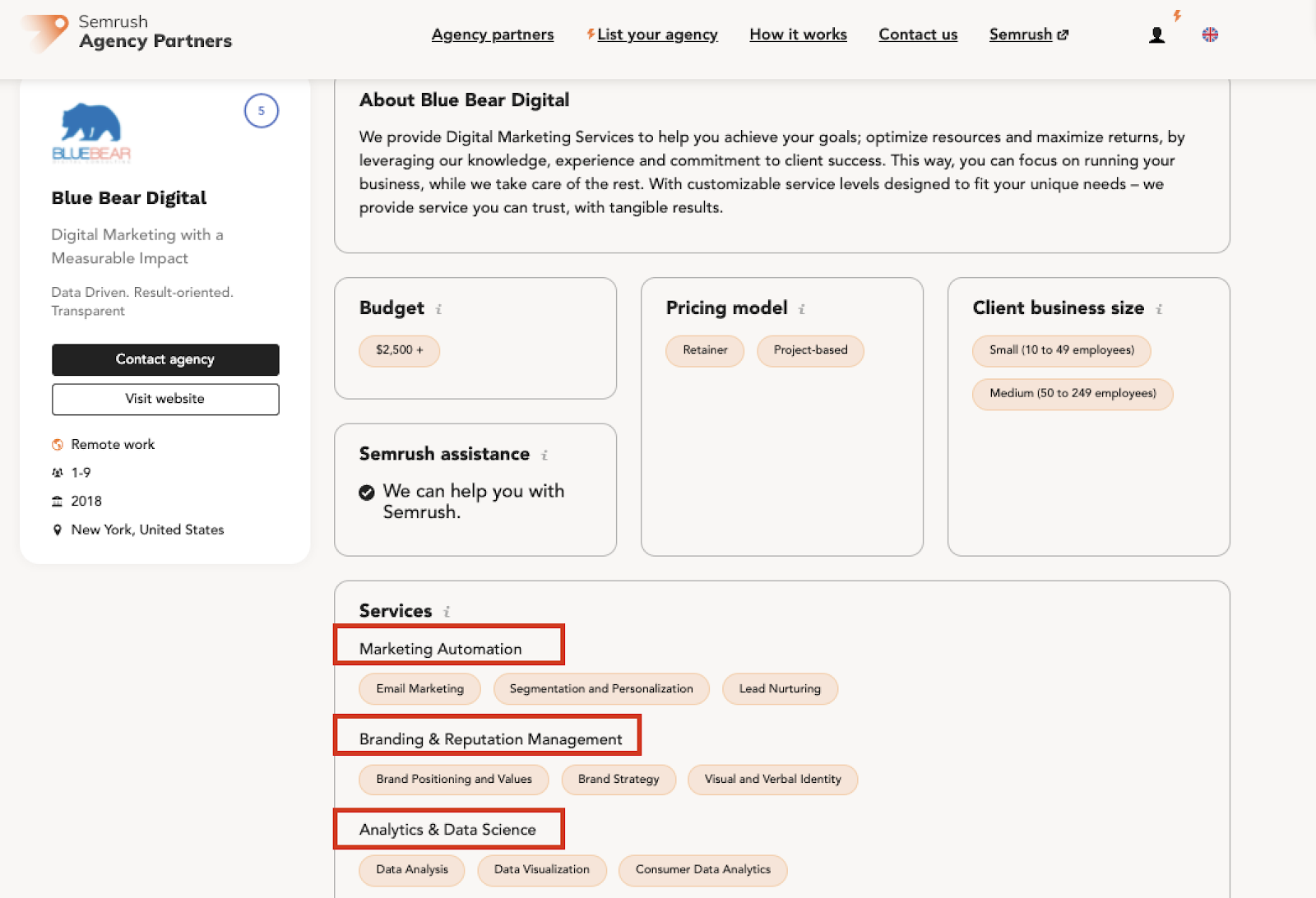 When it comes down to it, brand managers are just people that are trying their best with lots of expectations and a looming deadline. It can be a difficult position to be in. That's when they start shopping for an agency. And why not? Brands get on-call access to a team of experts specialized in Out-of-Home, Search Engine Marketing, Paid and Organic Social Media, PR, Events planning, and so on.
Lower costs (in some scenarios)
In some cases, it's cheaper to outsource your tasks than have a full-time employee, especially in cases where you have one-off requirements. 
Hiring a qualified full-time specialist will take a lot of time and effort to find; and it can be more expensive than working with an external team.
According to Glassdoor, the average salary of a digital marketing manager is $123,899 per year, and of an SEO specialist is $47,752 per year.
Considering additional expenses that come with having an in-house team, like insurance, taxes, and retirement plans, the total sum rises to more than $200,000 per year. 
The services of a marketing firm aren't free, but there are multiple agencies that work with different budget sizes and offer various pricing models. This could include a retainer with an hourly rate, or it could be project-based.
Access to industry tools and technology
Investing in the top software on a regular basis comes at a high price. However, a good marketing agency comes with many of the industry's must-have tools, so their clients gain access to the best technology on the market. 
Let's say you want to purchase an Semrush Guru subscription for your company. It will mean you have to pay $191.62 per month (if billed annually).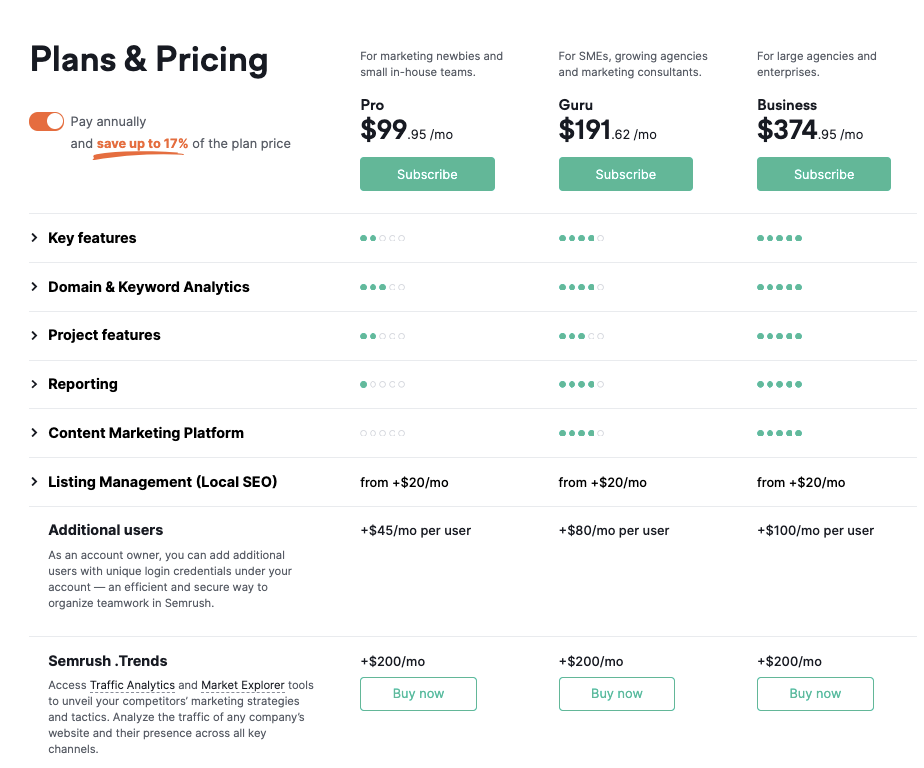 On the other hand, if you partner with an agency, you can have access to extensive Semrush data. They can launch Semrush projects for your website and share them with you, so you can check out the capabilities of the tool and the scope of the data before purchasing an individual subscription for your own.
Or, if you need a graphics editor like Figma, which bills at $45 per editor/month annually, you can count on your agency to have a toolset for designers. The tool runs in the cloud, so teams can easily share up-to-date designs and collect comments.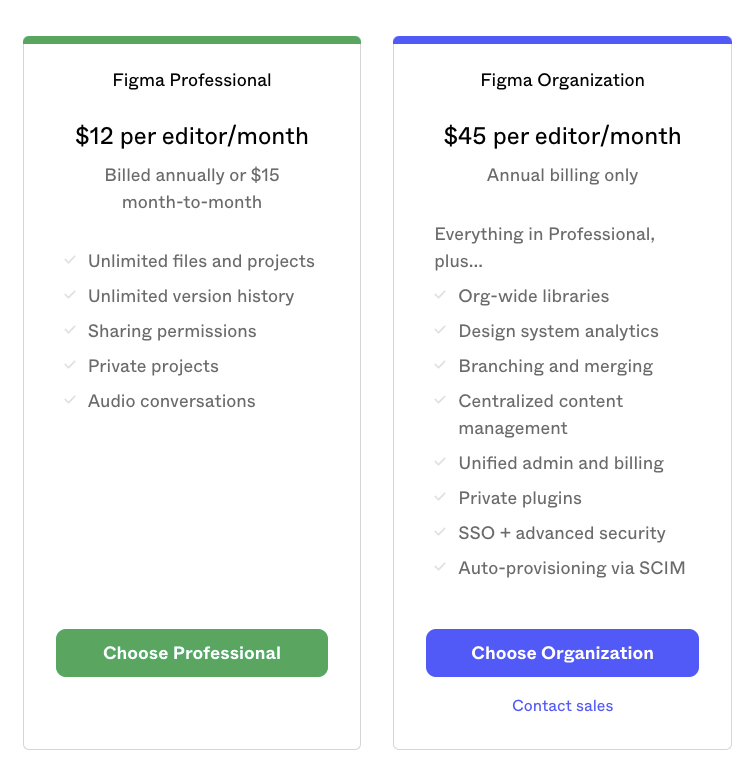 If you hire an agency, you pay for both their expertise and the marketing software they invest in. 
If you've ever heard about cross-industry innovation, you'll know that many of the challenges we face might have been solved in other industries. One of the most successful examples is how the Formula 1 Pit Stop brought the idea of fast-food drive-throughs.
Most digital marketing agencies work with all kinds of businesses and industries and know best practices that they can share with your company. An outside opinion can give you a whole new angle from which to look at your company and your marketing strategy.
However, despite all the advantages of outsourcing your marketing activities, there may be some drawbacks. Here are a few reasons businesses may want to hire an in-house team.
Employees have a deeper understanding of your brand and company's culture
Communication is streamlined because your team members work closely together every day
You have full control of creatives for your campaigns
How to Find the Right Digital Marketing Agency
There are four key aspects you need to consider when looking for the right marketing partner for your business.
Step 1. Understand Your Company's Needs
What does your business need? It's important to understand what you want to achieve through your digital marketing efforts and what you expect from an agency. Both sides of this partnership should have clear expectations from the start.
Set measurable goals so you can track your progress and understand when you have achieved your objectives. For example: 
I want to grow our organic traffic by X%.
I want to get X number of leads.
I want to drive X conversions during the holiday season. 
When setting goals, you can use the SMART Marketing Objectives model:
Step 2. Build a Shortlist of Agencies
Once you've decided on your goals, it's time to start searching for your agency partner. Here are three useful strategies for selecting candidates:
Use a matchmaking platform
It's a place where brands and agencies can find their perfect match. There are two types of services:
Independent, which usually include not only marketing agencies, but also tech vendors, graphic design and video production firms, etc. 
Brand-centric, for example, Google Partners, Facebook Partner Directory, Shopify Experts, where established brands certify agencies within their network
If your company is a Semrush user, you may want to explore our Agency Partners platform, a matchmaking service that helps brands quickly find a marketing agency to get support with their next project.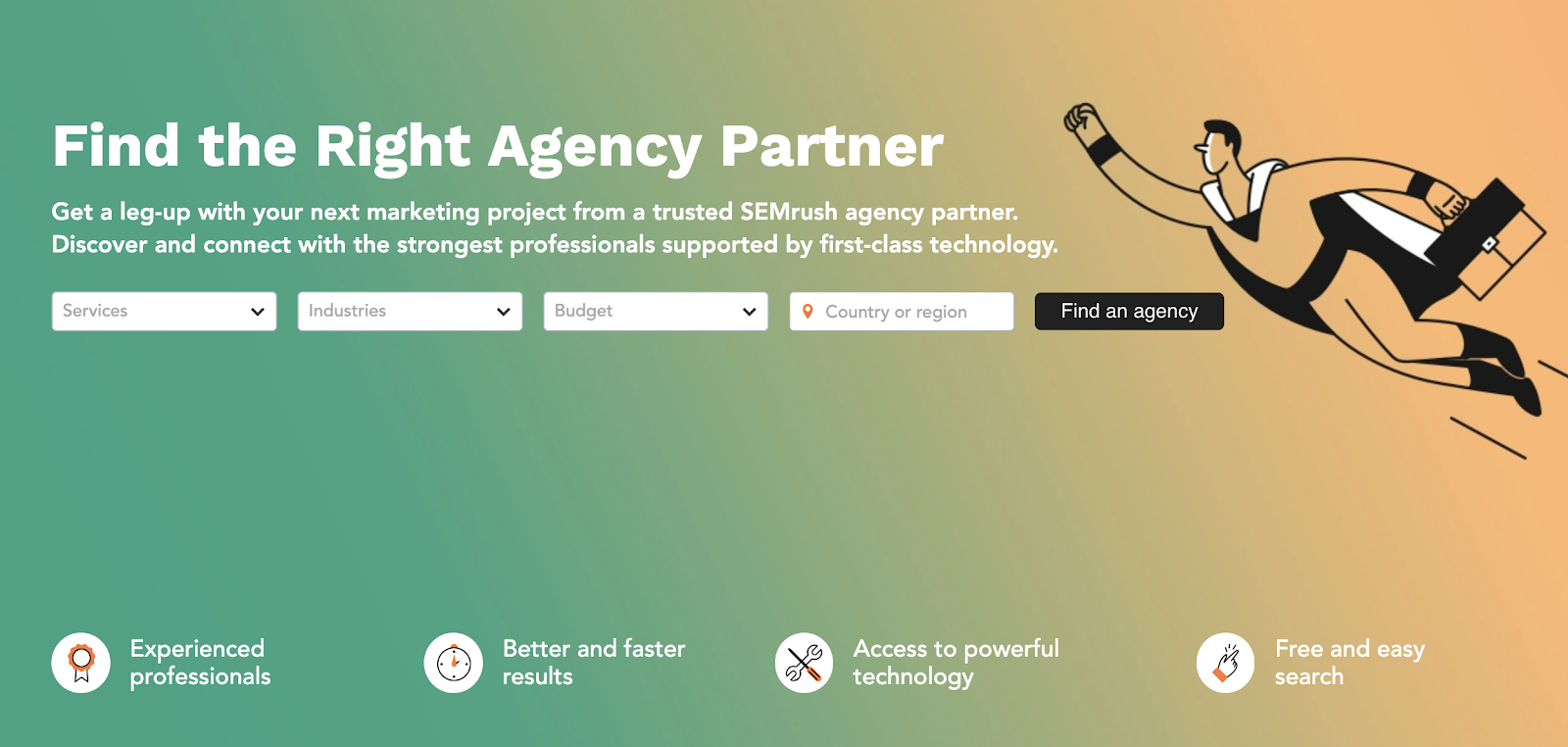 By using multiple filters, you'll get the most relevant results to suit your specific needs.
You can also select the "Semrush expert" option, and we'll show you agencies that can help you set up and start using the Semrush reports and tools.
Ask your team
Someone in your team may have worked with a professional marketing services provider in a previous position. Ask your colleagues if anyone can share relevant contacts.
Ask other companies
You can also do some digging and find non-competing businesses you're in contact with that seem to do a good job with their marketing.If you can't find companies from the same niche, search for other businesses that have similar challenges. Is someone helping them with their marketing strategy? 
Or, maybe there are vendors you currently work with. Who do they collaborate with? Do they outsource some of their tasks? You can ask them for recommendations and references.
Step 3. Give Them a Brief and Ask For a Proposal (RFP)
Create a formal request for proposal (RFP), which allows you to collect important information about particular vendors and select the one that best meets your criteria. Outline your project and goals and describe your requests.
Make sure to include all the questions you want your potential marketing partner to answer — about the solution they propose, their marketing plan, timeline, pricing and fee structure, contract terms, etc.
Here's a good example of how to write an RFP to a marketing agency. It is not a one-size-fits-all template, but a starting point and a source of inspiration. Your own RFP depends on your company's specific needs and goals.
Step 4. Match with the Ideal Partner
Now that you have a list of several agencies that you think might be a good fit, you can explore your candidates in detail. We suggest taking the following actions to select your future marketing partner.
Check the agency's online presence
First of all, see how they market themselves on the web. If an agency that offers social media marketing services has little activity on Twitter, Facebook, and other platforms, it may be a bad sign. Agencies should not only advertise their services, they should also market themselves and create content to build trust and credibility.
Search for firms that have a good track record. Ask to read their testimonials and case studies. 
Just look at how Agency Jet organizes its success stories.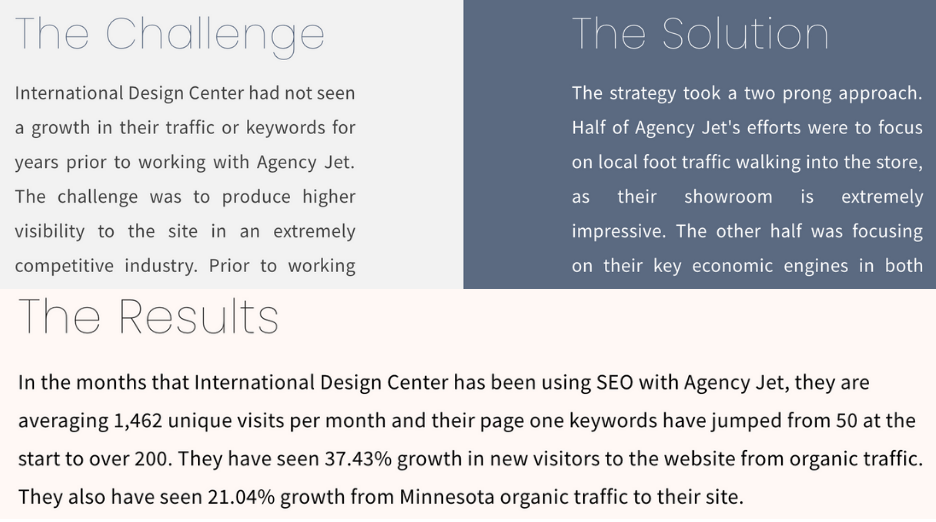 You can try to get in touch with the agency's current and previous clients and learn more about their experience with that vendor. An agency might be over-promising if it exaggerates the actual results.
Anyone that can meet these 3 criteria, I would go with:
1) Strong track record of rankings (with proven case studies)
2) Social proof (I have seen them more than once as the "expert authority".)
3) They offer "extreme value." What are they projecting for your ROI? Do they offer valuable services that I can get elsewhere? CRO, Expert level SEO Audit or Silo Pages, maybe they are the best link-building team.
These all factor into my buyer's journey and, ultimately, making a decision on spending my marketing budget with an external agency.
Make sure you speak the same language 
The agency you'll choose will be representing your brand, that's why you need to be sure you speak the same language. For example, an old-fashioned, traditional agency could be a good choice for a B2B construction company, while a young, trendy agency can have an ideal brand voice for a young startup.
Check if they have a blog on their website. Pay attention to its overall design and graphics, tone of voice, topics, writing, headlines, and calls to action. Ask yourself if their posts align with your vision and approach.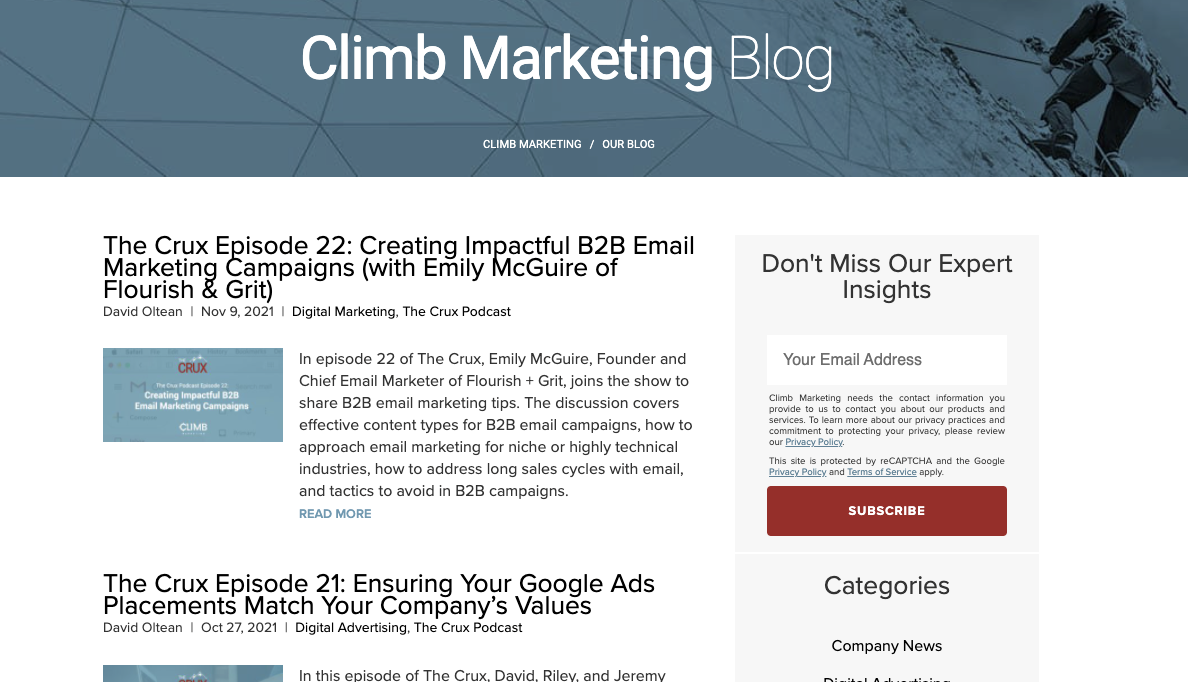 Meet the team you'll be working with
Chemistry matters. Schedule a meeting with the marketing team you'll be interacting with and ask them to send you an agenda. Prepare a list of questions you want to ask about the agency's processes, strategies, or other specific things you want to clarify. 
These meetings take time, yet are very useful because they help you better understand whether or not you can have a healthy working relationship and enjoy working with each other.
Many brands we work with come to us through long-term clients or people that have moved to a new company and would like to work with us again. This is one of our favorite types of outreach. You get people who like what you do and you get paid to do more of what you're good at.
My suggestion to a marketing manager is to meet them in person, and ask for work and reporting samples; for example, if you are a brand manager, ask for a list of influencers they work with and for a brand assessment on how they see your brand and they can help you. This should include a workable budget with clear details concerning their media fees, hourly or fixed rates, and all other agency fees.
Look for an agency with expertise that matches your primary needs. Their experience and competence should be applicable to your business and niche. 
Jason shares his own experience:
For our agency, we receive requests from brands across a number of niches, but only accept brands within the luxury, lifestyle, and fashion verticals. This is also what I recommend to marketing managers—don't accept an agency that doesn't know your industry. They may know how to run Technical SEO or Paid Social Media, but it's a very different ball game when you jump into another vertical.
And the last bit of advice I believe to be extremely important is to work with an agency that is enjoyable to work with. You will need to coordinate with them and talk to them very regularly. With a little bit of luck, you might find yourself a long-term agency and highly successful results in your future.
Every business is unique and needs an individual solution. The right agency will understand what you do and how you do it. The right agency will be able to mesh with your audience or sales cycle.
Putting It All Together
Finding the right agency partner takes time and effort. But the more thorough your search process is, the better your chances are that you've made the right choice. Do the research and ask the right questions to make sure you make the right investment for your company. To get started, check out the Semrush Agency Partners directory: a list of highly-qualified marketing professionals who are ready to help you in the next stage of your business journey.