Local SEO is a subset of SEO that focuses on optimizing your online presence to rank higher for local search queries. 
It's important for increasing both foot and web traffic, managing your online reputation, and competing effectively with other nearby businesses. 
How Local SEO Can Transform Your Business
People use local search to find everything from restaurants to plumbers. So, the folks in your immediate area are likely searching for products or services that you offer. 
And optimizing for local searches can help ensure that your business shows up for these search queries. 
Why is this important?
Because people doing local searches typically have a high purchase intent (a type of search intent that indicates the reason why they're searching is to make a purchase). Which means ranking for local keywords can be a great way to attract people ready to buy. 
Local SEO also helps you compete effectively with similar businesses in your local area. And can give you an edge over those focused only on traditional organic search rankings. 
Let's look at what optimizing for local search looks like in practice.
Here's an example of three businesses that are optimized for the keyword "italian restaurant near pike st seattle." 
Some of these businesses appear in the standard search results as the usual blue links.
But more importantly, they show up in a map showing their locations. So potential customers can easily get directions. 
These results also show important business details like reviews and operating hours.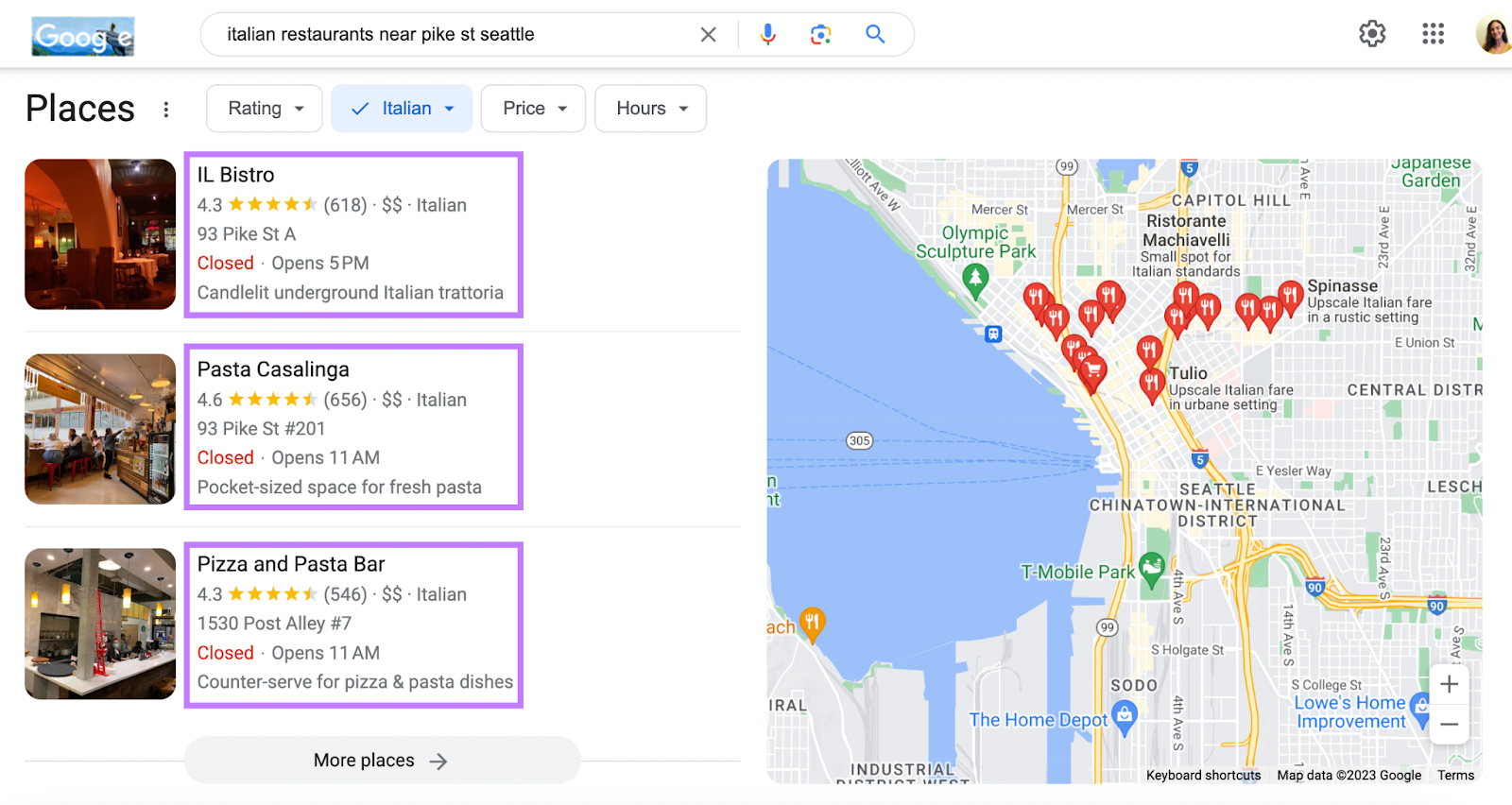 11 Tips to Improve Local SEO
Here are 11 powerful tips to help you improve local SEO:
1. Optimize Your Google Business Profile
Google Business Profile is a free business listing from Google. And creating and optimizing your profile is an excellent place to start when improving your local SEO. 
Your Google Business Profile significantly affects how your business ranks for local searches. 
Google shows three types of results for local searches:
Sponsored ads are at the top
A local pack (which displays local businesses that closely match the search term, along with a map with showing their location) is next
Organic search results (the clickable blue links) appear below the local pack
Like in this example: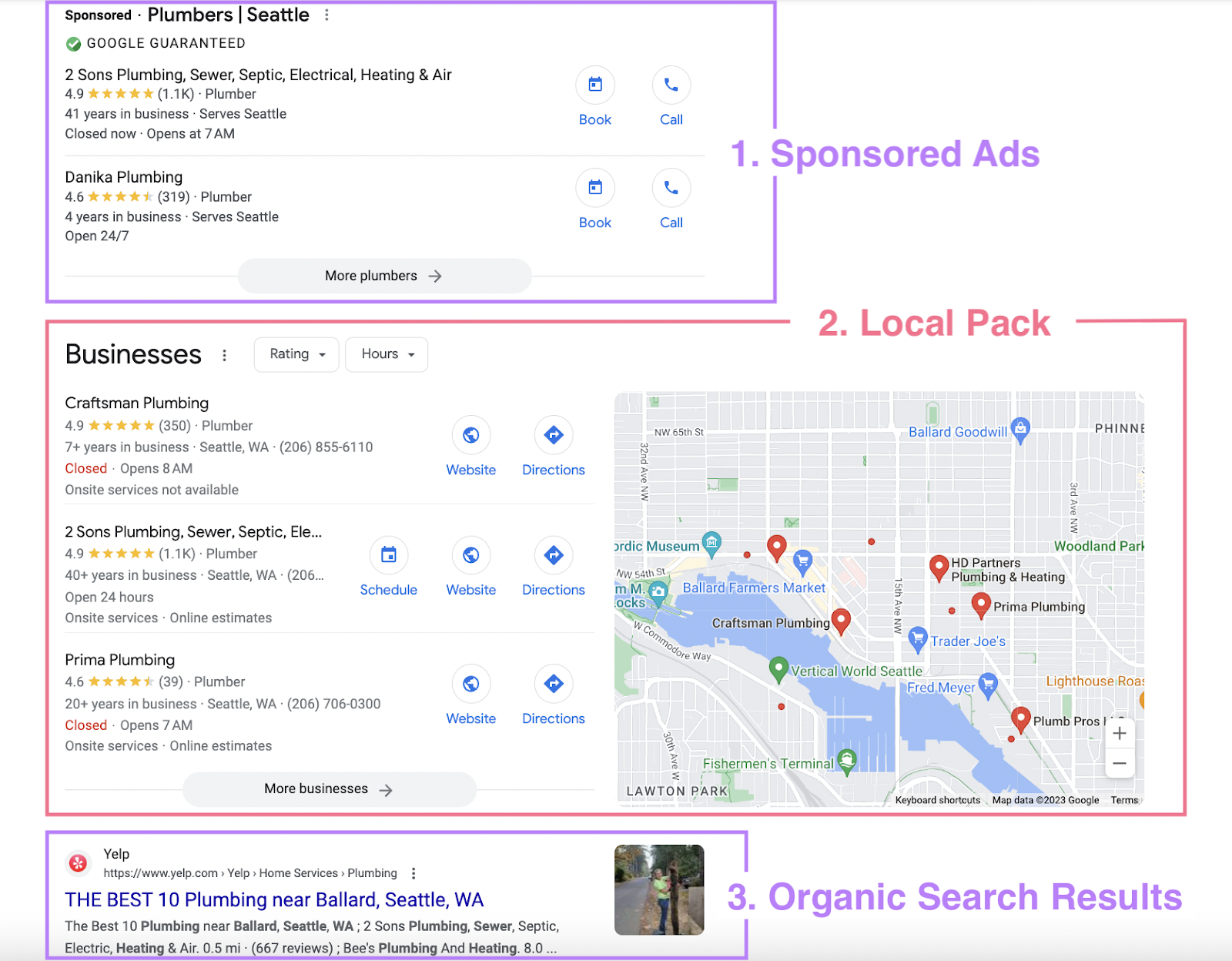 If you don't want to pay for ads, the local pack (also known as the map pack) is a great alternative to aim for. And an optimized Google Business Profile can help you appear in it. 
This is because Google gathers information about you from your Google Business Profile (along with other sources). 
So, make sure that your profile is accurate and detailed. To help Google understand what your business does and who it serves.
Critical information to add includes: 
Business operating hours
Business logo
Phone number
Street address
Interior and exterior photos of your business 
Services offered
Website link 
Service areas 
It's also important to choose the business category that best describes your business. Google Business Profile provides thousands of category options. 
You'll first choose a primary category by selecting the one that best represents your business. 
For example, "Ethiopian restaurant" is a better category choice for a restaurant specializing in Ethiopian food than simply "Restaurant."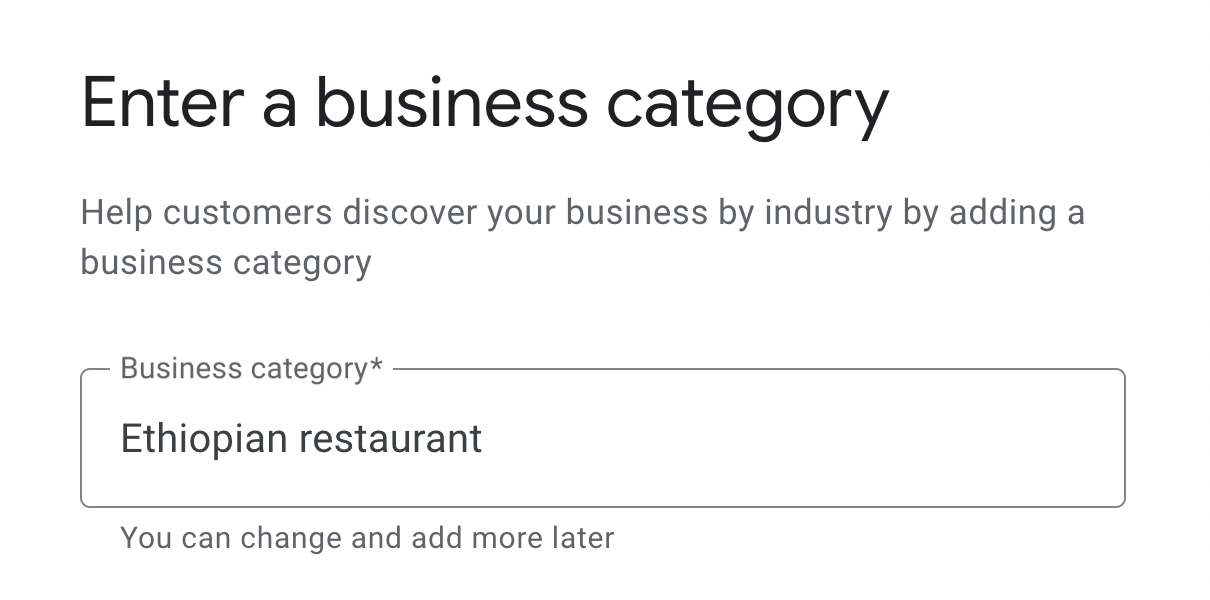 And Google lets you choose up to 10 subcategories to describe your business further. 
For example, you can add additional categories if your restaurant is gluten-free or offers catering services.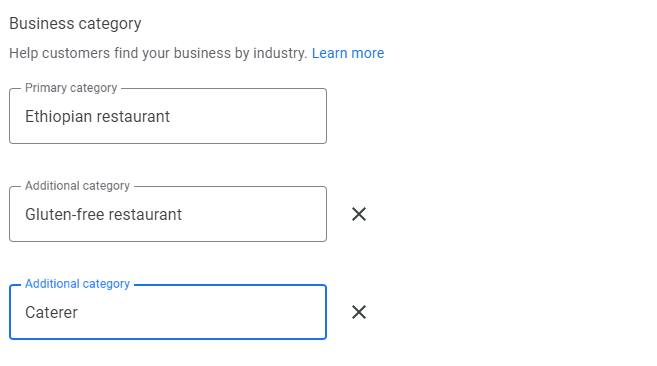 Be descriptive, but don't go overboard. Adding additional subcategories that are broader than your primary category doesn't do much good. 
In our example, subcategories like "African restaurant" (which is more generic than "Ethiopian restaurant") are usually unnecessary. And can dilute your relevance when Google tries to rank your business.
2. Get Relevant Local Citations 
Local citations refer to online mentions of your business on platforms like local business directories, social media, and websites. This includes mentions of your business name, address, and phone number (NAP). 
And Google is more likely to serve your business in local search results if it notices that your information appears in many trustworthy sources. Even more so if your NAP information is consistent across those sources.
You can use Semrush's Listing Management tool to help you build local citations—and ensure they're all displaying the same NAP information. 
First, enter your business name in the search bar. And click the search icon.

Then, the tool will give you an overall assessment of your online presence. And reveal which directories you don't appear in. As well as which ones have missing or incorrect information that you should address to improve local SEO. 
Like this: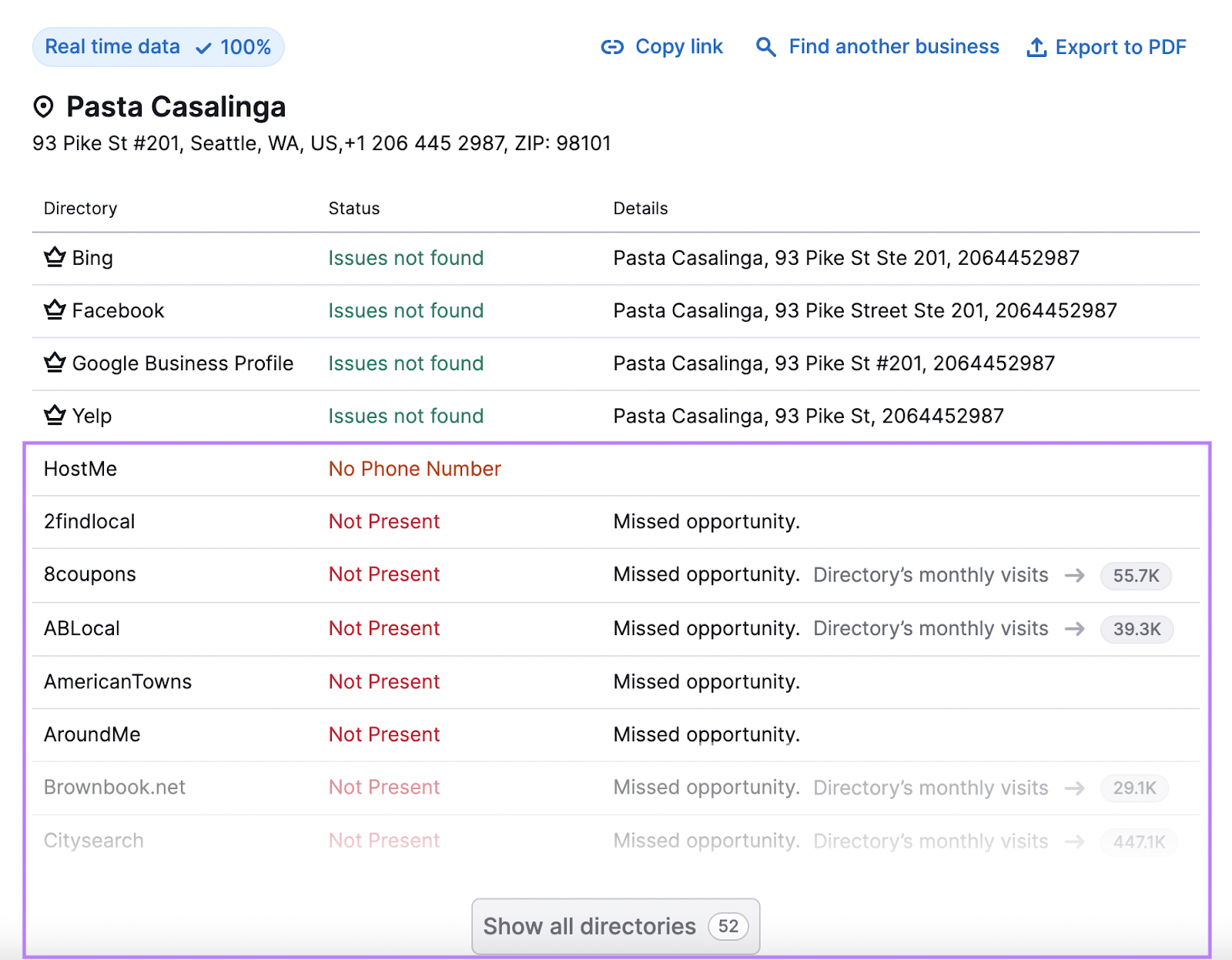 You can now take steps to gain new listings. And correct anything that's wrong with the ones you already appear on.
You don't have to appear on all local listings. Instead, focus on the ones that are likely to be most beneficial.
Let's take an example of a restaurant. 
The best citation sites would be niche-specific. Such as Grubhub if you offer takeout or OpenTable if your restaurant accepts reservations. 
Of course, you should also go for the more general citation sites like Yelp, Tripadvisor, and Foursquare. Because they're widely recognized. And have a broad user base, which is good for increasing your visibility. 
3. Use Local Data Aggregators to Distribute Business Data
A data aggregator is a website or platform that pushes your NAP and other business information to third-party directories on your behalf. Meaning you can use it to list your business in multiple directories simultaneously. 
Just make sure your information is correct and consistent with your Google Business Profile to avoid putting the wrong information in multiple directories. 
As long as you do that, data aggregators help reduce human error that can occur when manually listing your business information.
Semrush partners with Yext to automatically add your business information to directories through the Listing Management tool. 
After you run a search for your business, scroll down and click "Try it now."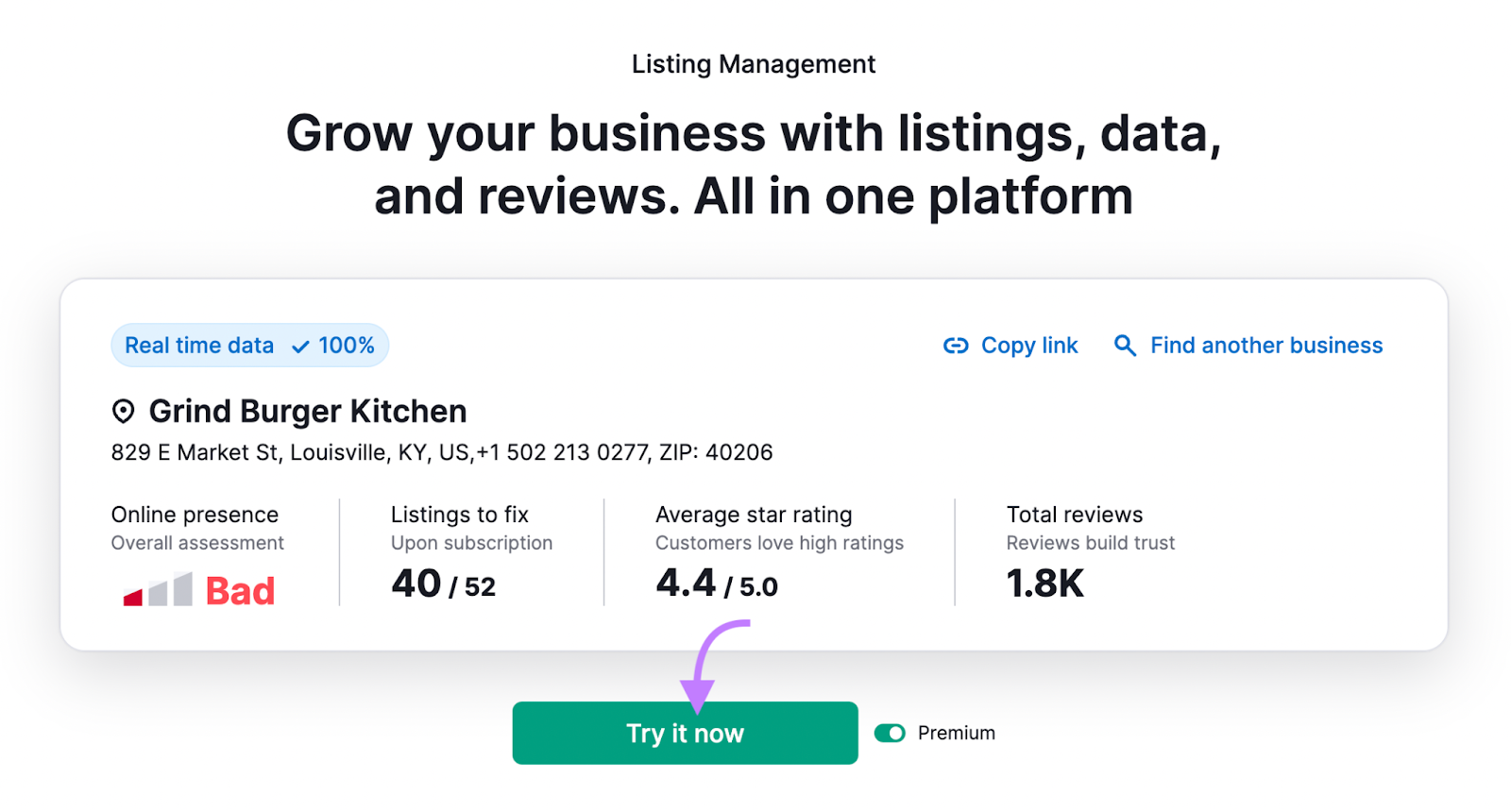 Complete the steps to purchase your Listing Management subscription to get to the editing window.
Add your brand name and choose a business category. And edit your NAP information if it's incorrect. 
Then, click "Start distributing info."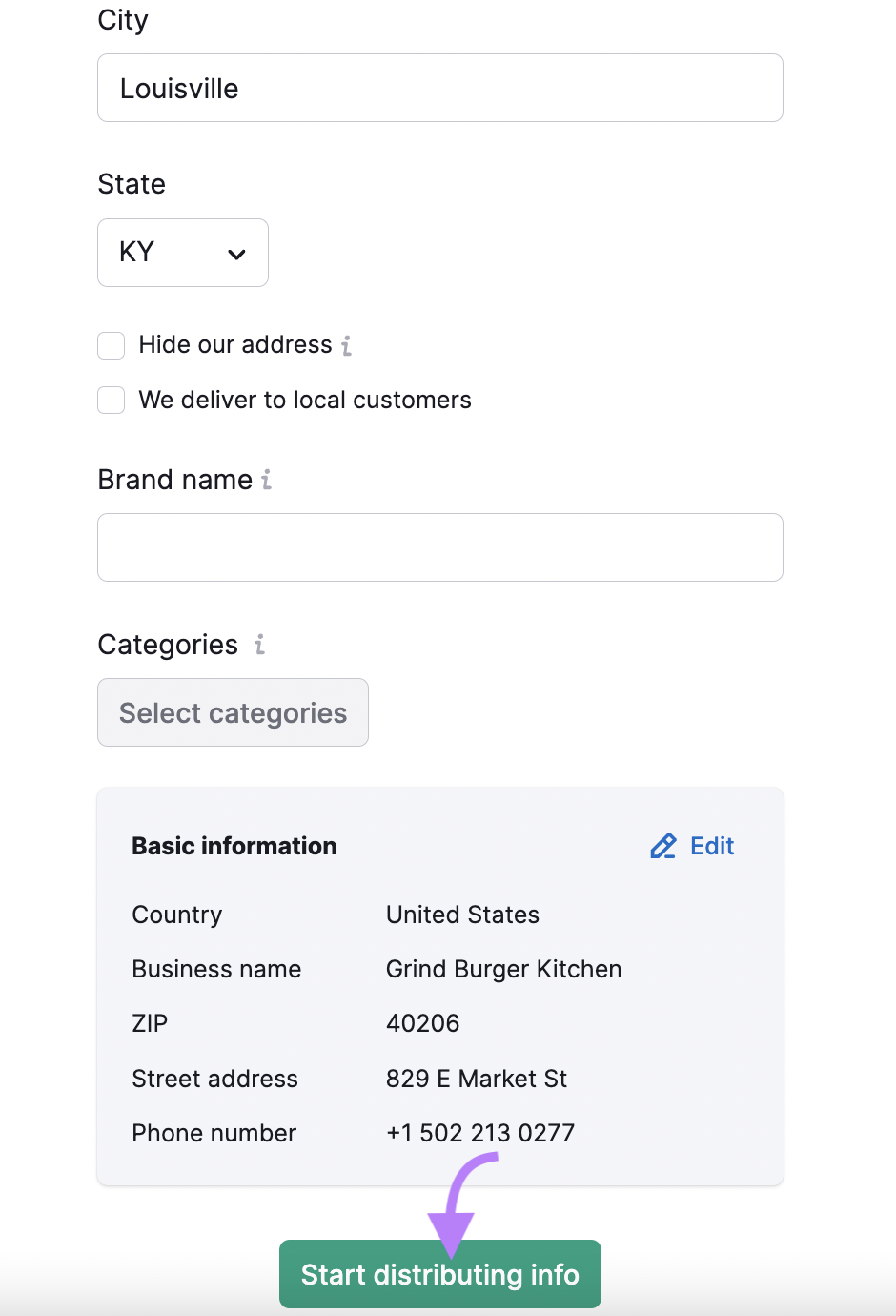 Listing Management can now distribute the correct NAP information to the directories of your choice. 
Further reading: How to Build Local Citations
4. Track and Manage Your Online Reviews 
Good reviews can also positively influence local SEO—just take a look at how high the ratings are for the businesses that appear at the top of the local pack.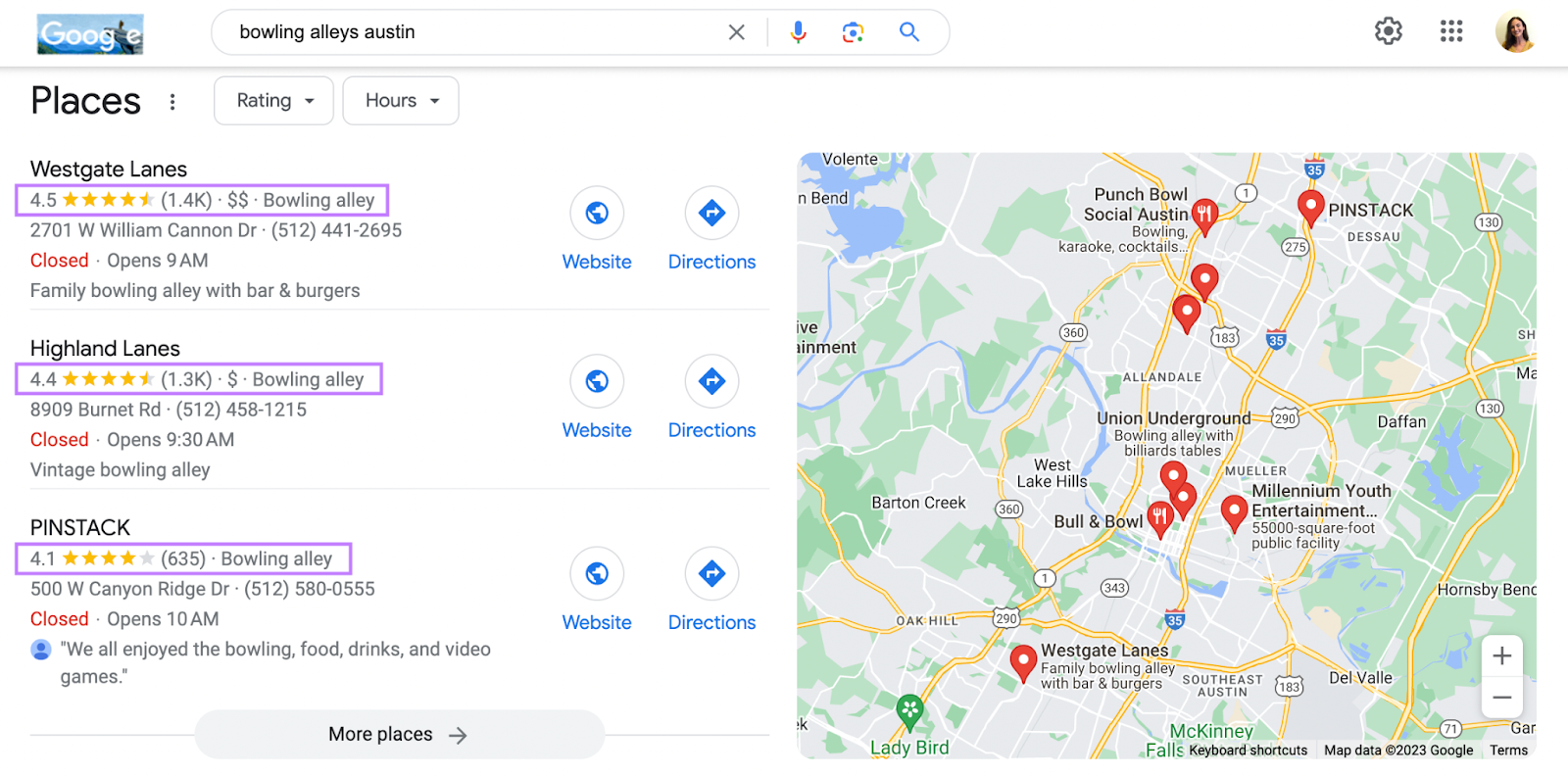 Reviews also help build trust with customers. Especially when you make an effort to respond to them.
So, keep a close eye on your reviews across platforms.
Our Review Management report (part of the Listing Management tool) can help you with this. Because it scans 70+ directories. 
Enter your business name in the search bar to get started. See what customers say about your business on different platforms. 

Scroll down to "Manage reputation & track competitors" to see your total number of reviews and average rating.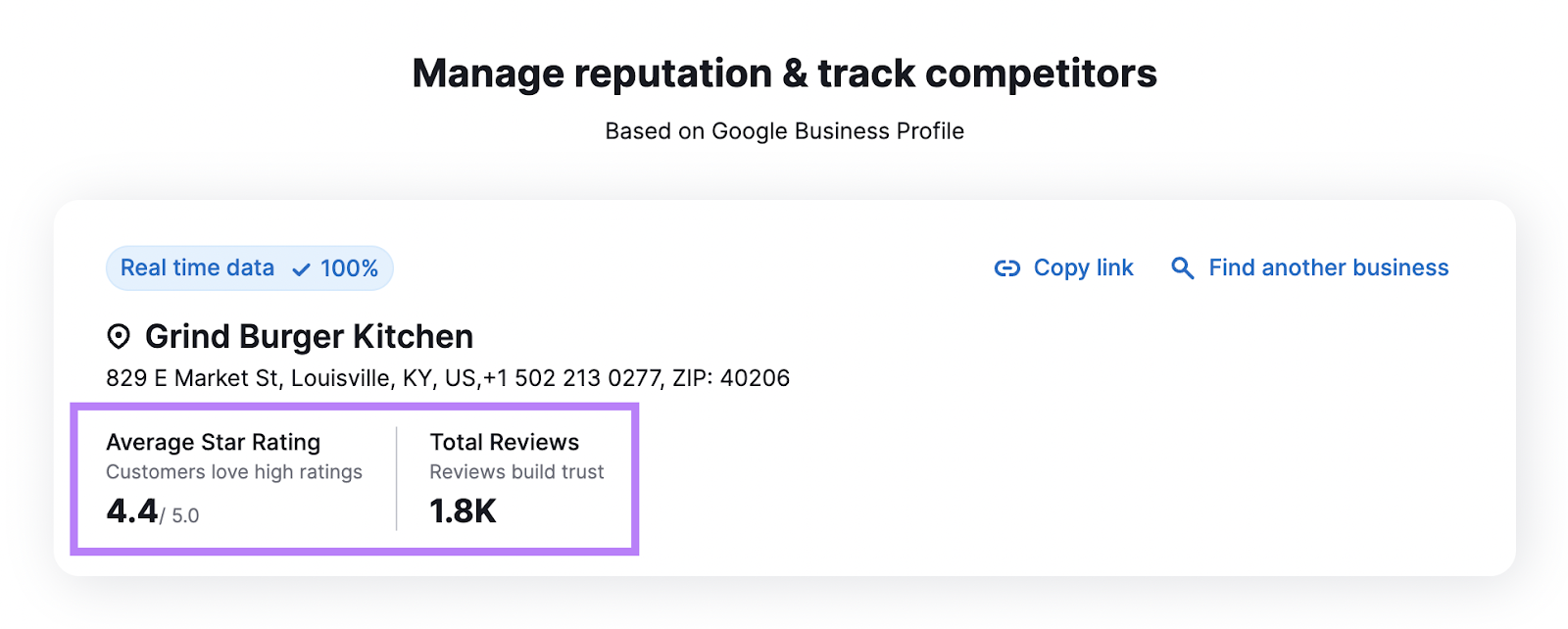 Click "Manage reviews now" to sign up for a plan that will give you access to all of Semrush Local. 
Then, go to the "Review Management" tab to see all your reviews from the different directories. 

You can click to open reviews directly in the directory where they occurred. Or respond to Google reviews directly within the tool.
And be sure to respond to reviews. To show customers you care. 
It also signals to Google that you're engaged with your customers and value their feedback.
That's true even for negative reviews. In fact, a good response to a negative review can positively impact your business image. 
Some quick tips for responding to negative reviews: 
Respond promptly 
Offer to remedy the situation, such as issuing a refund
State your commitment to improving your product or service
Finally, encourage your customers to leave reviews. And make the process easy for them by providing clear instructions and direct links to your review page. 
Further reading: How to See Your Google Reviews (And Manage Them Effectively)
5. Add Local Business Schema to Your Website 
Schema markup (a type of structured data) is a way of adding code to your webpages to provide additional information. Which can help search engines better understand the content on your pages. 
And local business schema is used to convey essential information about local businesses. Including location, operating hours, and the type of business. 
Although schema is not a direct ranking factor, anything you can do to help search engines understand your website can potentially help you rank better for relevant queries. And even show up in the local pack.
Schema.org provides a standard vocabulary you can use to define your business type and the key information about it. 
This is what the markup looks like using JavaScript Object Notation for Linked Data (JSON-LD) script—which is the type of script Google recommends using.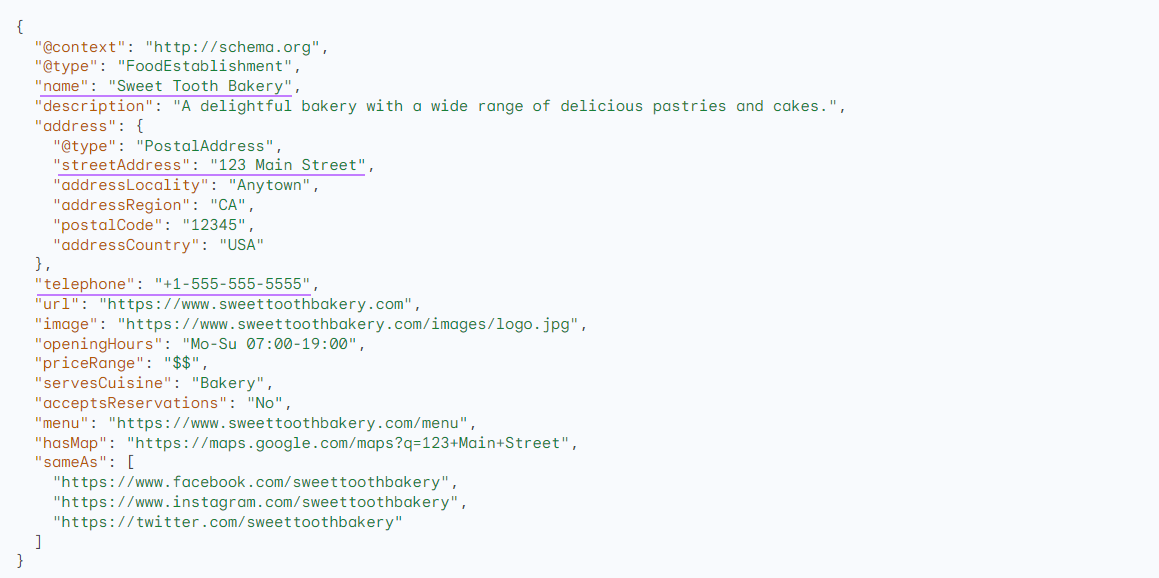 But you don't have to be an expert coder to implement local schema markup. Tools like Google's Structured Data Markup Helper can help you easily generate basic local business schema. 
Choose "Local Businesses" and enter your URL. Then, click "Start Tagging."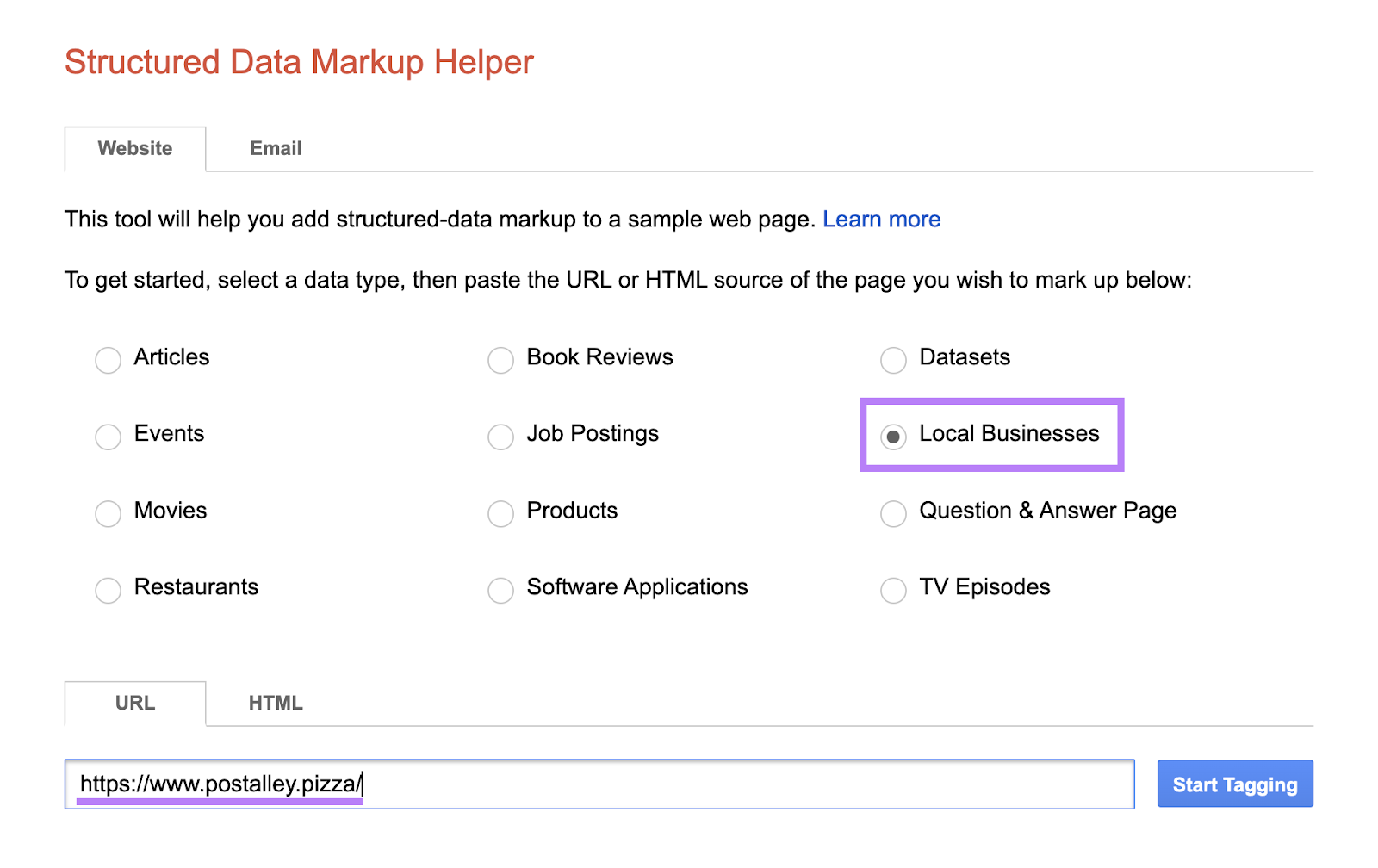 On the left side, highlight the section you want to mark up. And choose the appropriate schema element from the pop-up menu.
In this example, we're tagging the restaurant's operating hours.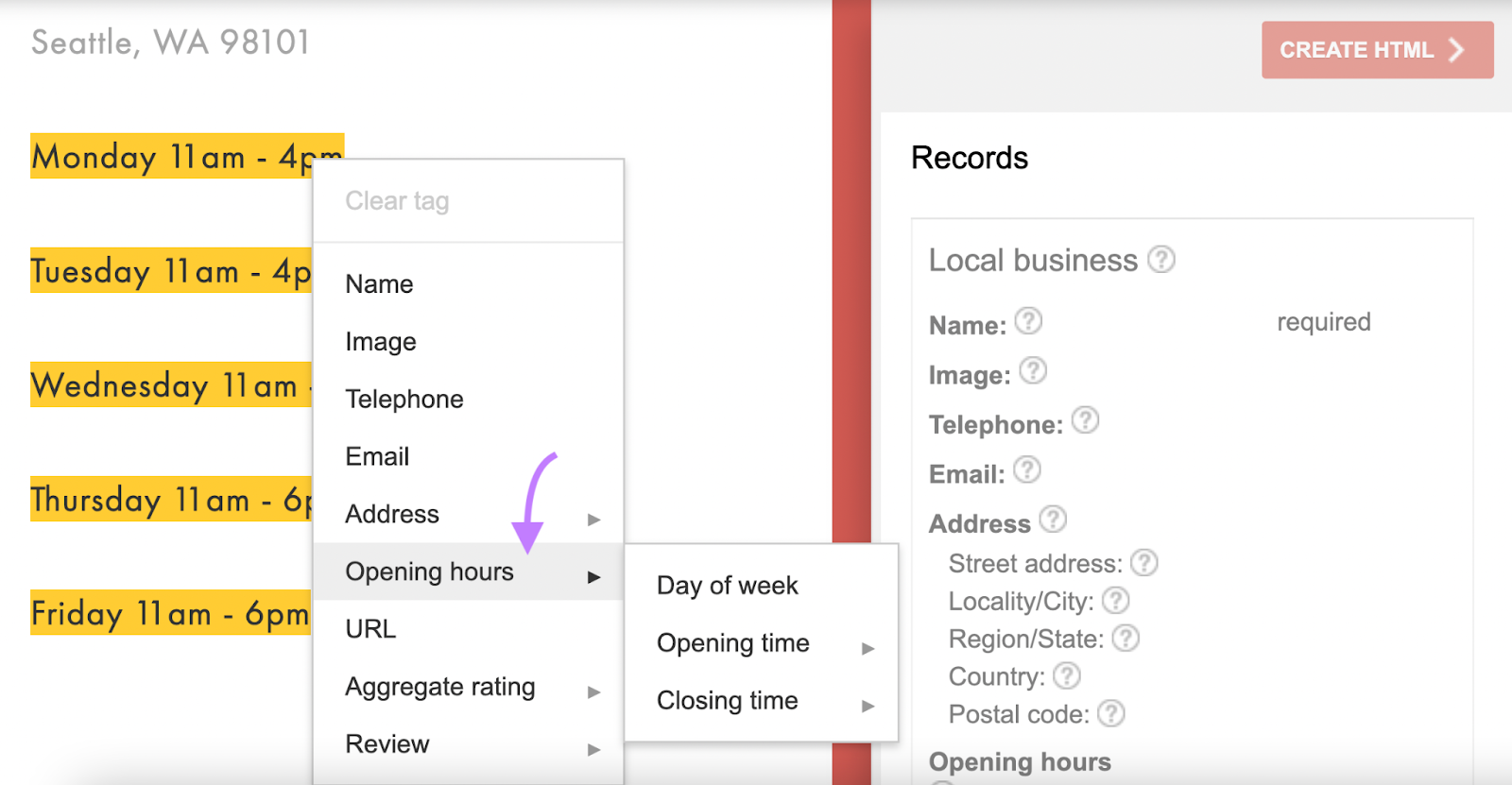 The tool also helps you generate the script to add to your website's HTML.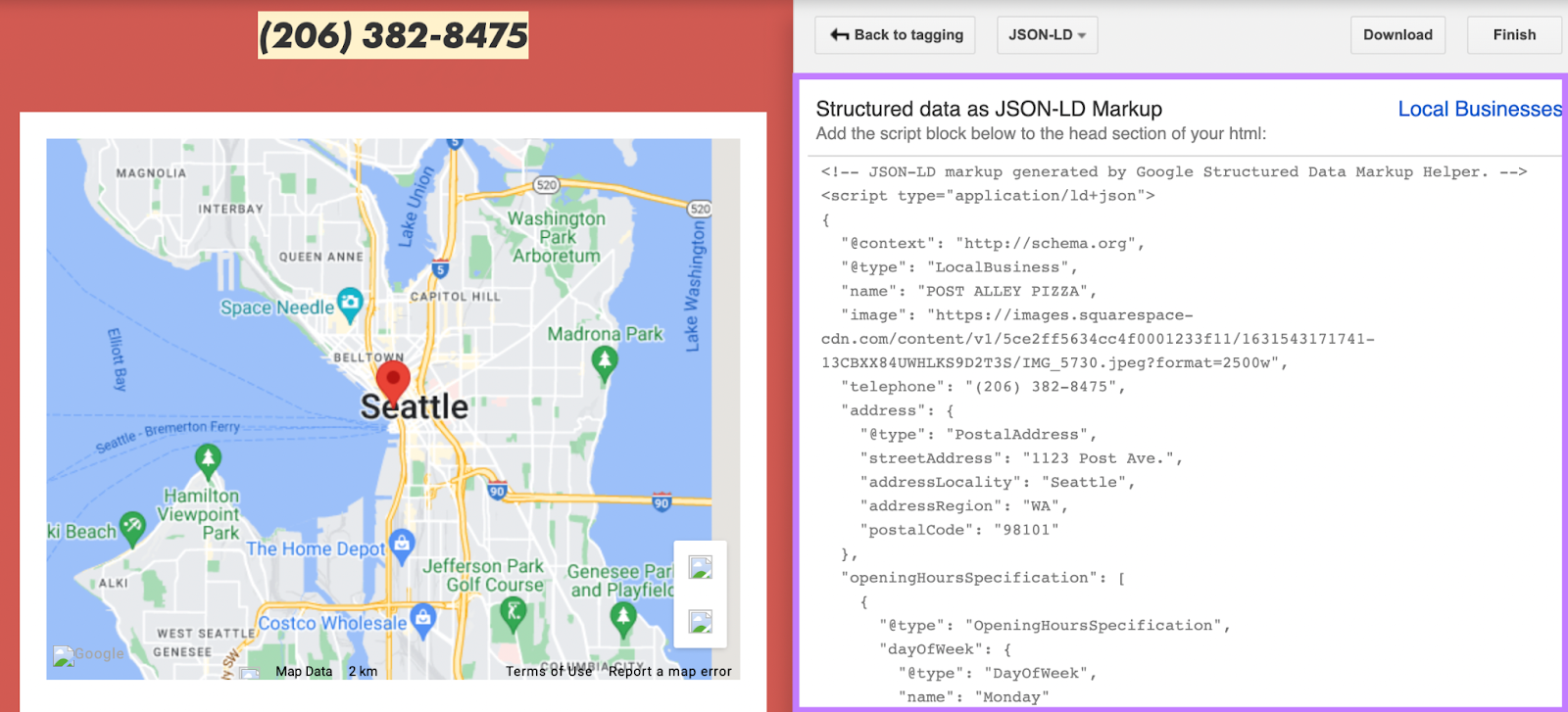 Finally, it's important to follow Google's structured data guidelines. Violating these guidelines can cause serious SEO problems for you.
6. Validate Your Schema Markup Before Deploying It
You must ensure your local schema markup works correctly. So you don't waste your crawl budget and prevent Google from crawling important pages. 
You can use the Schema Markup Validator from Schema.org. It's free and easy to use. 
Enter the page URL or code snippet you want to test. And click "Run Test."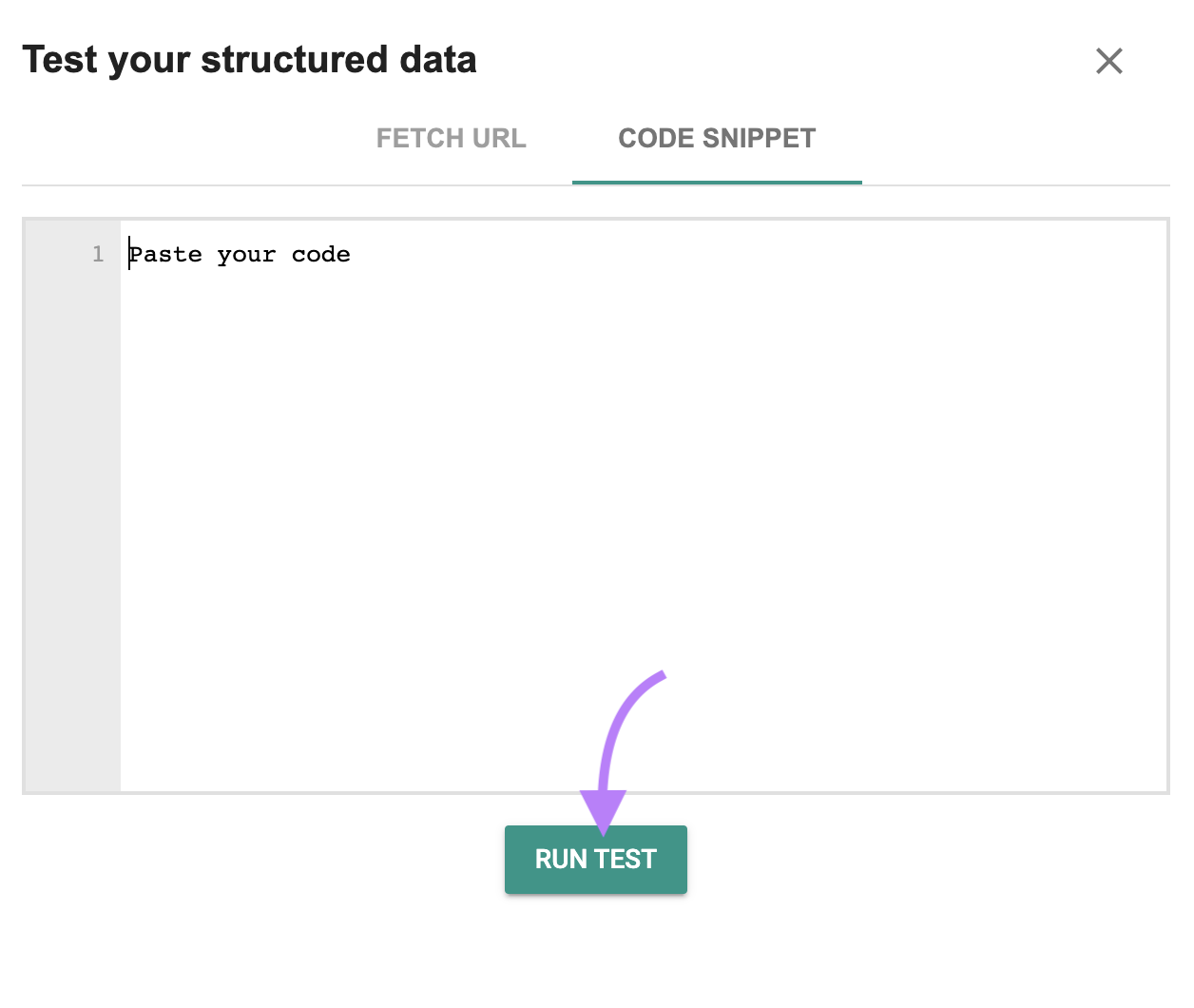 The tool then shows any errors that you need to correct.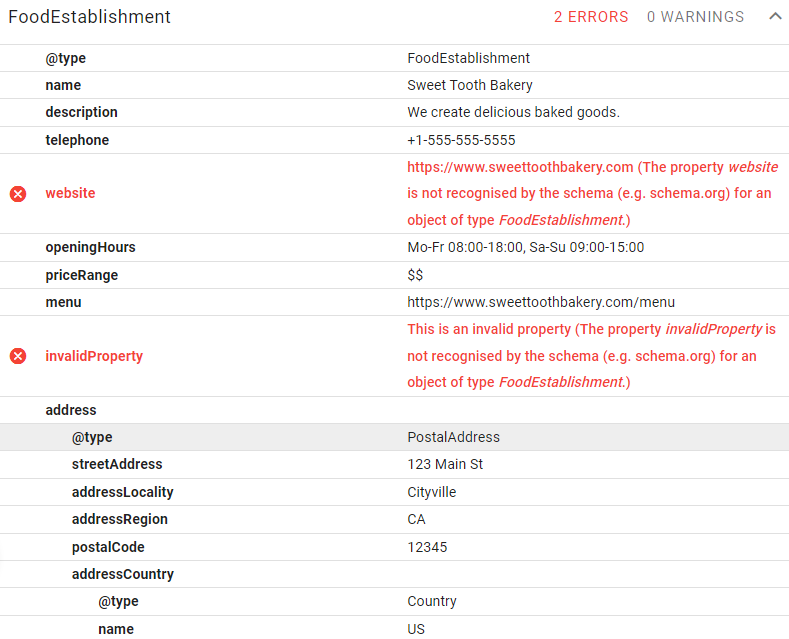 You can also verify your markup using Site Audit.
Open the tool and follow the Site Audit configuration instructions.
Once the audit is complete, you'll then see the "Overview" report. Which provides a high-level look at your site's overall health.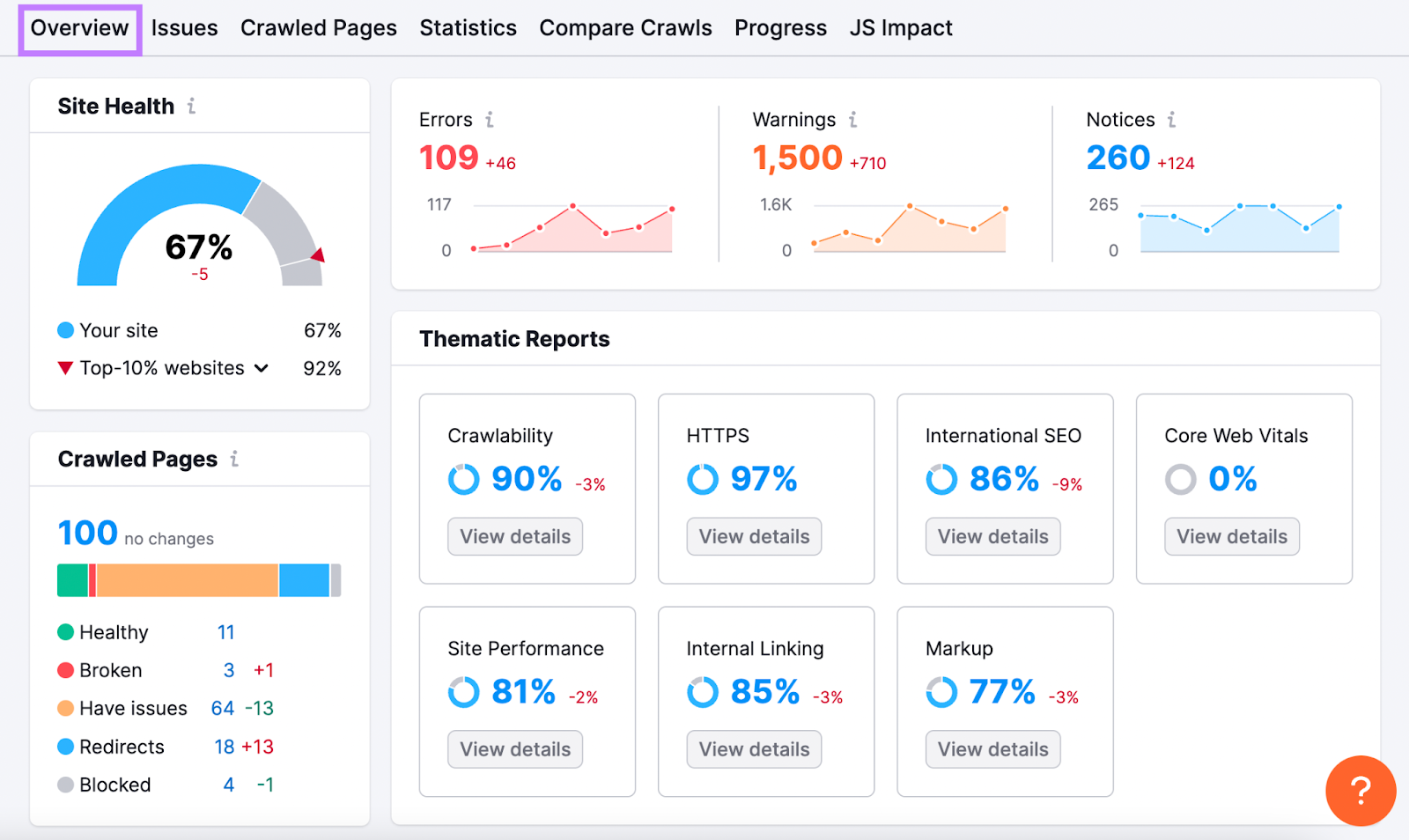 Now, click "View details" in the "Markup" module. 
Scroll down to the "Structured Data Items" table. And click "View all invalid items."

You'll now see a list of all your pages that contain structured data errors—including ones with your local business schema—that you should address.
7. Audit Your On-Page SEO Health
On-page SEO involves optimizing your webpages so they can rank higher and drive more traffic. 
Despite the focus on Google Maps and Business Profile, on-page SEO is important for local businesses that want more traffic from Google, too.
The first step is to identify any on-page issues to fix. 
Start by opening On Page SEO Checker, entering your domain name, and clicking "Get ideas."

You'll get an overview of ideas to improve your on-page SEO, including strategy, backlinks, technical SEO, and content ideas. 
Like this: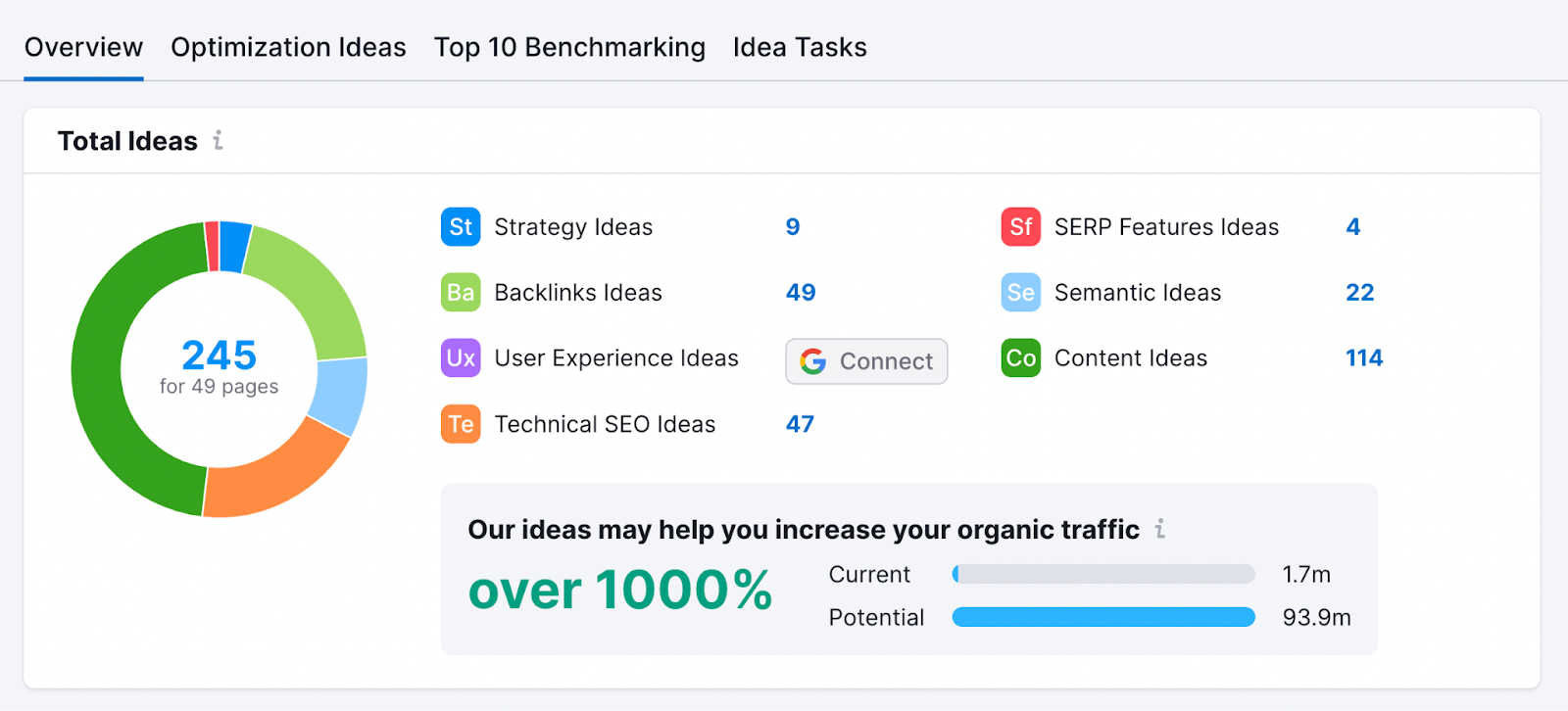 You can also scroll down to see which pages to optimize first. They're listed in order of priority.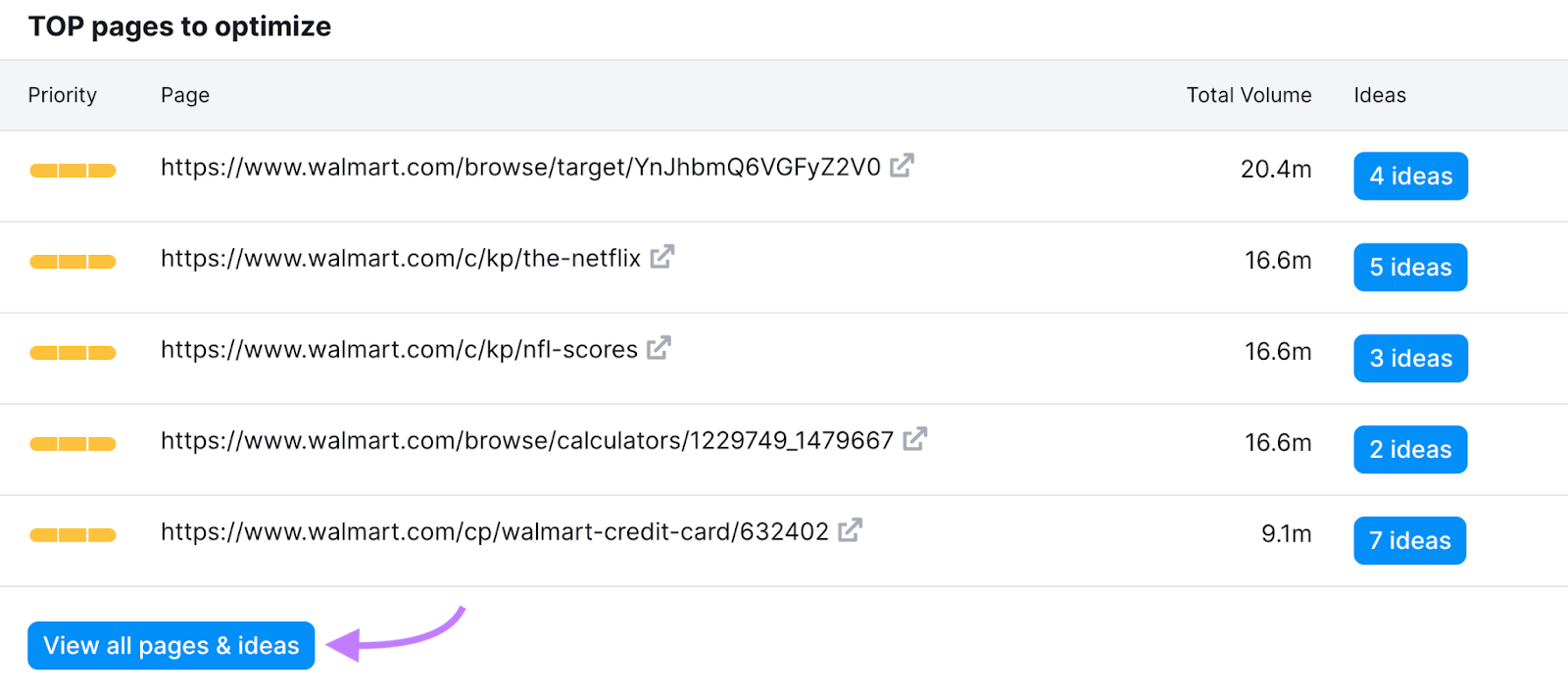 There's also a bar to the left of each URL indicating its priority level. Hover your mouse over the bar for a detailed explanation of what level of improvement you're likely to see if you implement the recommendations.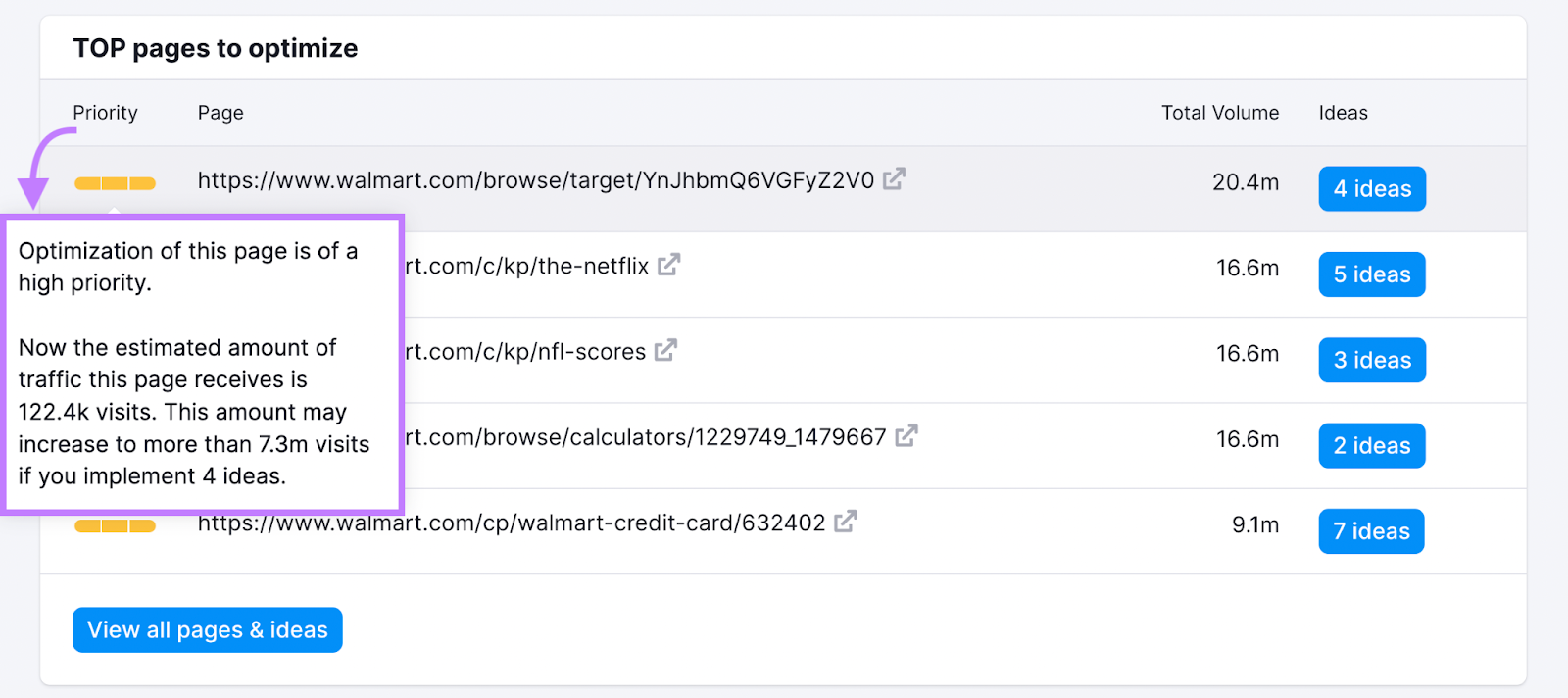 You can also click "# ideas" to the right of the URL to view specific optimization ideas for that page.
Like these: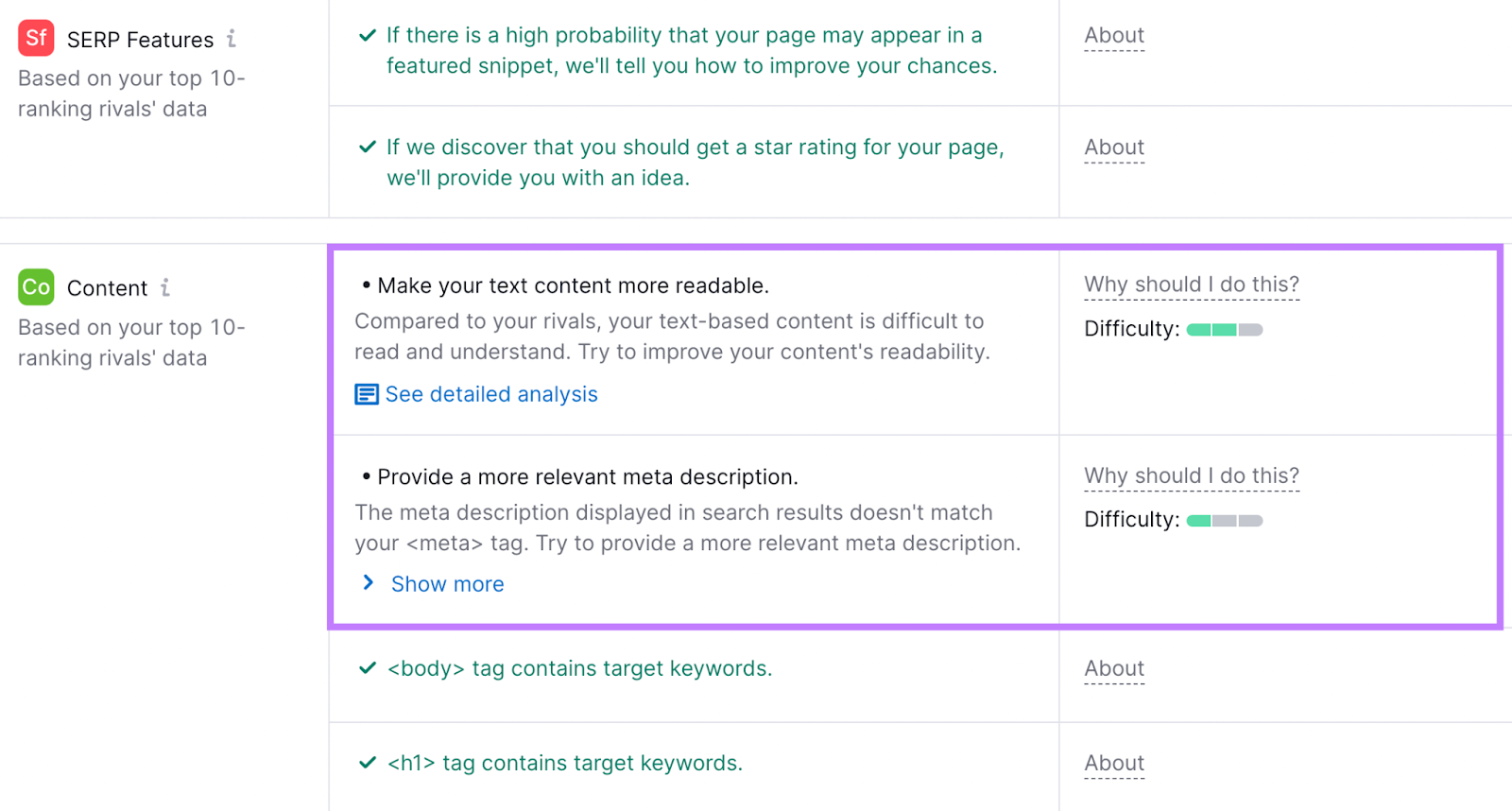 8. Target Local Keywords
Local keywords are specific search terms people in your area use to search for products, services, or information.
Optimizing your content for these keywords can improve your rankings for local searches (including in the local pack), increase your organic traffic, and drive more foot traffic to your business.
Consider this:
Focusing on local keywords means your content will be more relevant to audiences in your area. Which can increase the chance that Google will rank your content in local searches. 
Semrush's Keyword Magic Tool can help you find local keywords to target. 
Open the tool and enter a seed keyword (a broad search term that's relevant to your business) and choose the country you want to target. 
Then, click "Search."

The report will show a long list of keywords.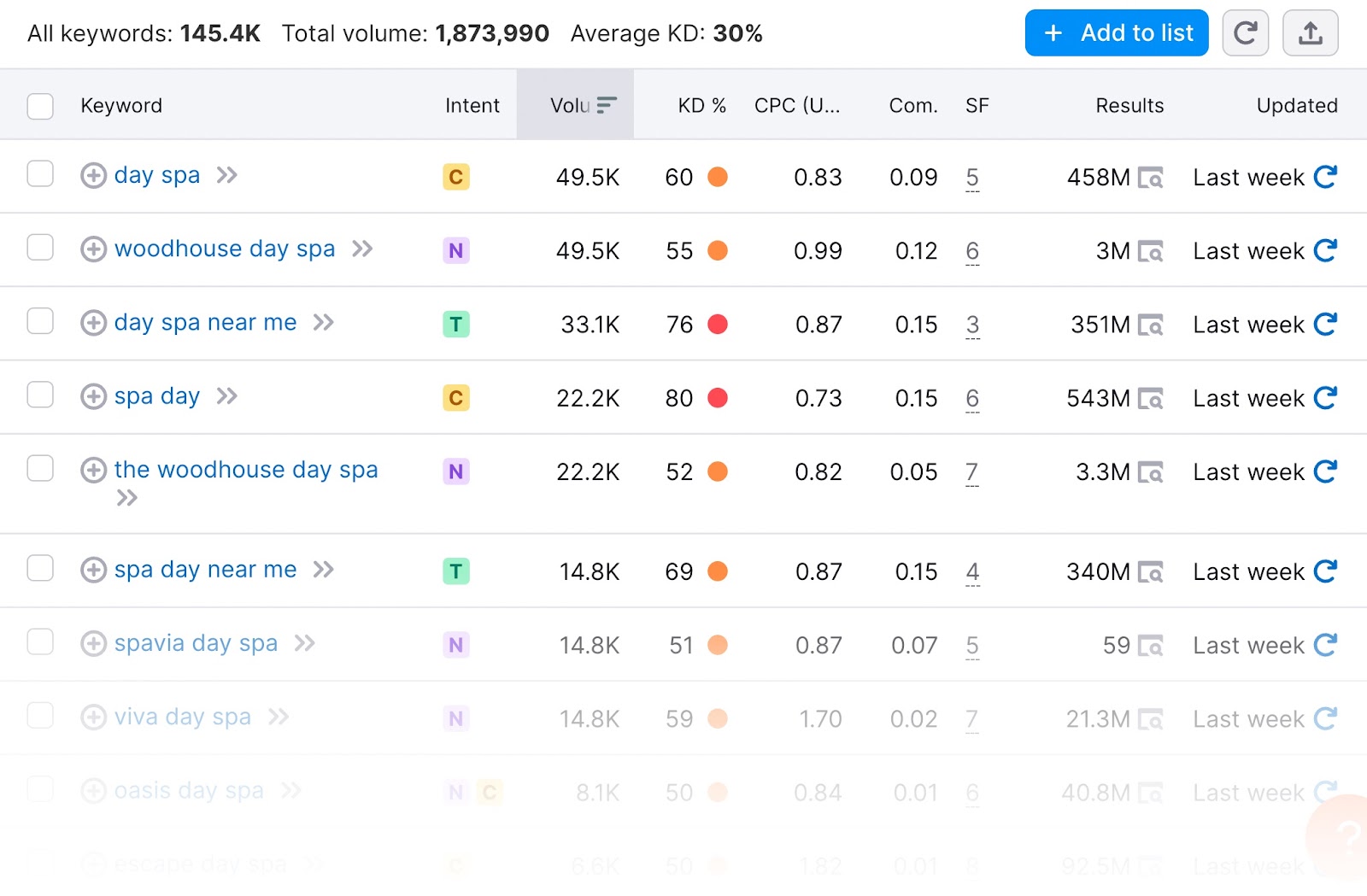 But most of these terms won't be specific to your location.
To find local keywords, click the "Include keywords" drop-down menu, select "Any keywords," and add relevant locations.
Then, click "Apply."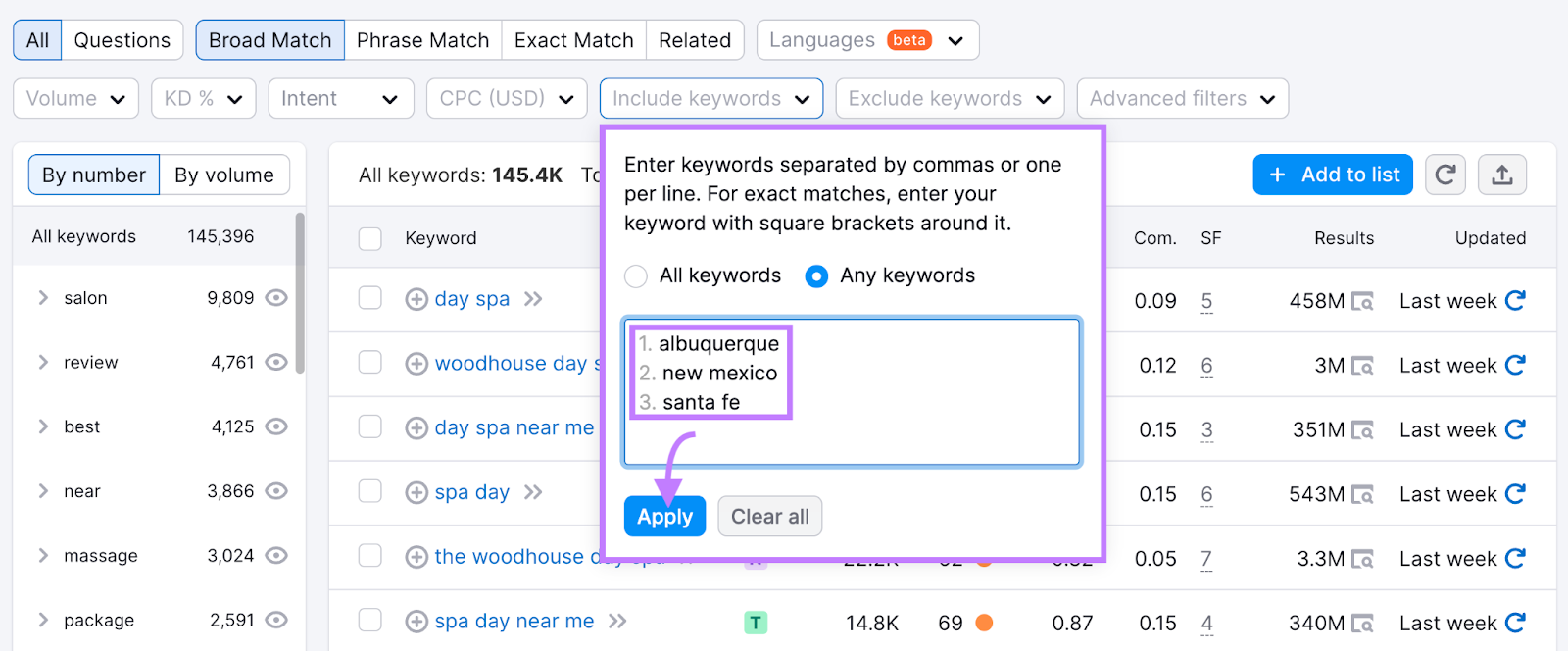 You'll now have a list of keywords that are specific to the locations you're interested in.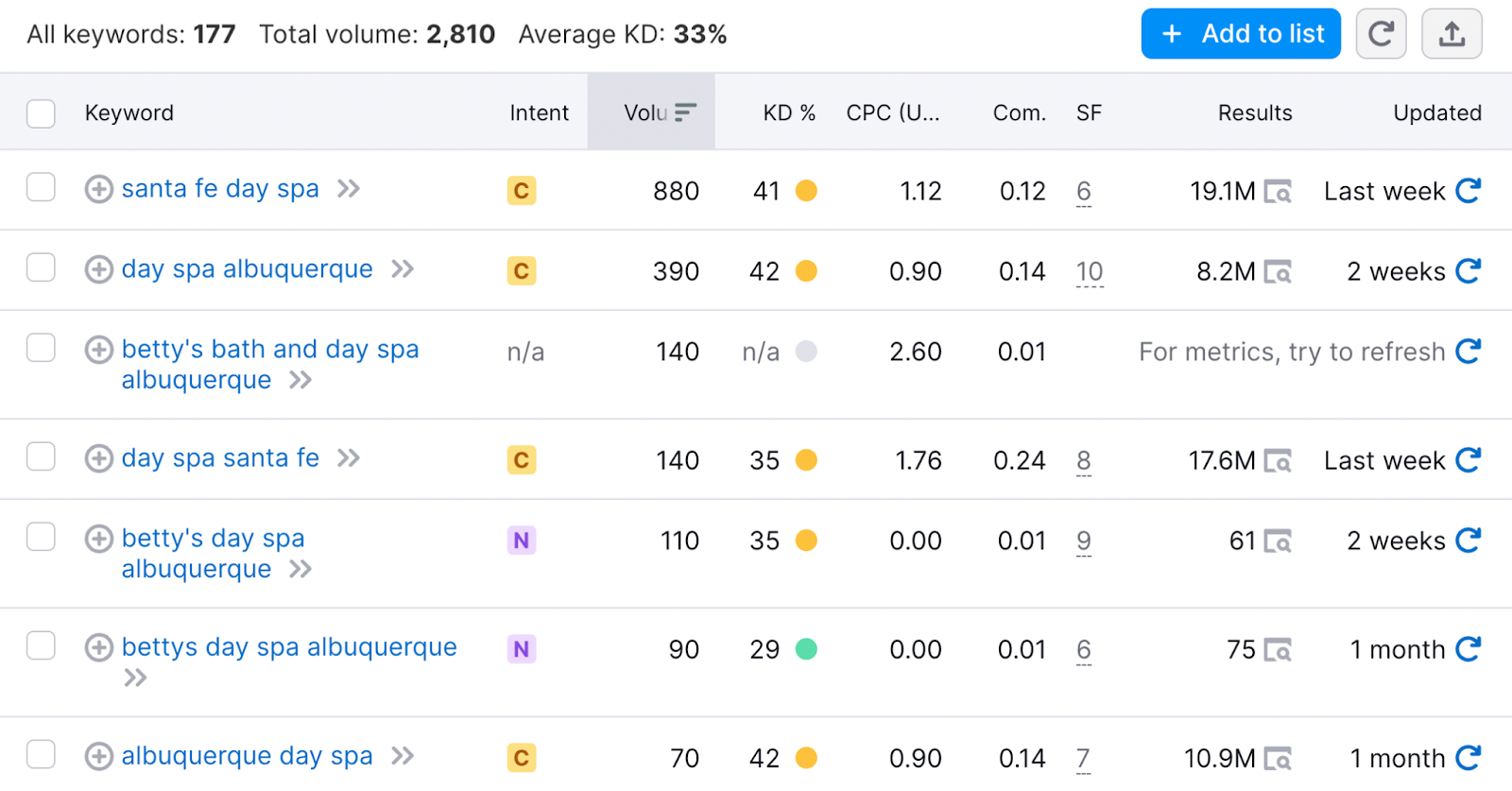 From here, you can click on any keyword you're interested in targeting to see more information about it in Keyword Overview.
And make sure to choose your area from the "Select location" drop-down menu. Because it will provide metrics specific to your location.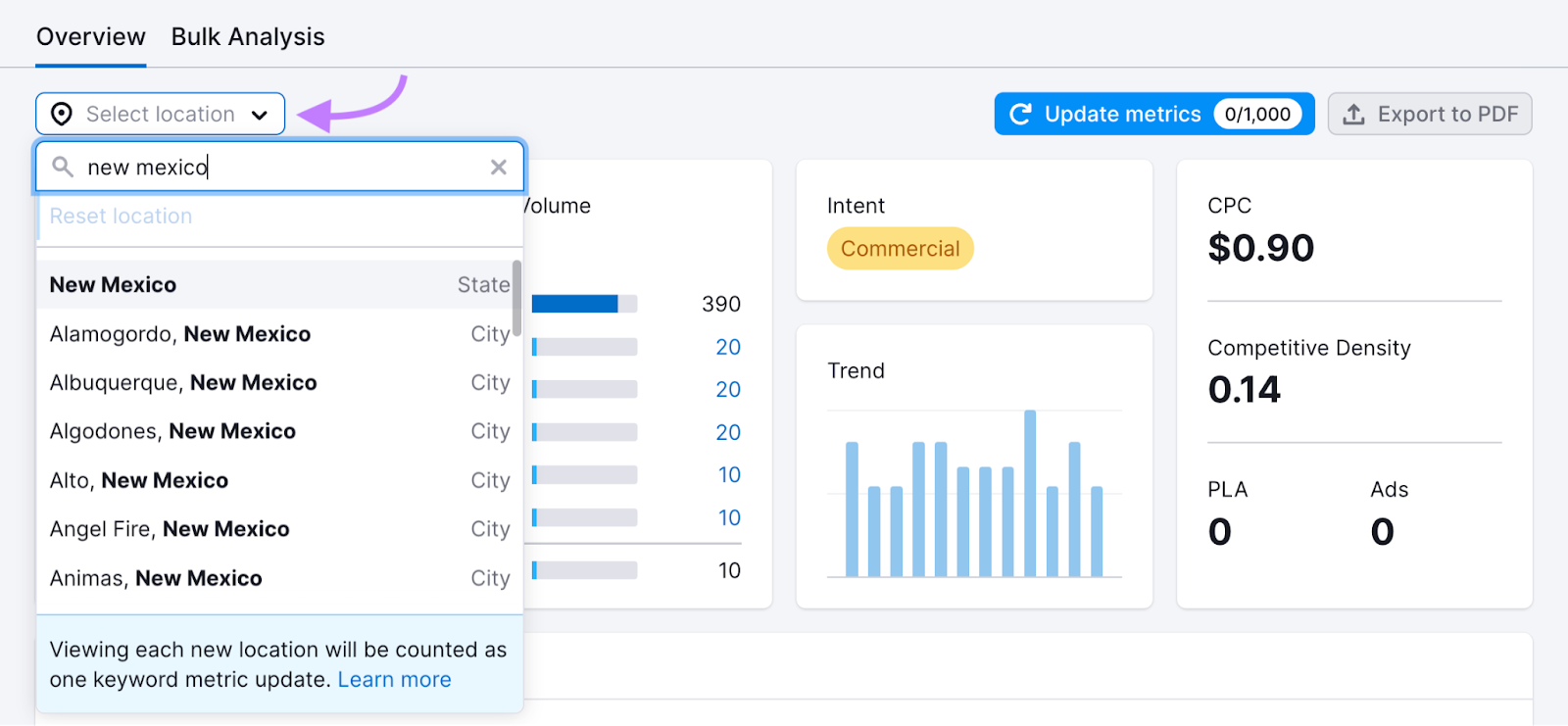 Further reading: Local Keyword Research for SEO: What It Is & How to Do It
9. Create and Publish Locally Relevant Content 
Publishing content focused on your area can help Google understand that your business is relevant to local searches. 
Start by creating locally relevant pages. Like dedicated landing pages for each of your locations (which help Google understand that each location is a distinct business) and other important pages that contain relevant keywords in the page title, subheadings, body content, and meta tags. 
Check out this landing page for a local business that naturally incorporates local keywords in its heading and content: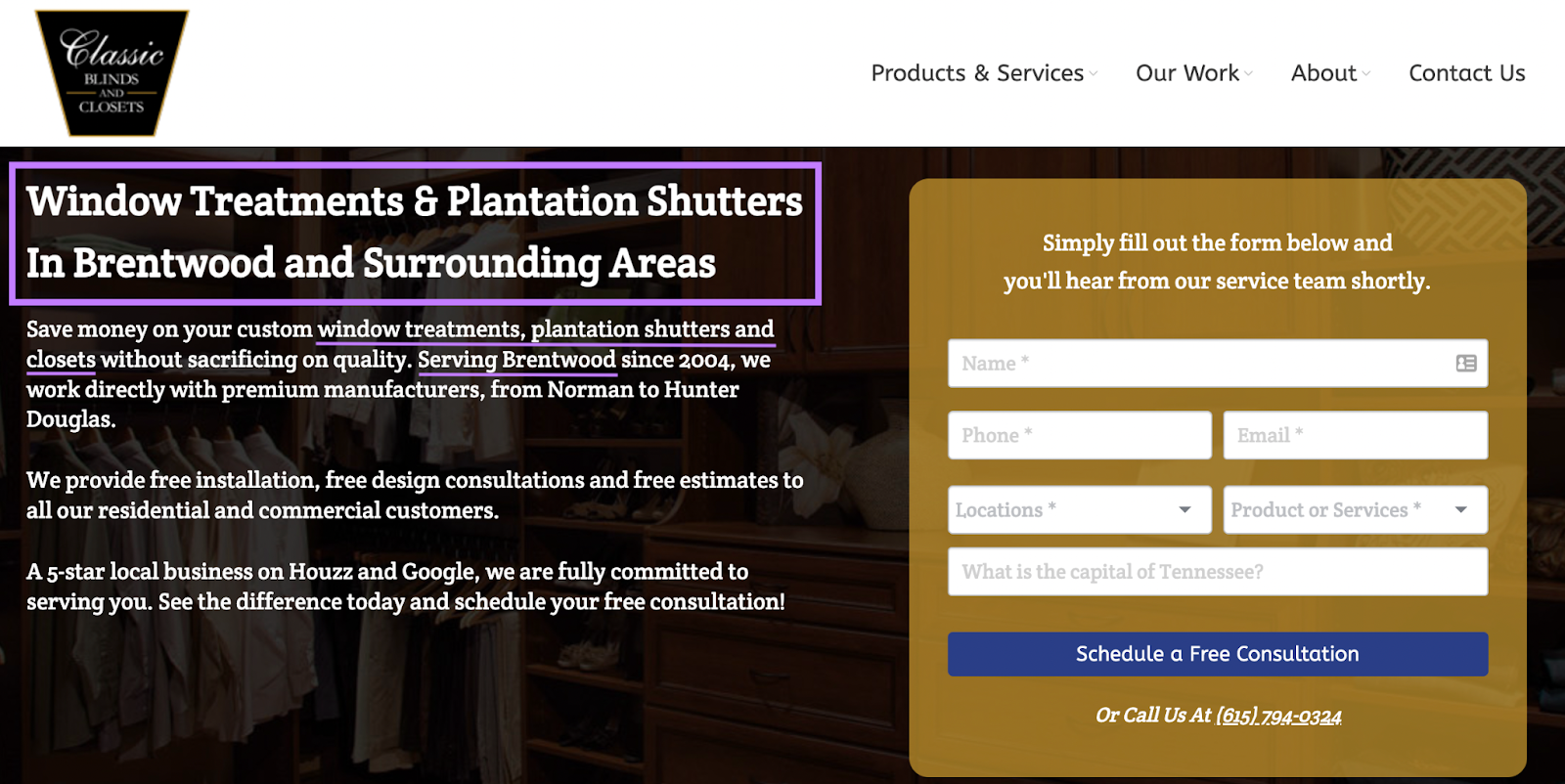 You can do the same with your about page. Where you might emphasize your connection to the local area. 
Like this:
It's also worth creating a blog and publishing local content. 
For example, you can cover topics like customer success stories, neighborhood spotlights, local events, and area-specific guides. 
Like this blog from 4 Rivers Smokehouse: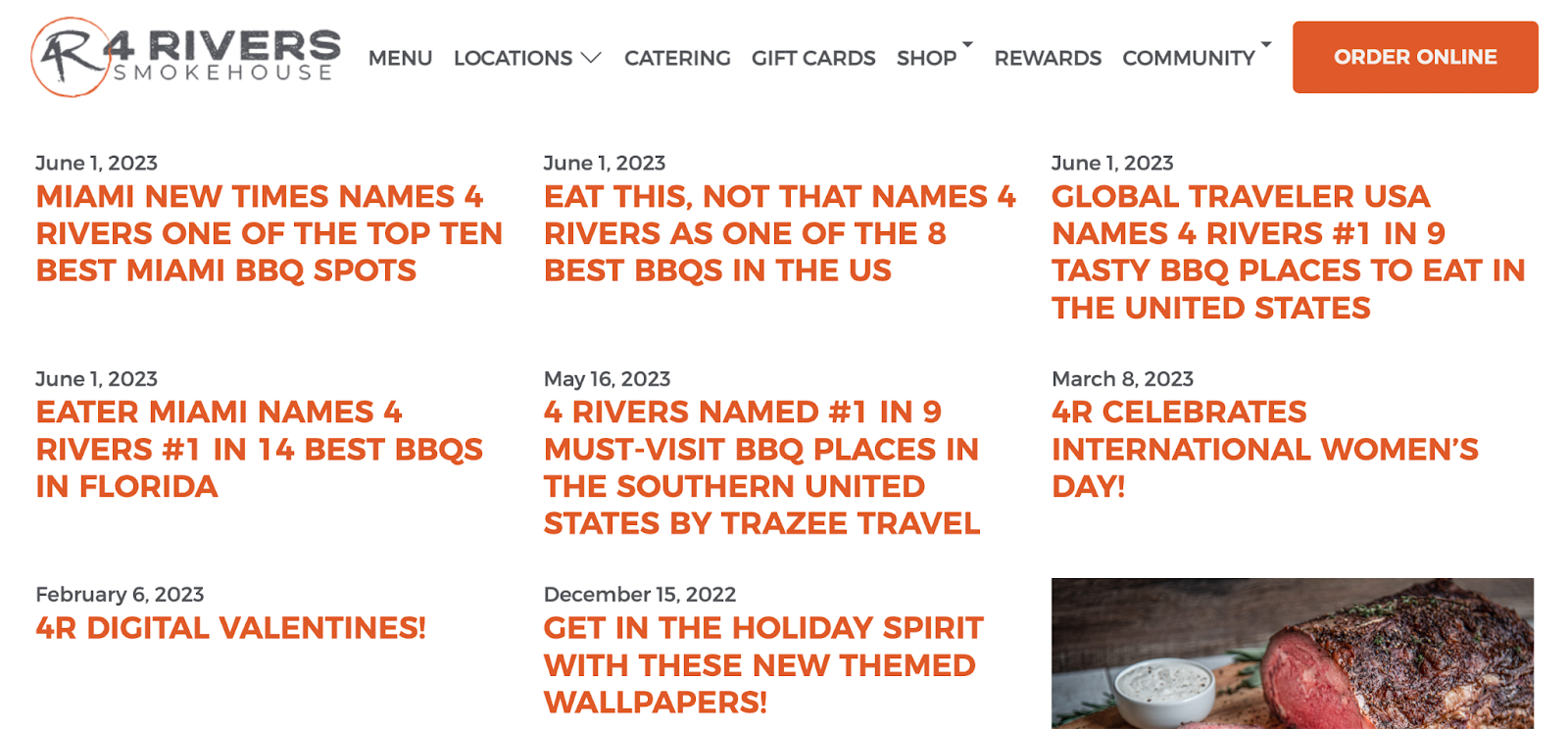 As you can see, it features a variety of local content about the business's press mentions, holiday tips, and local events. 
10. Prioritize Local Backlinks
Backlinks are links from other websites to yours. And they're an important Google ranking factor. 
Links from authoritative websites to yours can show Google that your content is valuable and trustworthy. 
And one of the most effective ways to gain them is to reach out to other sites to ask for backlinks. It's a proactive approach that works better than waiting for people to discover your content on their own and link to it. 
The Link Building Tool can quickly help you identify prospects and backlink opportunities. 
Enter your domain in the search bar and click "Start Link Building."

You'll be prompted to add relevant keywords. Which helps the tool find websites that are likely to be interested in linking to yours.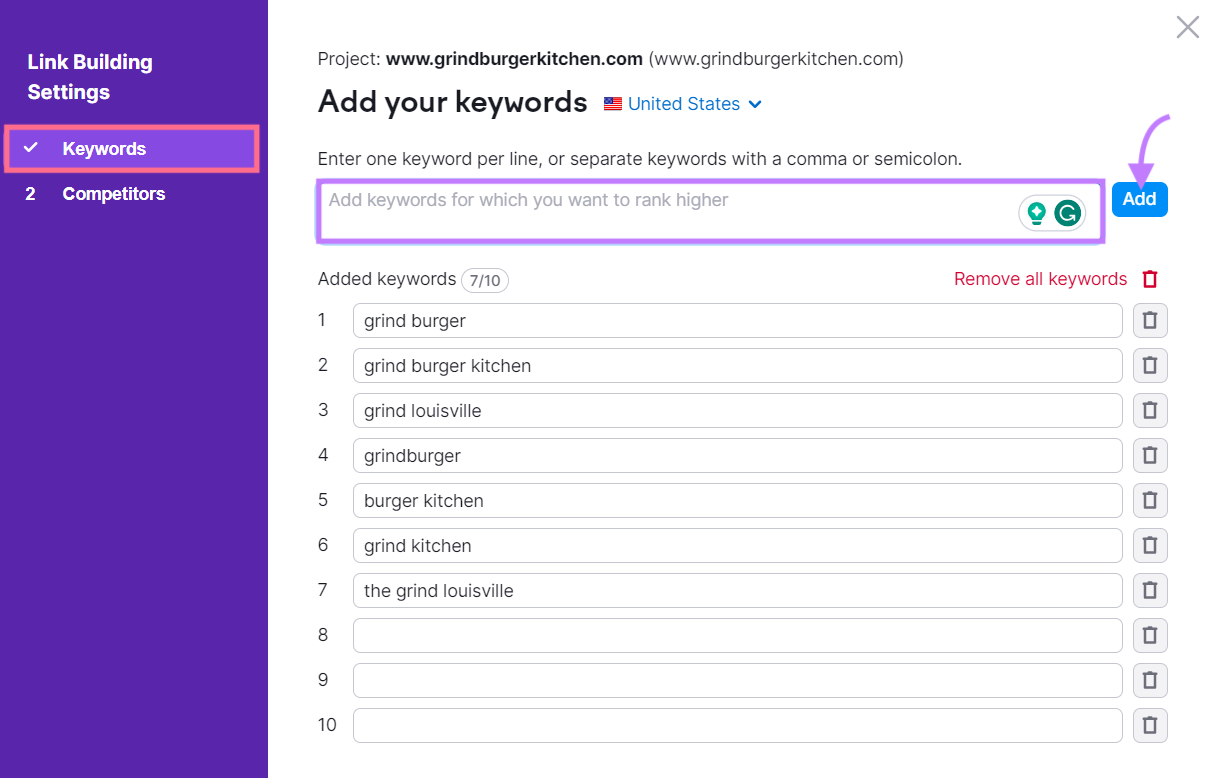 Then, add your competitors and click "Start Link Building."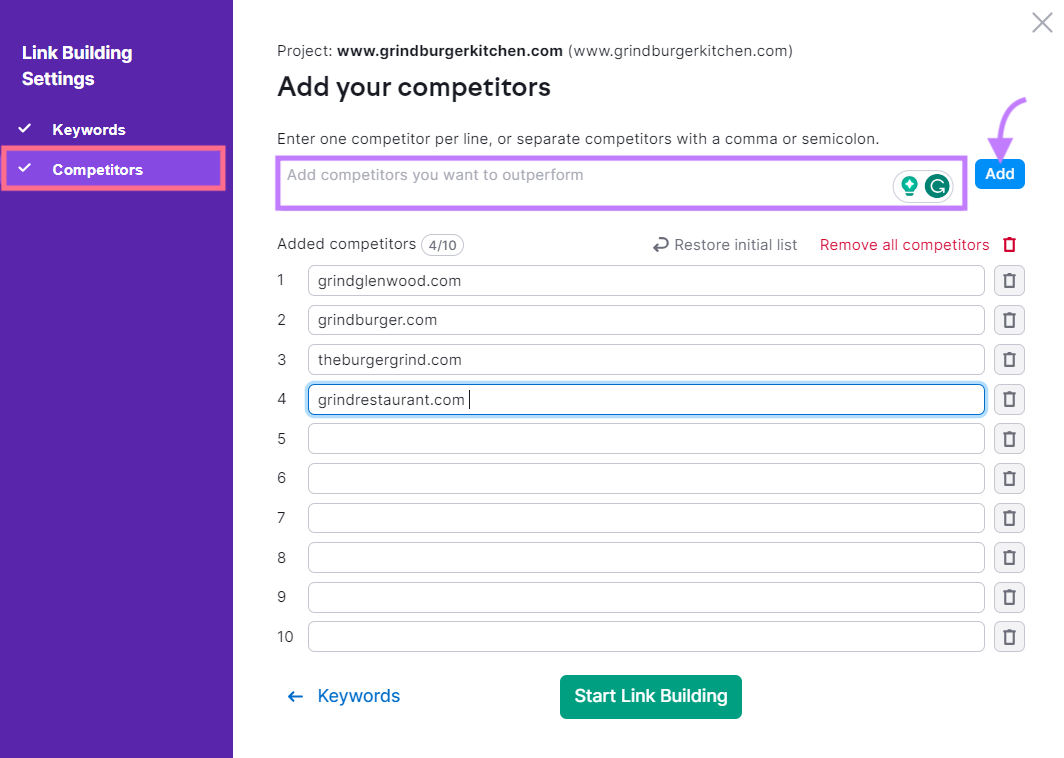 Finally, click "View prospects" when the tool is done analyzing data.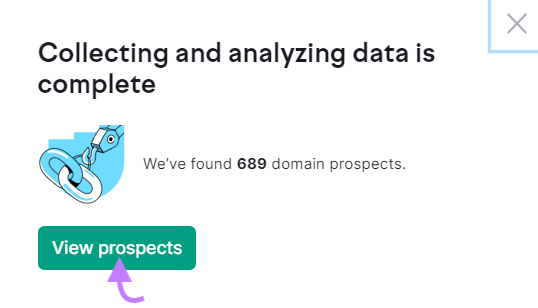 You'll see a list of potential backlink opportunities. 
The report also shows the URL type (like if the website is a blog or news site) and important metrics like Authority Score (an indication of how reputable the domain may be).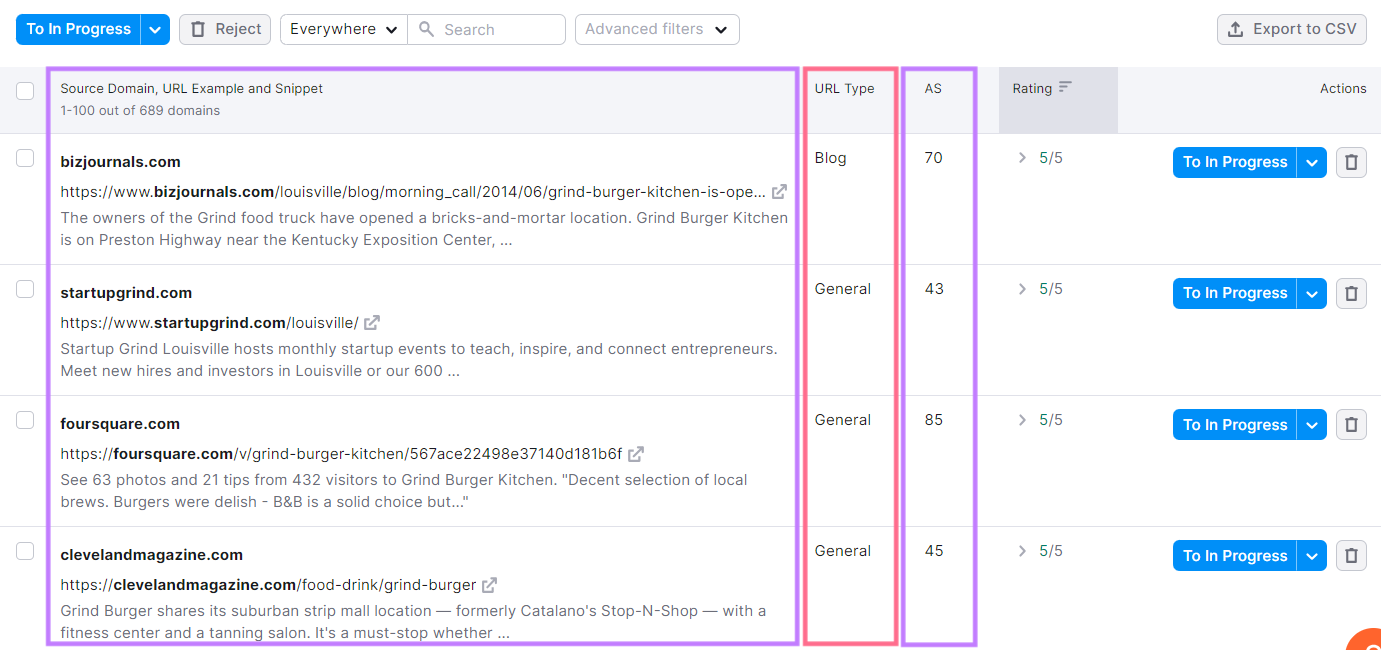 You'll likely want to focus on local prospects (like Cleveland Magazine in the example above) since you're optimizing for local SEO. 
And here are some tips to help you with outreach: 
Create personalized emails tailored to each prospect
Try to build a relationship with the prospect before asking for backlinks. Like commenting on their content or adding them to your social media channels.
Demonstrate how linking to your website can benefit them or their audience
Keep a record of your outreach efforts to help you stay organized. You can do this directly in the Link Building Tool.
11. Optimize for Mobile
A significant portion of local searches takes place on smartphones. So, mobile optimization is a must for local SEO. 
Plus, Google uses mobile-first indexing. This means that it primarily crawls the mobile version of your website for indexing and ranking. 
Start by using a website theme or template that's responsive. Meaning it easily adjusts to different screen sizes to offer the optimal user experience.
You should also ensure that your website is easy to navigate on mobile devices. That means having a clean and intuitive navigation menu, readable font and text sizes, and unobtrusive ads. 
Like this: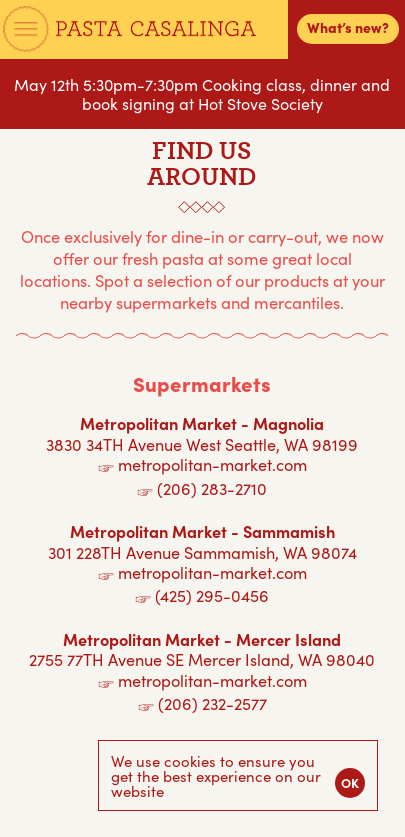 You can test your website's performance on mobile devices using Google's Mobile-Friendly Test.
Just enter your URL and click "Test URL."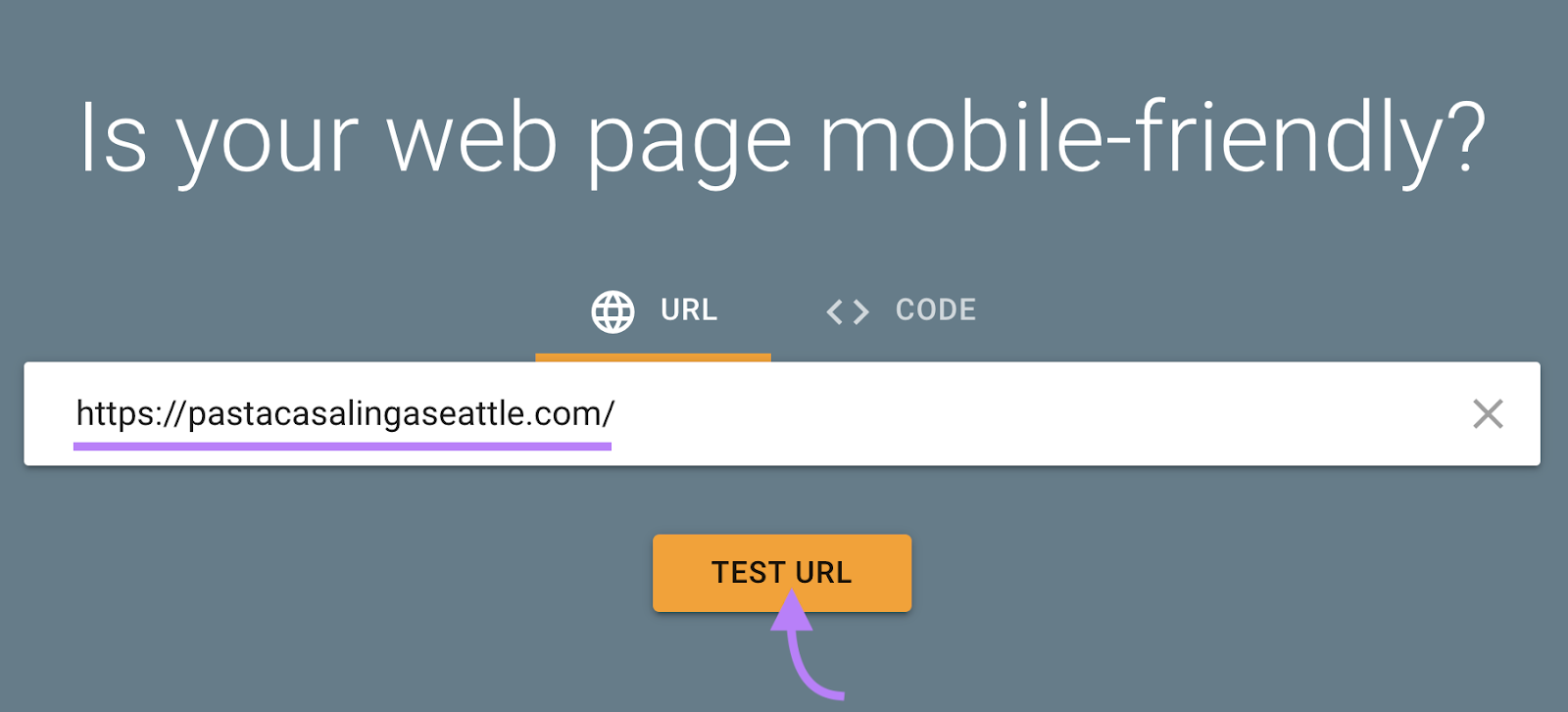 You'll get a performance report that tells you whether your site is easy to use on mobile.

If something is wrong, the tool will let you know about issues it detects.
Don't Wait to Improve Your Local SEO
There's clearly a lot you can do to improve your local SEO.
Ready to take the first step? 
Start by setting up your Google Business Profile and getting other relevant citations.
Listing Management can help with this by identifying missing or incomplete information in different directories. And enabling you to quickly see and respond to reviews.