We've shared our picks of the 17 best SEO blogs and bloggers to follow in 2023.
Whether you're a total beginner or a seasoned expert, these SEO blogs can help you stay on top of industry news, discover new techniques, and get better rankings.
1. Semrush Blog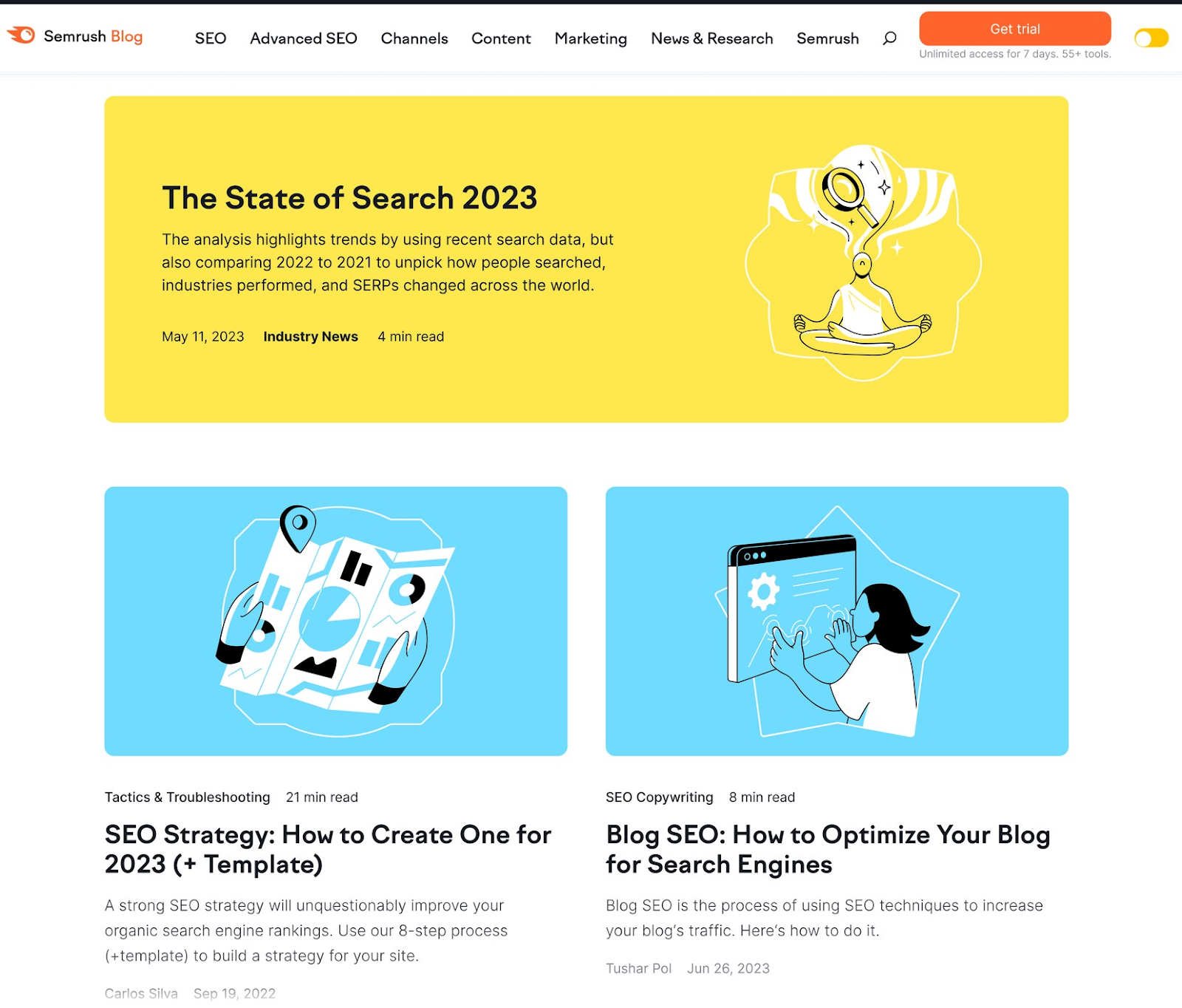 You're reading the Semrush blog right now! Where we regularly publish industry news, data studies, and detailed guides for readers of every skill level. 
Our posts are packed with reliable information, actionable tips, and useful resources. And in many cases, you'll discover insightful data sourced from our SEO toolkit.
For example, here's a snippet from our SEO FAQ: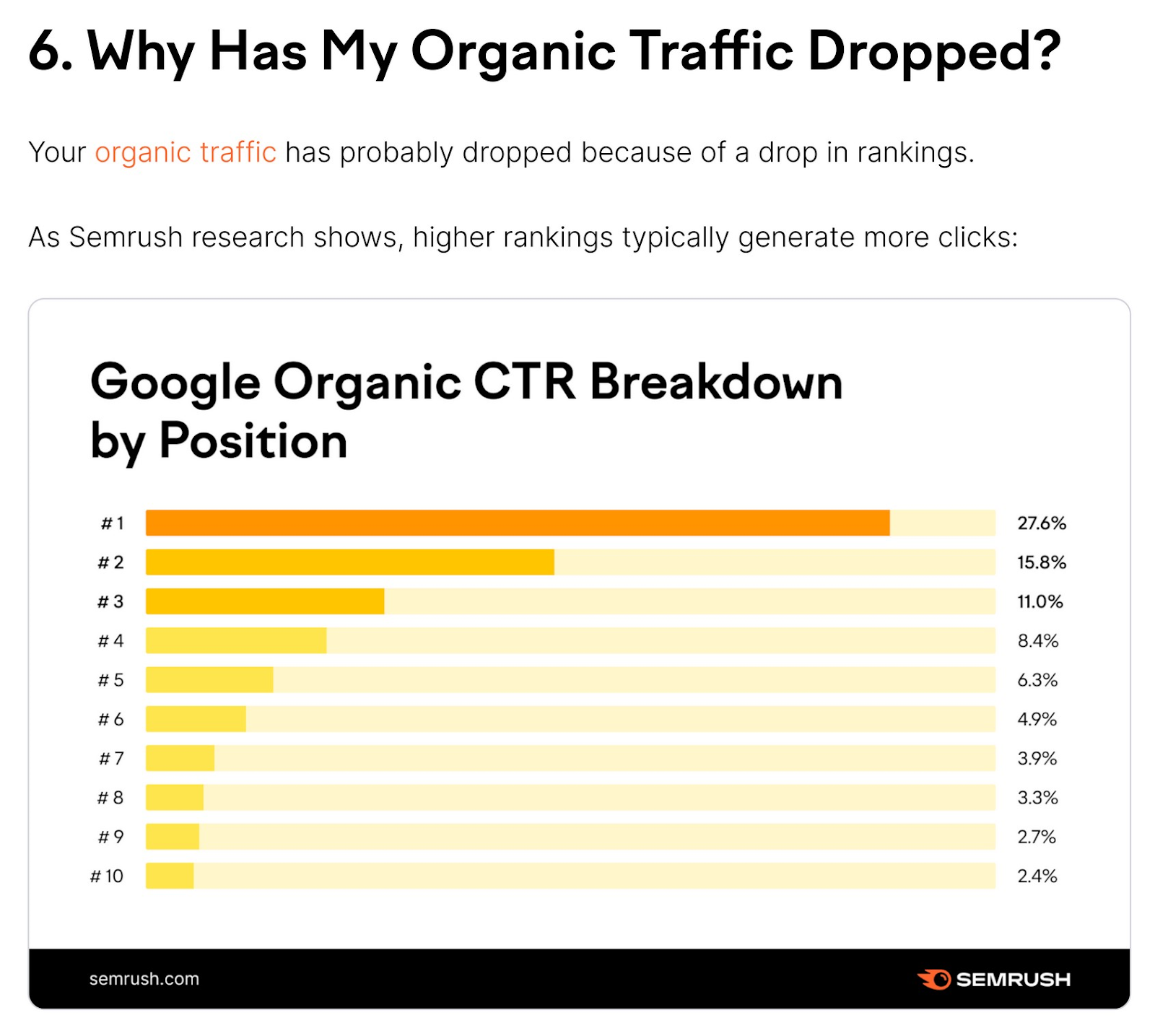 Looking to learn about a particular topic? Choose one of the categories or subcategories from the navigation bar. Or use the search function.
Alternatively, browse our latest blog posts and see what catches your eye.
The Semrush blog gets over 1 million organic visits per month, according to our Domain Overview tool. So you'll be in good company.
SEO Blogs for Beginners
These are some of the top SEO blogs to follow if you're new to the subject. Like Semrush, they cover SEO basics in a beginner-friendly way.
For more resources, check out our guide to learning SEO.
2. Mangools Blog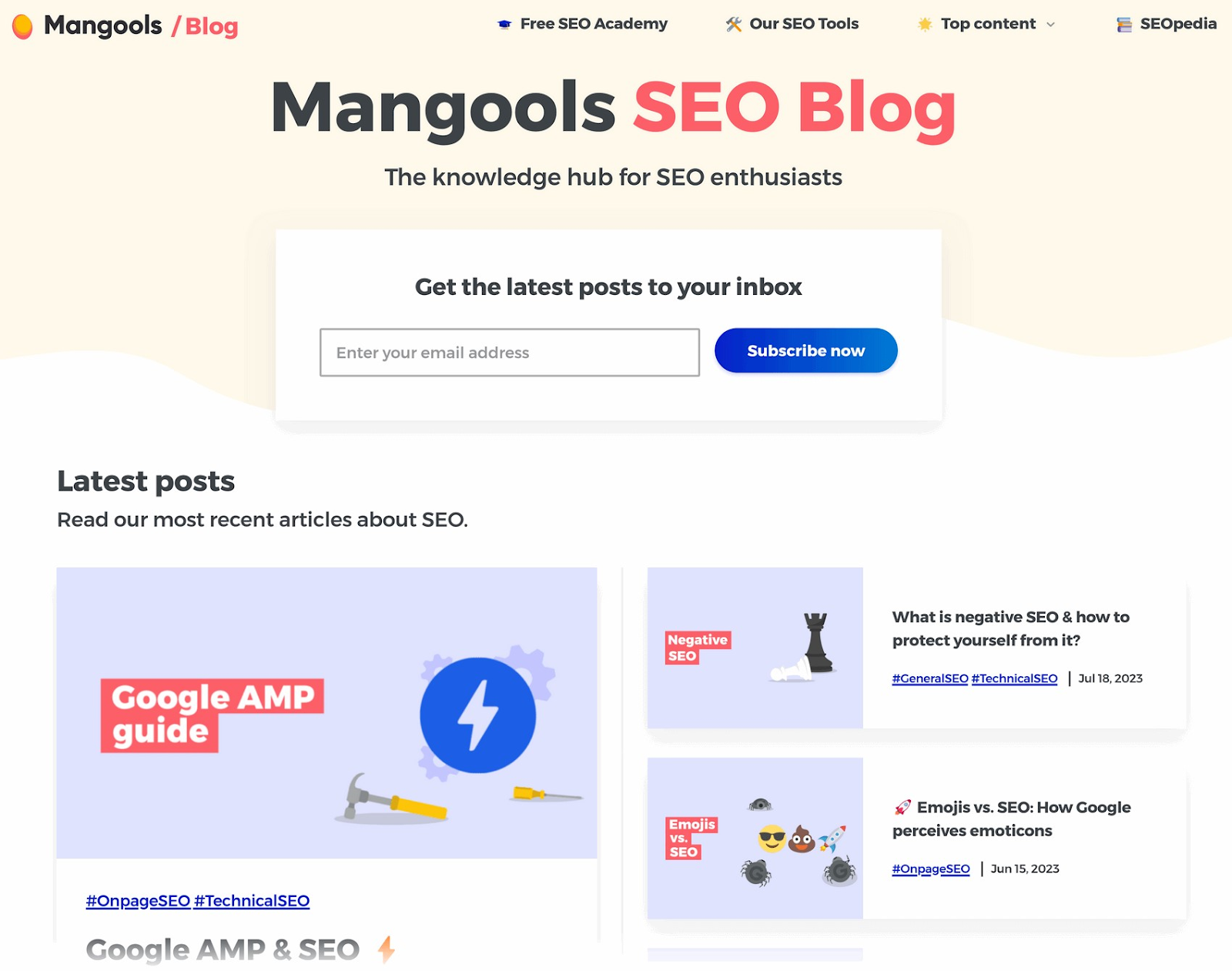 The Mangools blog contains guides, interviews, and "SEOpedia" articles that define common search engine terms.
Like many of the best SEO blogs, it's split into categories. Which you can explore using the hashtags (e.g. #KeywordResearch, #GeneralSEO, and #LinkBuilding).
Each post is accessible and written with simple language that empowers readers to explore SEO with confidence. They're ideal for marketing beginners and small business owners.
3. Backlinko Blog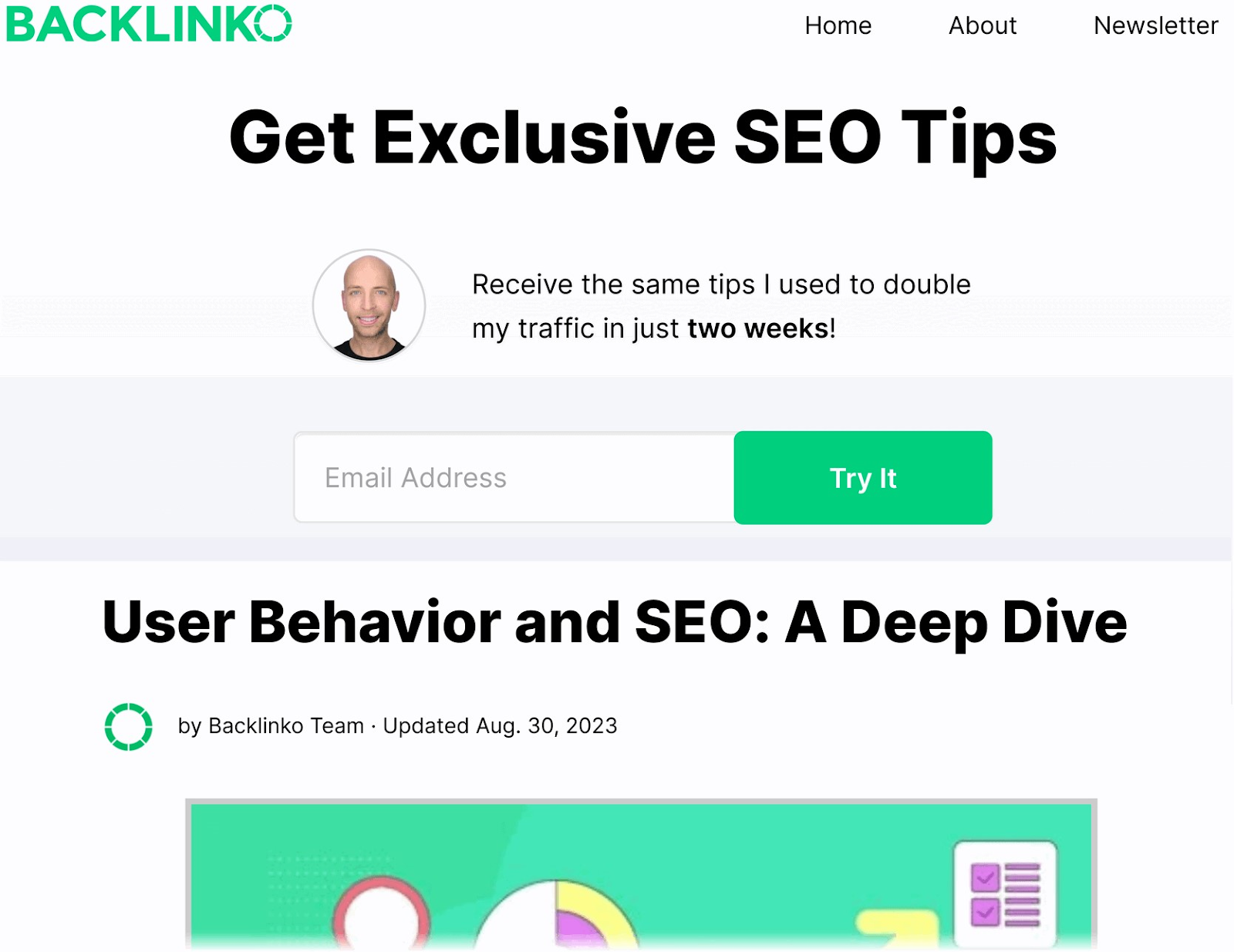 The Backlinko blog is popular among SEO professionals and digital marketers alike. You'll find in-depth, easy-to-read posts that include real-world examples.
As expected, there are plenty of articles on developing SEO content, including blog posts, videos, and email marketing.
Many posts are written by Brian Dean, Backlinko's founder and a prominent SEO expert. Dean often pairs his posts with vibrant graphics and infographics that are easy to share and save. 
4. Yoast SEO Blog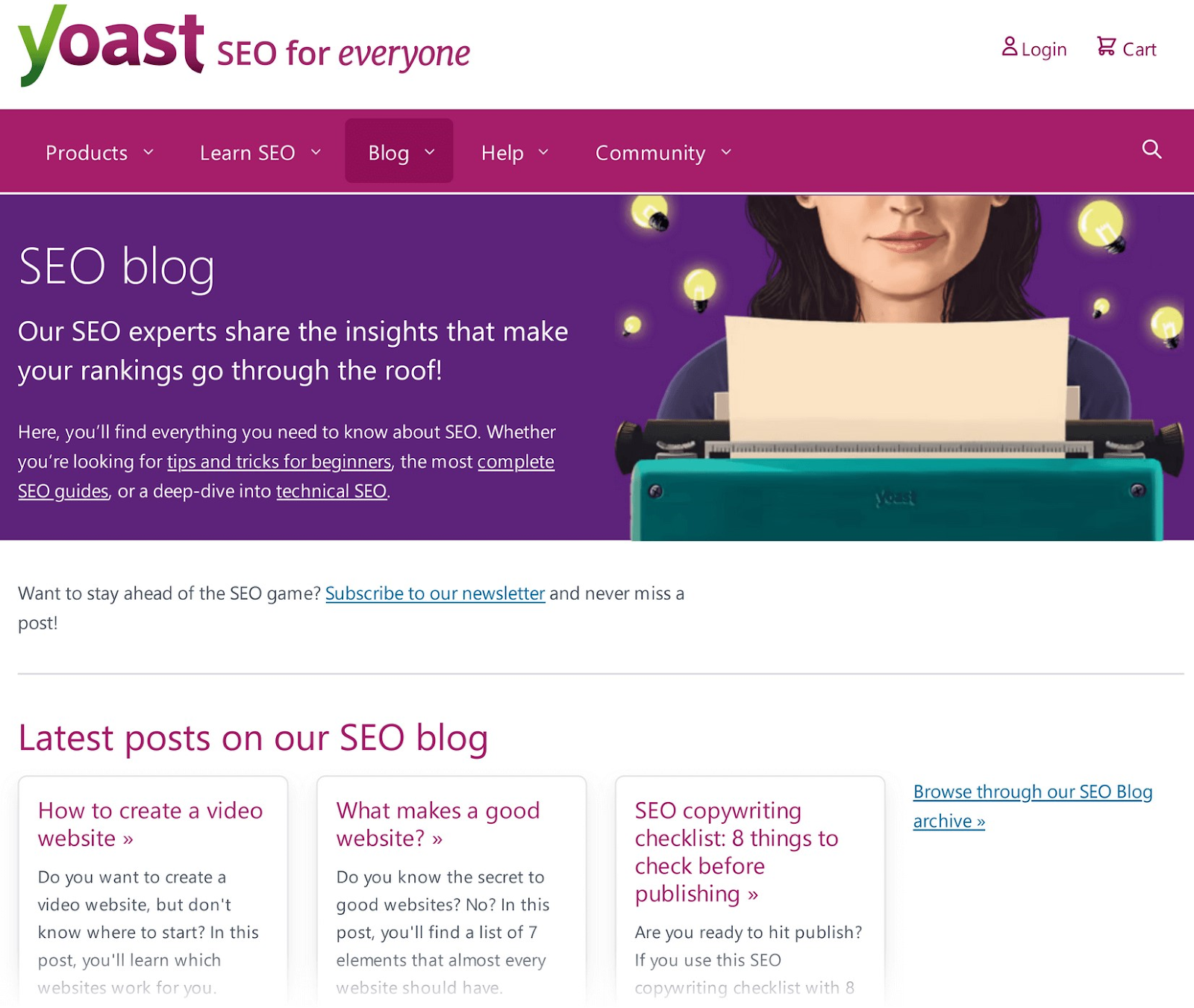 Yoast has one of the best WordPress SEO plugins on the market. And the company offers a host of resources to help their users. Including a blog that bridges the gap between beginner and intermediate SEO concepts.
The Yoast SEO blog is particularly useful if you're looking to improve your WordPress SEO. But you don't have to use this content management system (CMS) to put their tips into practice.
SEO Blogs for Intermediate Learners
We've created this SEO blogs list for intermediate-level learners. Once you've got the basics down, add these sites to your rotation for next-level SEO techniques and knowledge. 
5. Onely Blog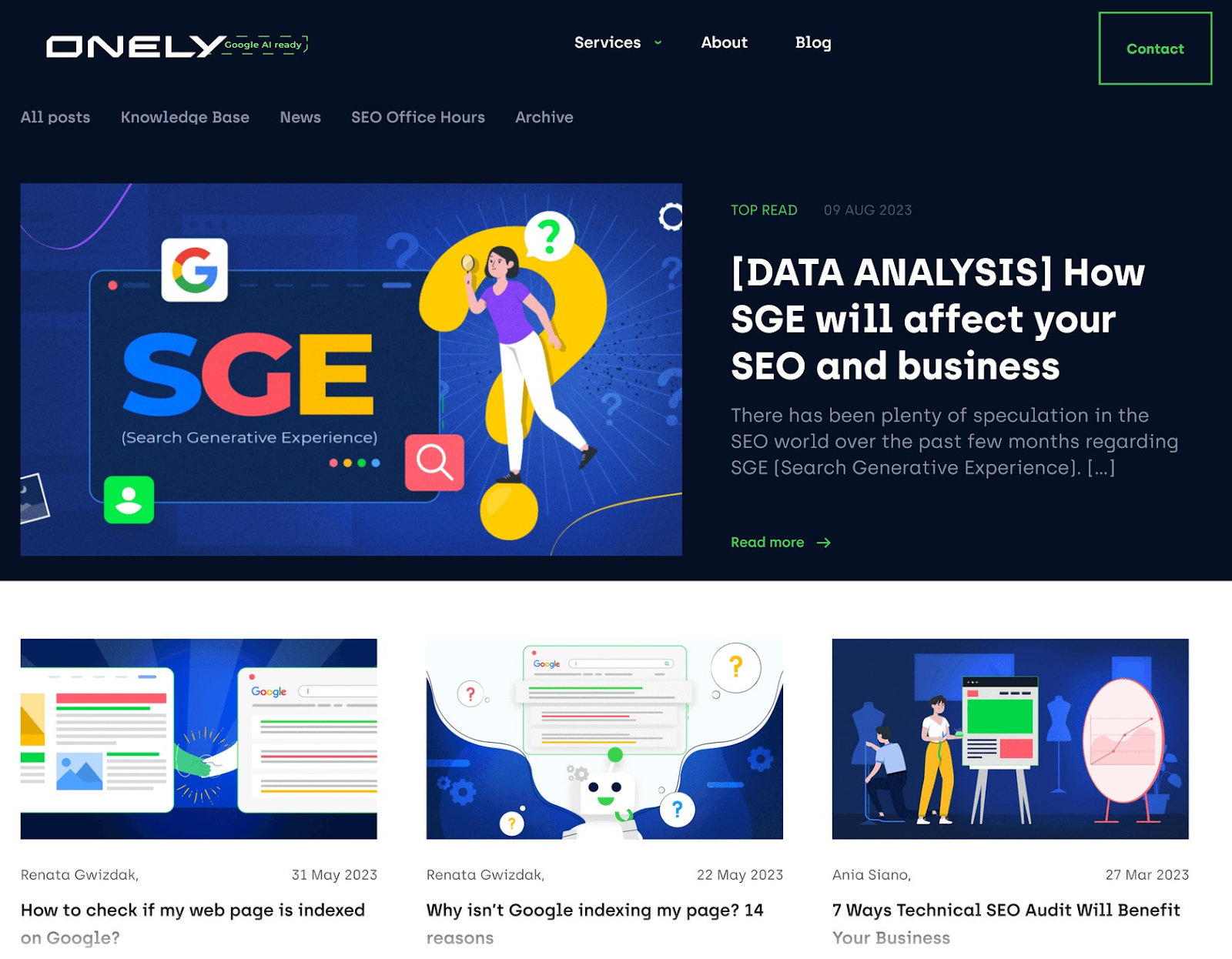 Onely is an agency specializing in technical SEO. So its blog focuses on topics like crawlablity and indexability, page speed, and robots.txt.
This means it's one of the best SEO blogs for technical SEOs and web developers. But other marketers should be able to pick up some tips, too.
Tip: Check for technical issues on your site with Semrush's Site Audit tool. You can crawl up to 100 URLs for free and get a prioritized list of recommendations.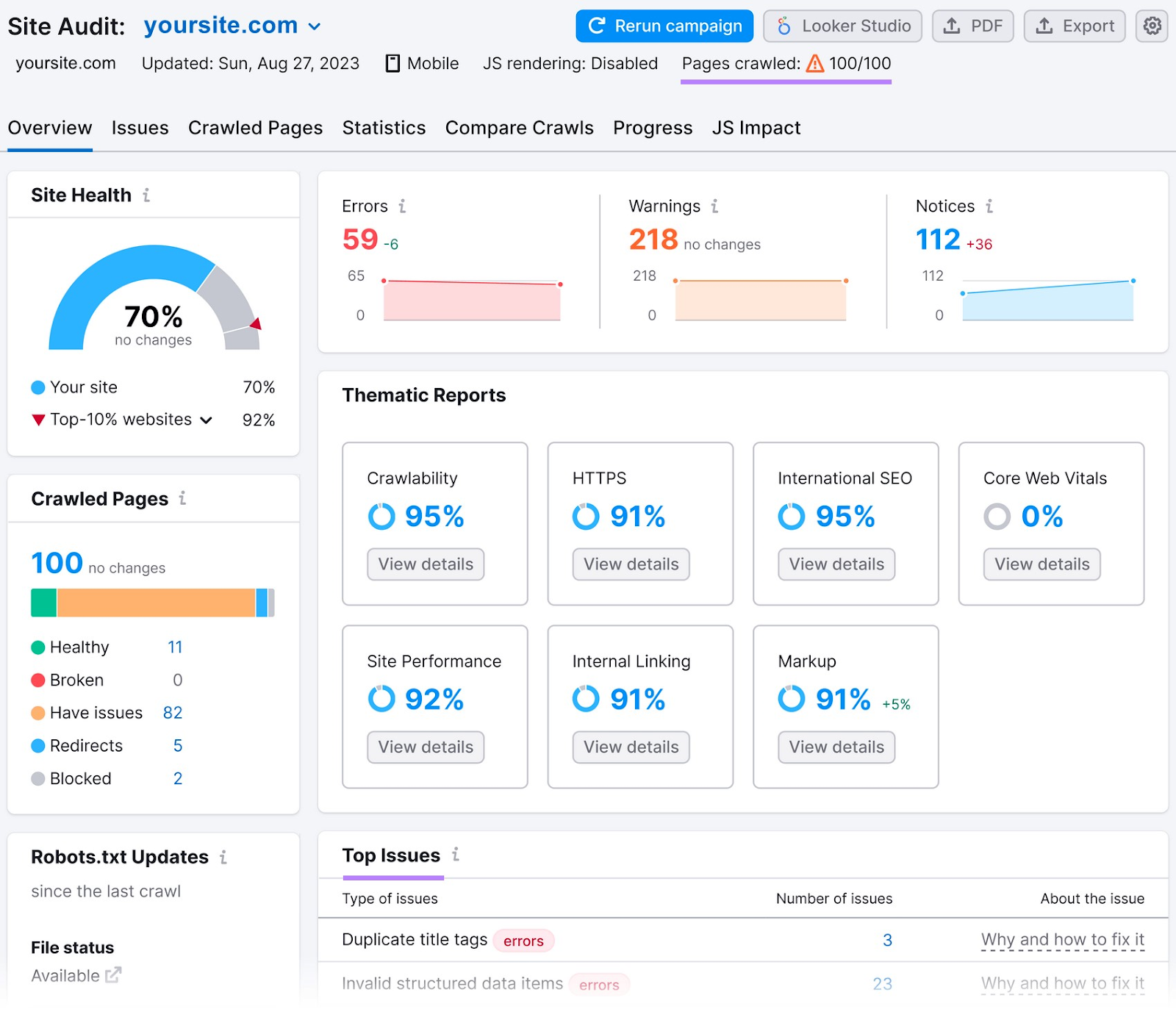 6. tl;dr Marketing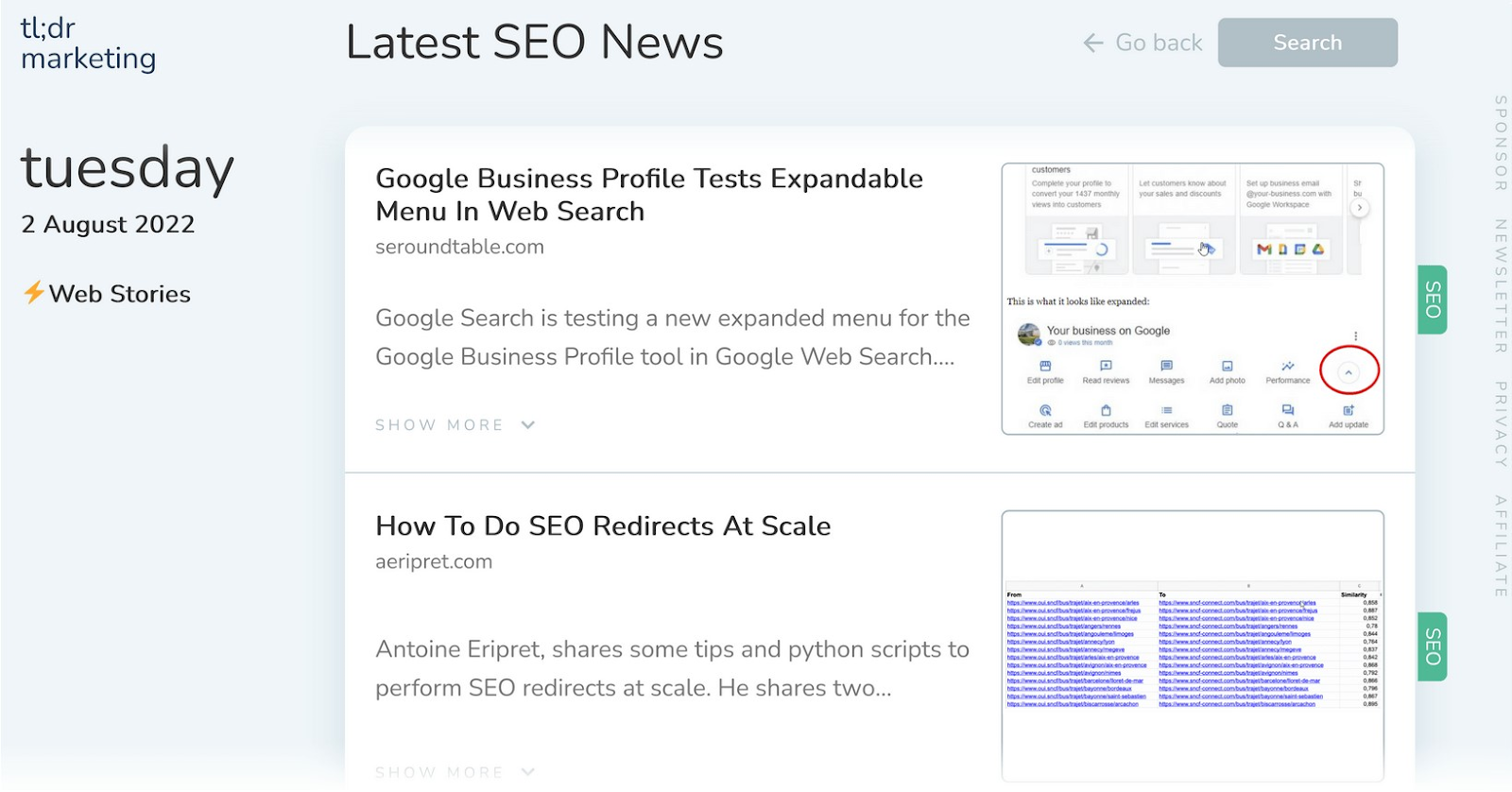 Industry expert Saijo George curates tl;dr Marketing, where he breaks down the latest SEO news and critical updates into bite-sized blog posts.
Unpacking SEO this way certainly makes it easy to follow for beginners, but there may be a knowledge gap when applying the insights to your strategy. Beginners should know some SEO terminology and basic techniques before adding this blog to their reading list. However, whenever you're ready, George and the team compile their updates into a newsletter. 
Note: The term "tl;dr" stands for "too long; didn't read" and is commonly used online to introduce summaries of lengthy texts.
7. The Internet Marketing Driver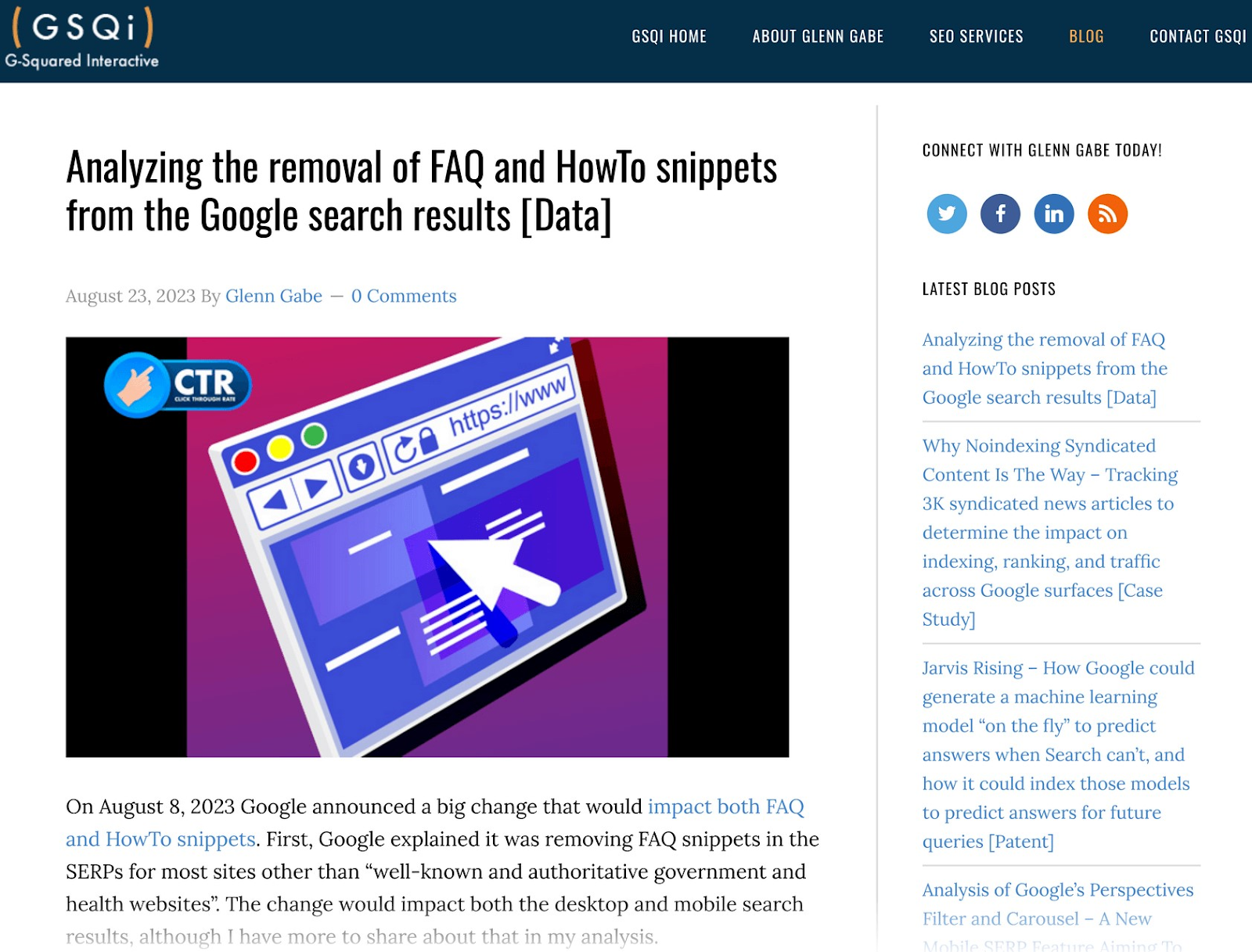 The Internet Marketing Driver is a blog by Glenn Gabe, founder of G-Squared Interactive (GSQi).
Gabe has over 27 years of digital marketing experience and regularly contributes to other top SEO blogs. Like Search Engine Land and Search Engine Roundtable.
He provides the latest SEO news and reviews of the latest in digital marketing technologies and algorithms.
8. Content Marketing Institute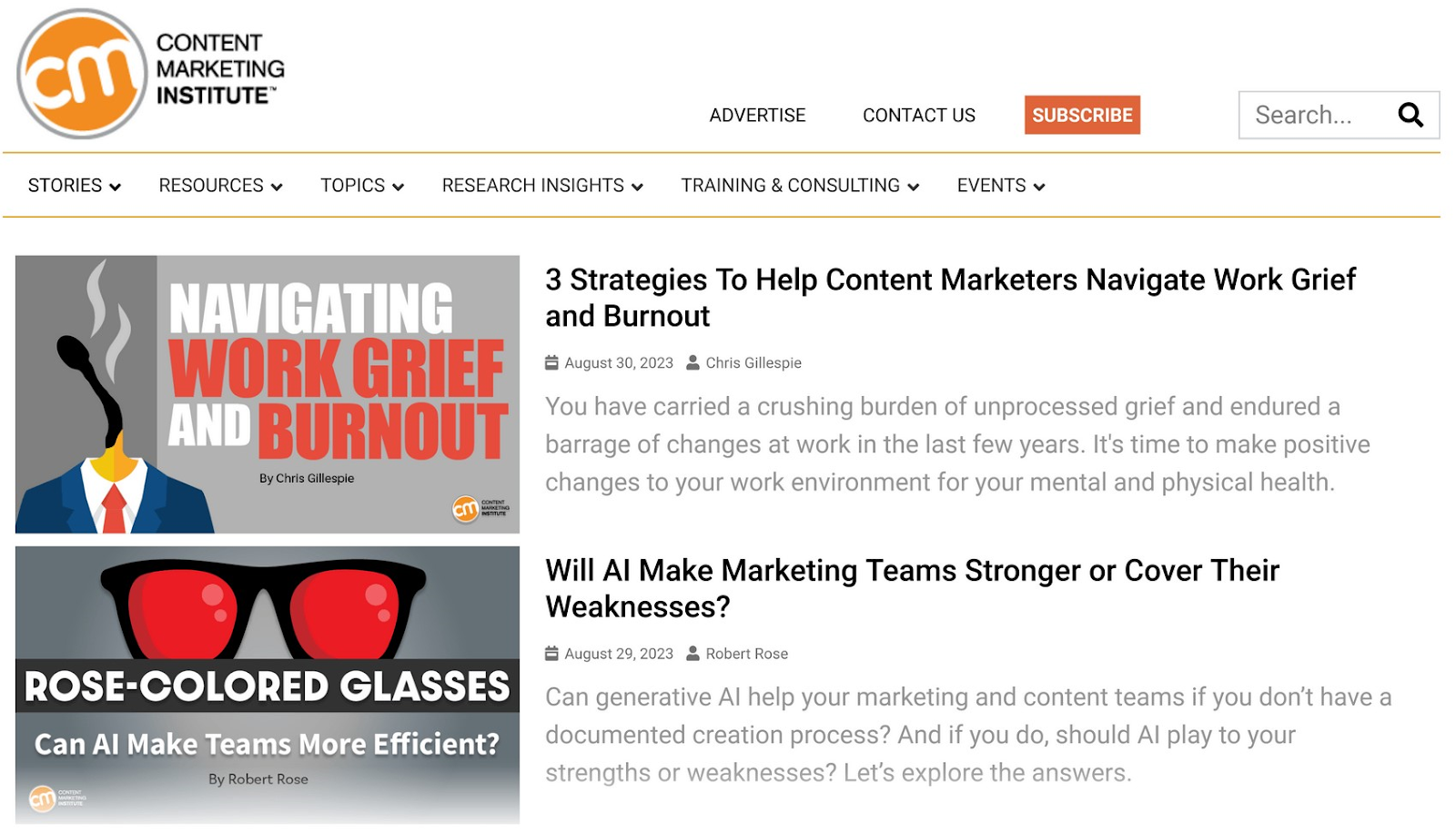 Content Marketing Institute (CMI) is one of the best SEO blogs for content marketers. With posts to help you develop your knowledge, skills, and career. 
We recommend checking out the SEO category. But you can also gain valuable insights by exploring topics like content optimization and audience building.
Tip: Check out Semrush's GoodContent hub for more content marketing resources. Or, find your next content idea with our Topic Research tool.
9. Zyppy Blog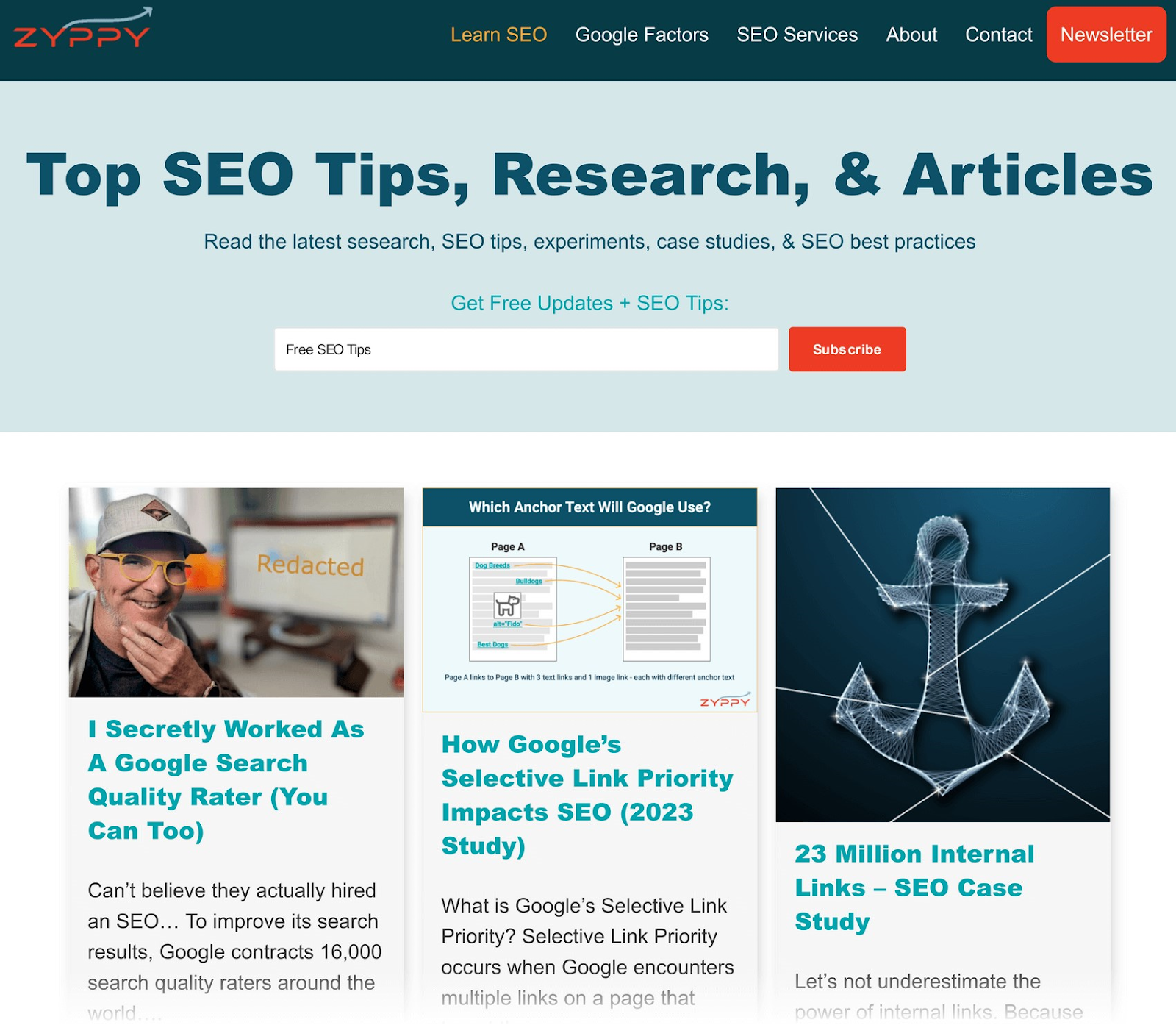 The Zyppy blog is written by Cyrus Shepard, a prominent SEO influencer and speaker.
Shepard regularly performs research to provide data-led recommendations. Once, he went "undercover" as a Google Search Quality Rater. So, readers can expect plenty of unique and reliable insights.
10. SEO Blog by Aleyda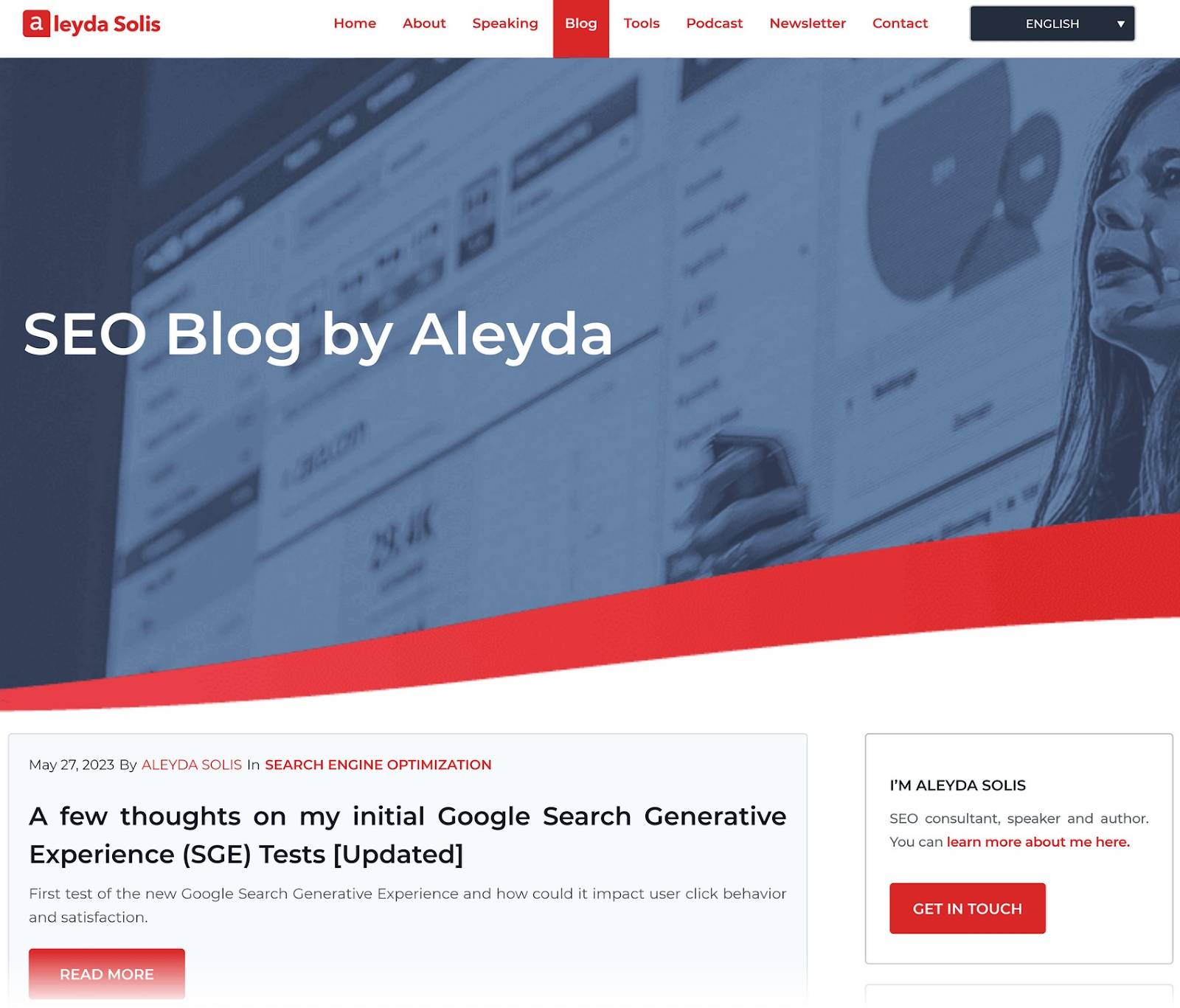 Aleyda Solis is a world-renowned SEO consultant. Her blog provides up-to-date tips, news, and opinion pieces related to the digital marketing industry.
Solis also provides handy spreadsheets, templates, and similar resources that help you track and grow your SEO campaigns and help you develop them. Search marketers and technical SEO professionals can benefit from the wealth of information she provides. 
11. SEO Blog by Brodie Clark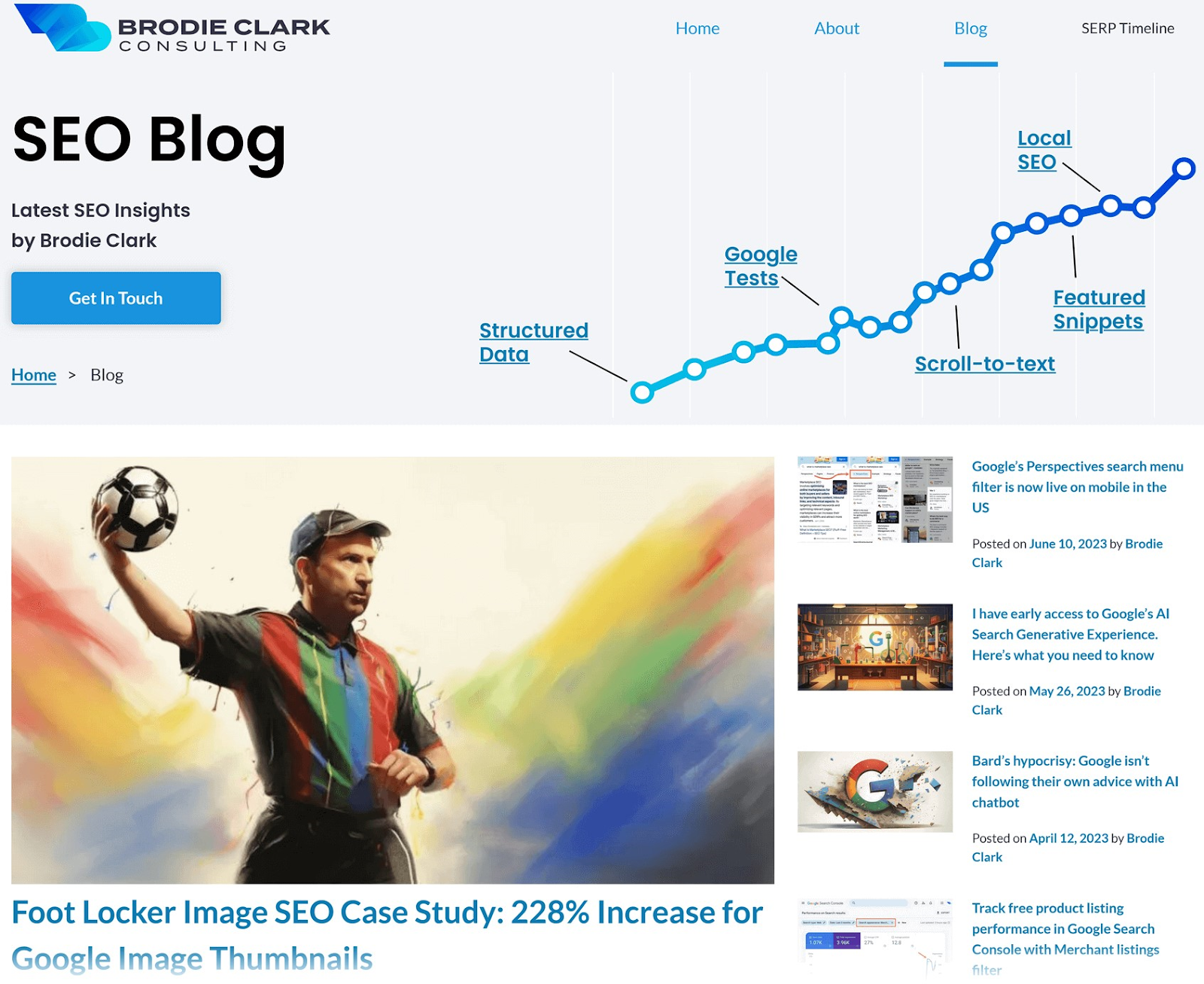 Brodie Clark is perhaps the best-known SEO in Australia. On his blog, he shares insights gleaned from his day-to-day life as an SEO consultant.
And his posts have a real impact:
In 2022, he used Foot Locker to demonstrate an issue with thumbnail indexing in Google. One year later, the brand implemented his advice and increased associated traffic by 228%. 
12. SEO Blog by Marie Haynes Consulting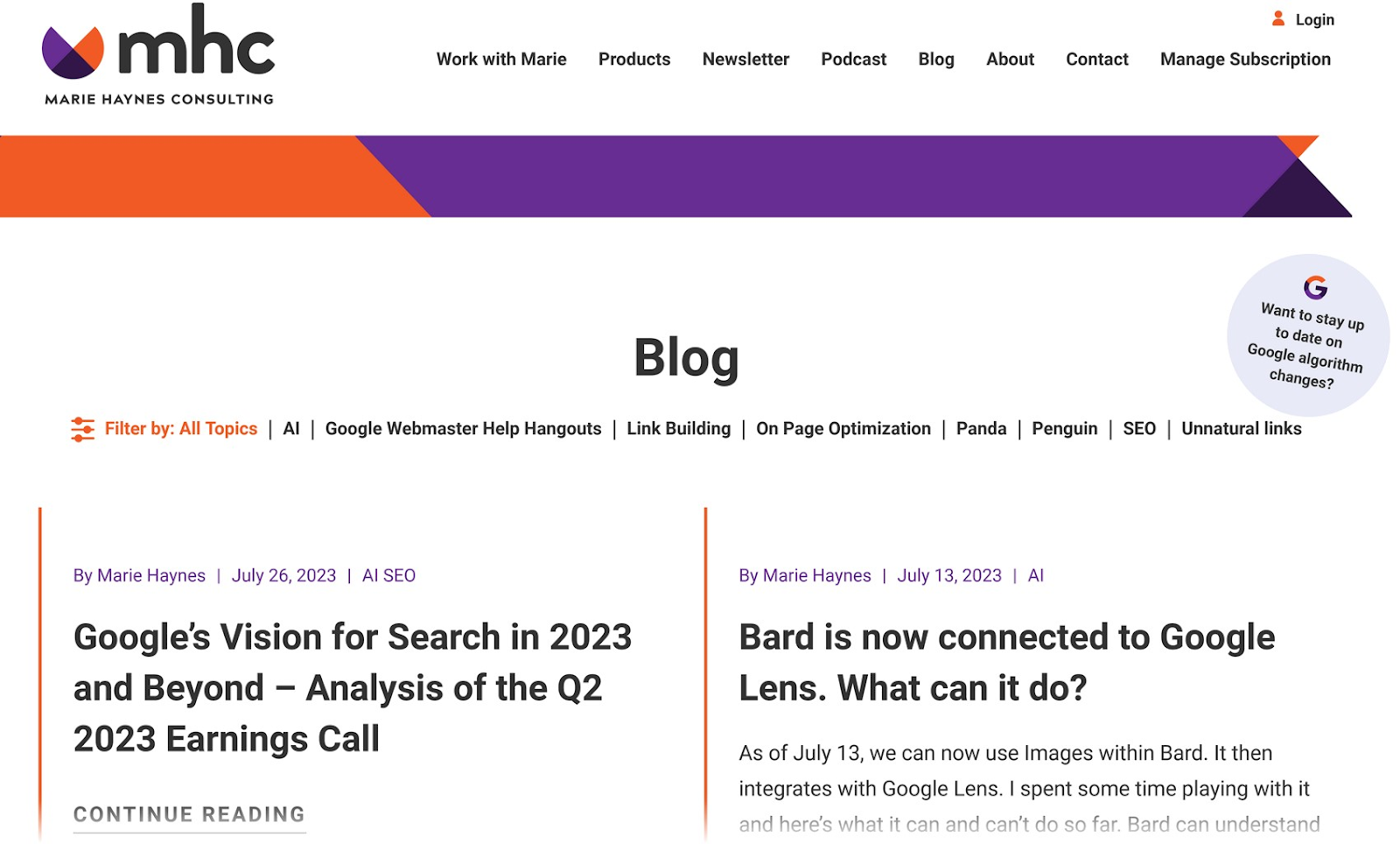 Marie Haynes is an SEO blogger, podcaster, and consultant. Her blog is a particularly good place to learn about AI in digital marketing. 
Haynes is also an expert in Google's Search Quality Rater Guidelines—she wrote a book on the topic. And she shares lots of great advice about improving Experience, Expertise, Authoritativeness, and Trustworthiness (E-E-A-T) and creating quality content.
SEO Blogs for Advanced Learners
Veterans, these SEO blogs are for you. Add these to your reading list for in-depth SEO insights and industry updates. 
13. Google Search Central Blog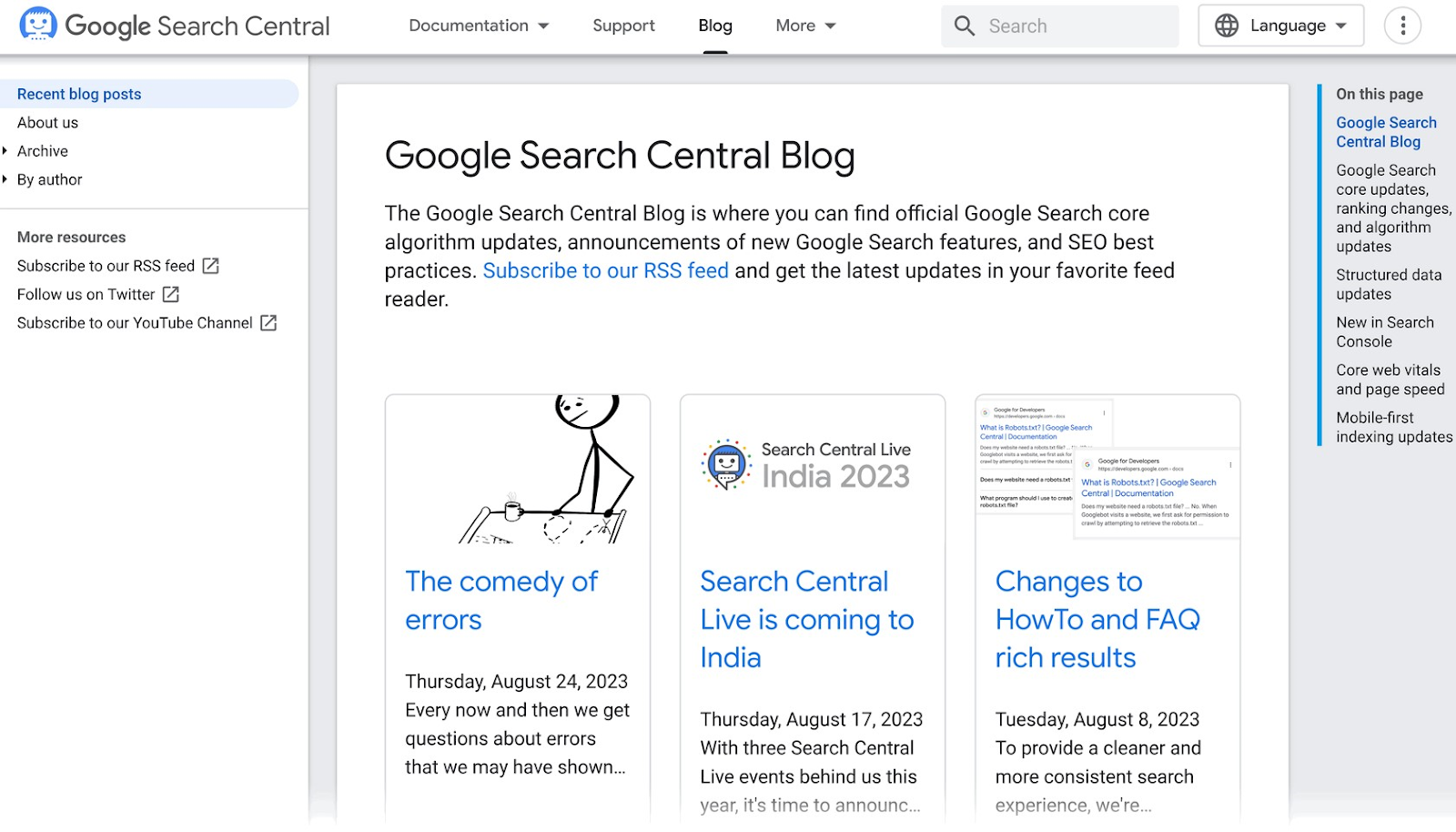 The Google Search Central blog is where you can find official announcements about changes to Google Search and Google's SEO guidelines. So it's a helpful resource for any white hat SEO.
However, many marketers prefer to read analysis on other SEO blogs. As Google likes to keep some things secret. And doesn't always write in a beginner-friendly way.
14. Builtvisible Blog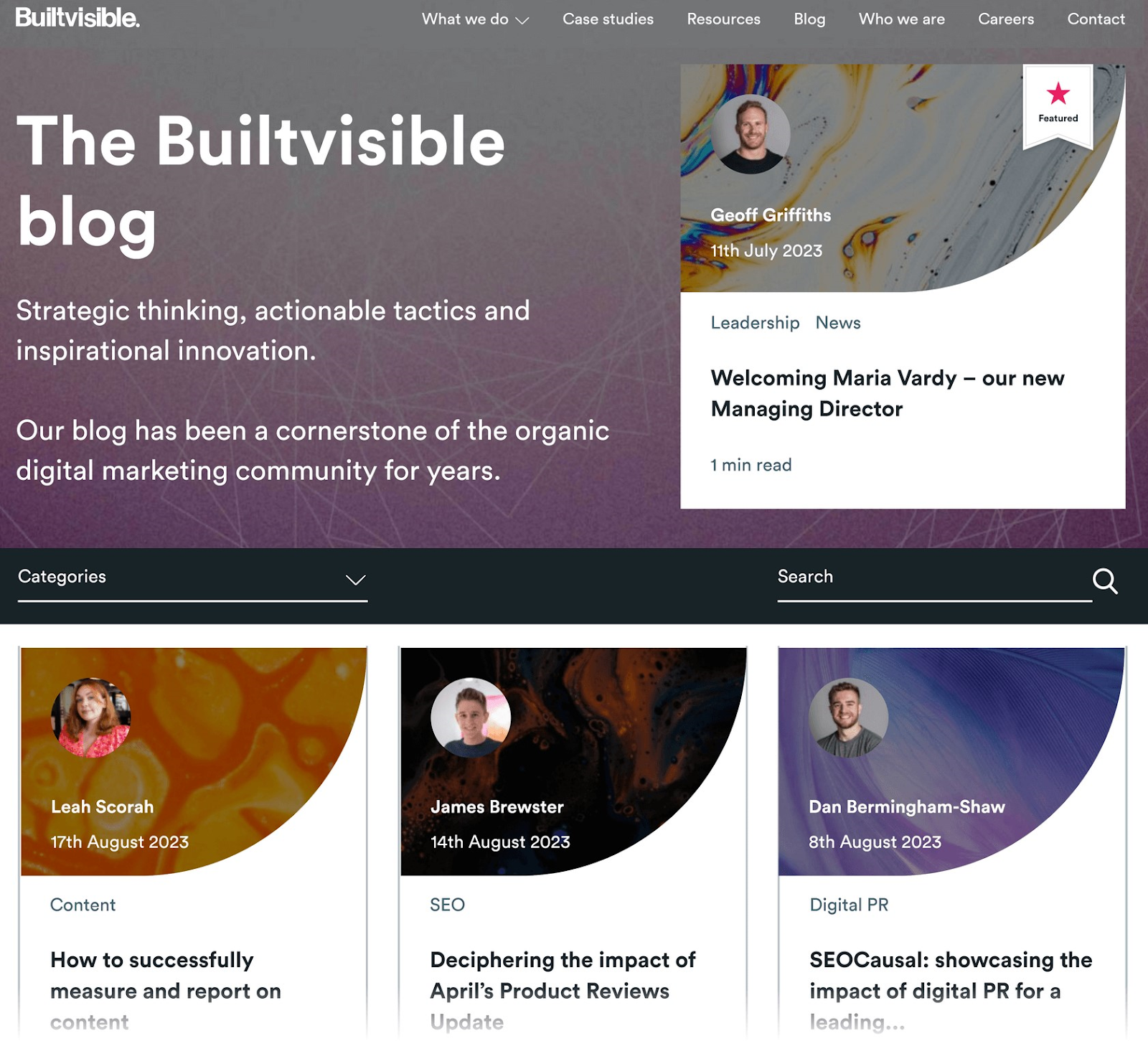 Builtvisible is a reputable digital marketing agency. On the blog, various team members cover topics including SEO, digital PR, and content marketing.
The company also posts career-oriented posts. Like "A day in the life of: A Senior SEO Executive." These can prove helpful if you're interested in changing or advancing your role.
15. Search Engine Land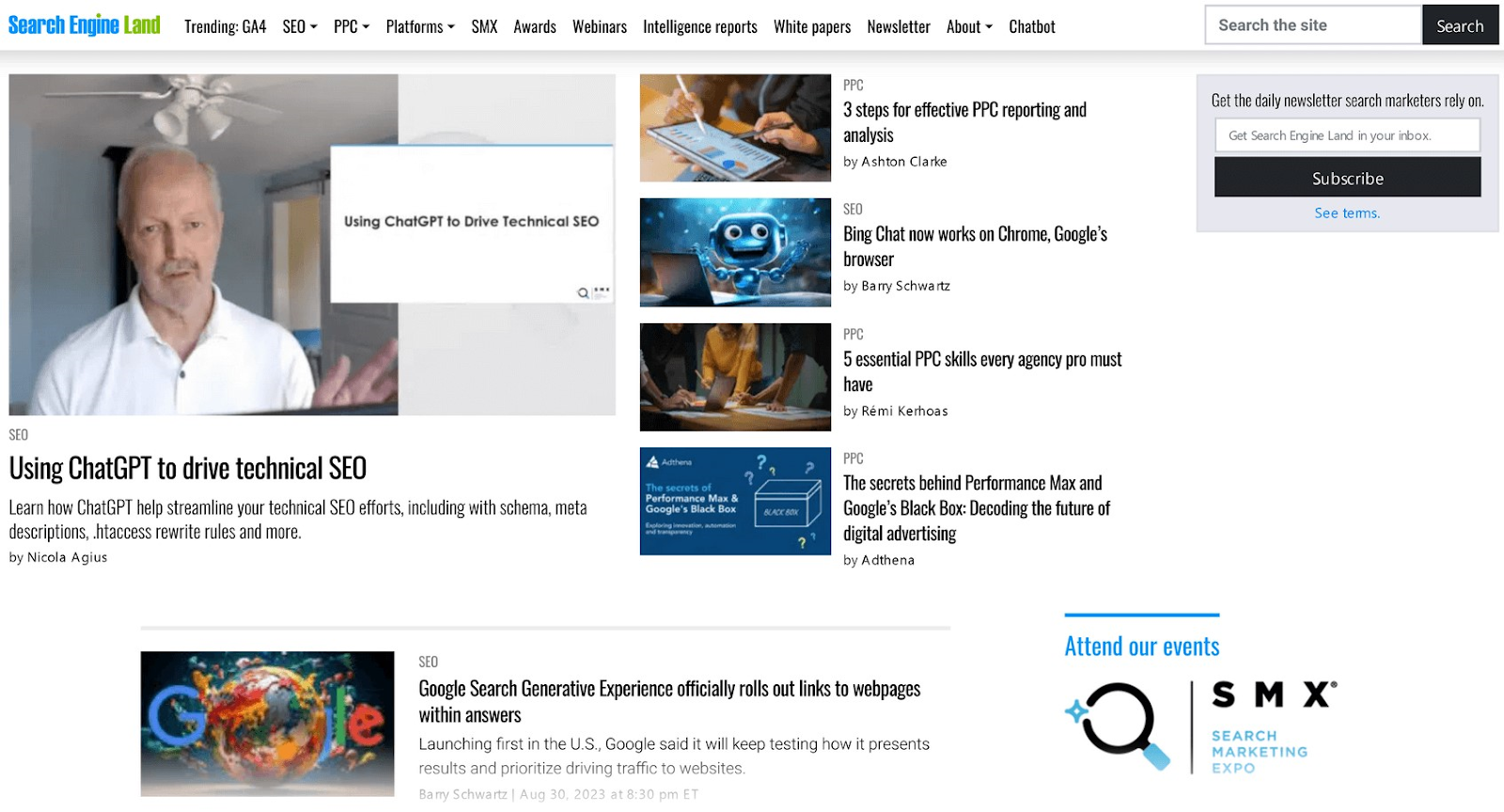 Search Engine Land is a trusted news source within the SEO industry, best known for covering Google algorithm updates and other industry news. Browse this site for insights into the latest SEO practices that you can try for your website or blog.
Generally, you need a good level of SEO knowledge to extract value from Search Engine Land articles. 
16. Search Engine Journal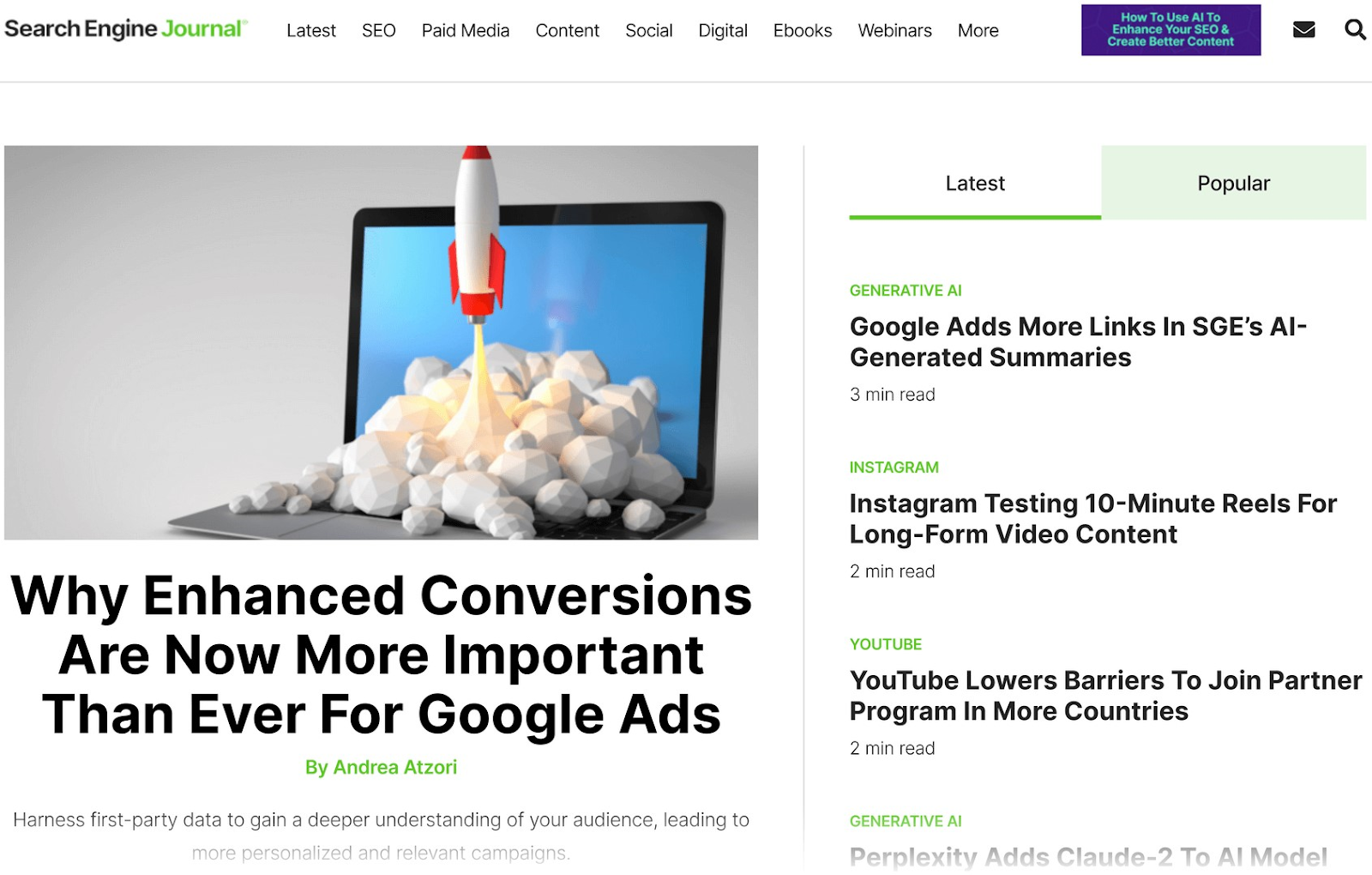 Search Engine Journal works like an industry tracker for digital marketing professionals. No topic is too big or too small to be covered on the site, so you'll find a good mix of SEO topics to browse. 
Much like Search Engine Land, Search Engine Journal is written in a style that appeals best to experienced SEO professionals and digital marketers. Posts won't always explain the impact of an algorithm update, for example. Still, beginners can check in on the site for updates and insights into more advanced topics.
17. Search Engine Roundtable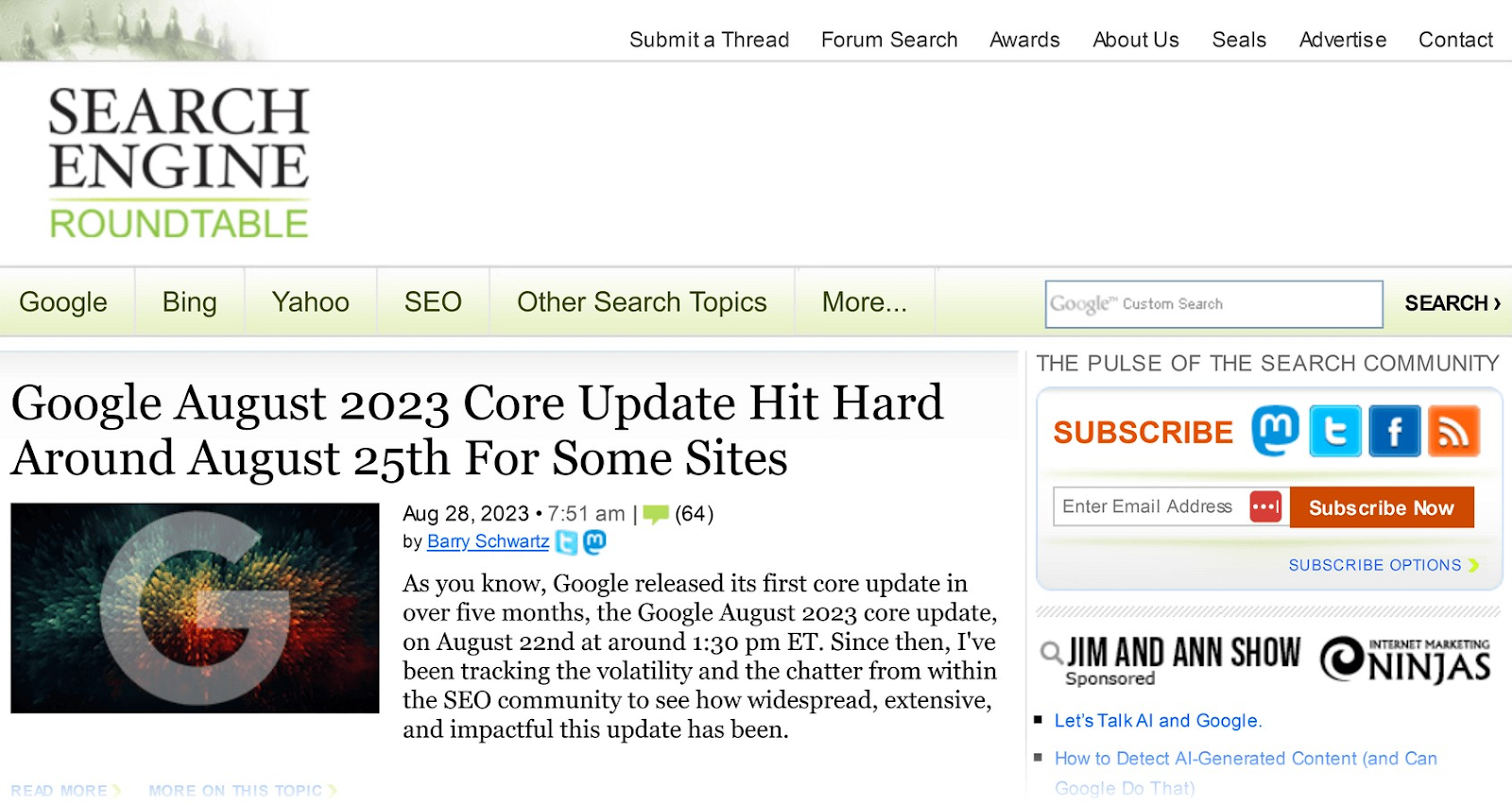 Like the previous two entries, Search Engine Roundtable functions like an online newspaper. It mainly reports on new SEO trends, Google updates, and changes to search engine results pages (SERPs).
Many posts are written by site founder Barry Schwartz, one of the best-known SEO bloggers in the industry. (He's also an editor at Search Engine Land.)
Search Engine Roundtable is an excellent read for anyone who wants to keep their finger on the pulse of the search marketing industry. But it can be a little overwhelming for other marketers.
Quick Tips
Follow your favorite SEO blogs and bloggers on social media
Subscribe to newsletters from your favorite blogs, where available
Bookmark the most helpful SEO blog posts for future reference
If possible, set some time aside each day or week to read the latest posts
Stick with reputable blogs cited by industry experts (like the ones in this list)
Of course, the most important thing is to put your learning into practice. 
With a free Semrush account, you can follow many of the workflows on our SEO blog and others. We've got tools for keyword research, content marketing, link building, technical SEO, and more.