There's a ton of Semrush tools and data you can access without ever paying a cent. 
All it takes is a couple of minutes of your time.
Not sure which subscription level to go for or you don't have the budget to support a paid account yet?
This post is for you. 
Two Types of Free Semrush Accounts
Semrush is officially one of the top marketing software products in the world today.

It is subscription-based, but by simply creating a free account you can experience much of the software's capabilities for free.
There are two main types of free account you can create:
A Simple Sign-up Account
With this account, you can enjoy limited access to certain Semrush tools and features without any time constraints.
This means you can enjoy your free account for as long as you want without providing your credit card details and without ever being charged for it.
Plus: You can explore Semrush App Center, a growing marketplace of tools for common marketing jobs, with a free account. Inside the App Center you'll find dozens of specialized apps, all of which can be tested with a free trial or as a free app. 
A Free Trial Account
This gives you free access to all the marketing goodness Semrush has to offer for 7 days. 
You can trial either one of the Pro or Guru accounts.
This means that for 7 days you can have full access for free to all the features paid users enjoy.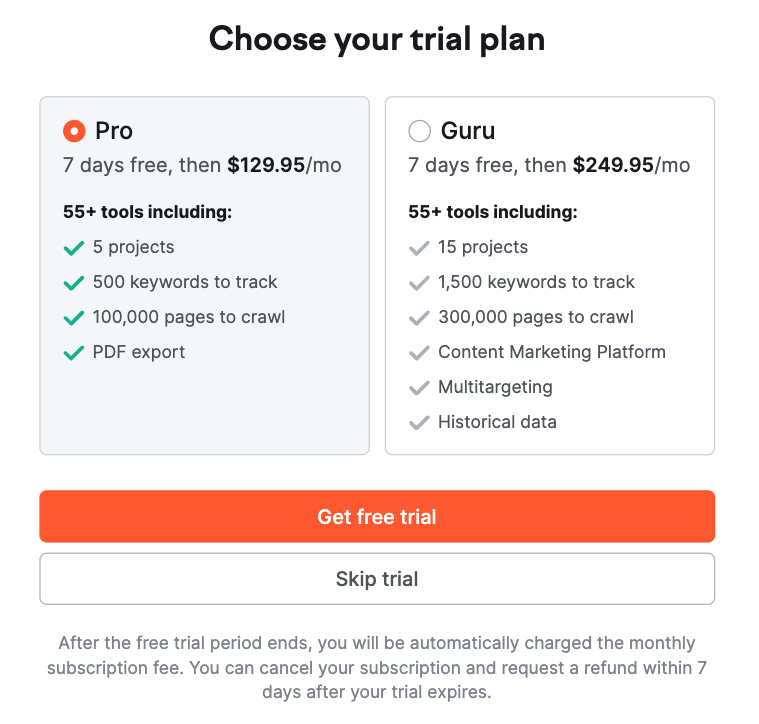 To create a free trial account, you will need to provide your card details. 
(But, hey, if you change your mind before your free trial expires you can cancel your subscription and you won't be charged.)
After the 7-day period passes, you are automatically moved to the paid plan you have signed up for. Unless you cancel your subscription in the meantime. 
This article will break down what you can do with a simple, free account. You will also find answers to the most common questions. 
If you're interested in a free trial instead, head over to the Semrush pricing page to find the plan that better suits your needs and sign up.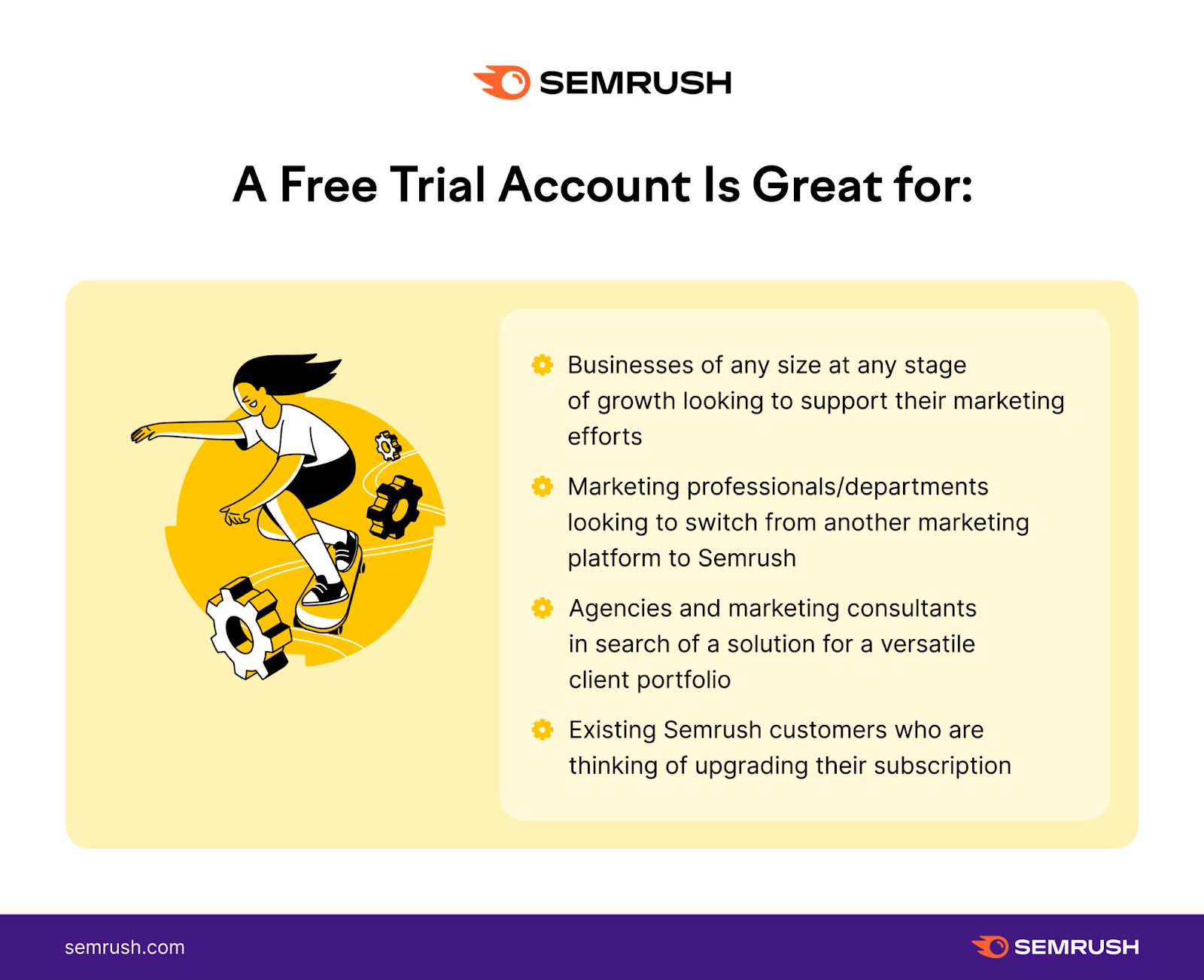 But First: Who Needs a Free Semrush Account?
No matter what your marketing needs are, Semrush allows you to build and manage your entire digital strategy from a single platform. 
From SEO and PPC to content marketing and go-to-market—we've got you.
We have built over 50 tools to help you do this. 
With data for over 140 countries. 
But we also know big dreams often have humble beginnings. You may not have the budget, the knowledge, or the resources to afford one of our paid plans. 
And that's ok. 
We want to empower every marketer out there to perform at the top of their game. 
Every. Single. Day. 
This is why anyone can create a free account with Semrush. And why some of our tools and apps are completely free to use, simply by signing up.
Here's a few things you can do with your free account:
Perform Keyword research

Perform a competitor analysis

Track keyword rankings

Run a technical site audit

Audit your local listings 
Plus more.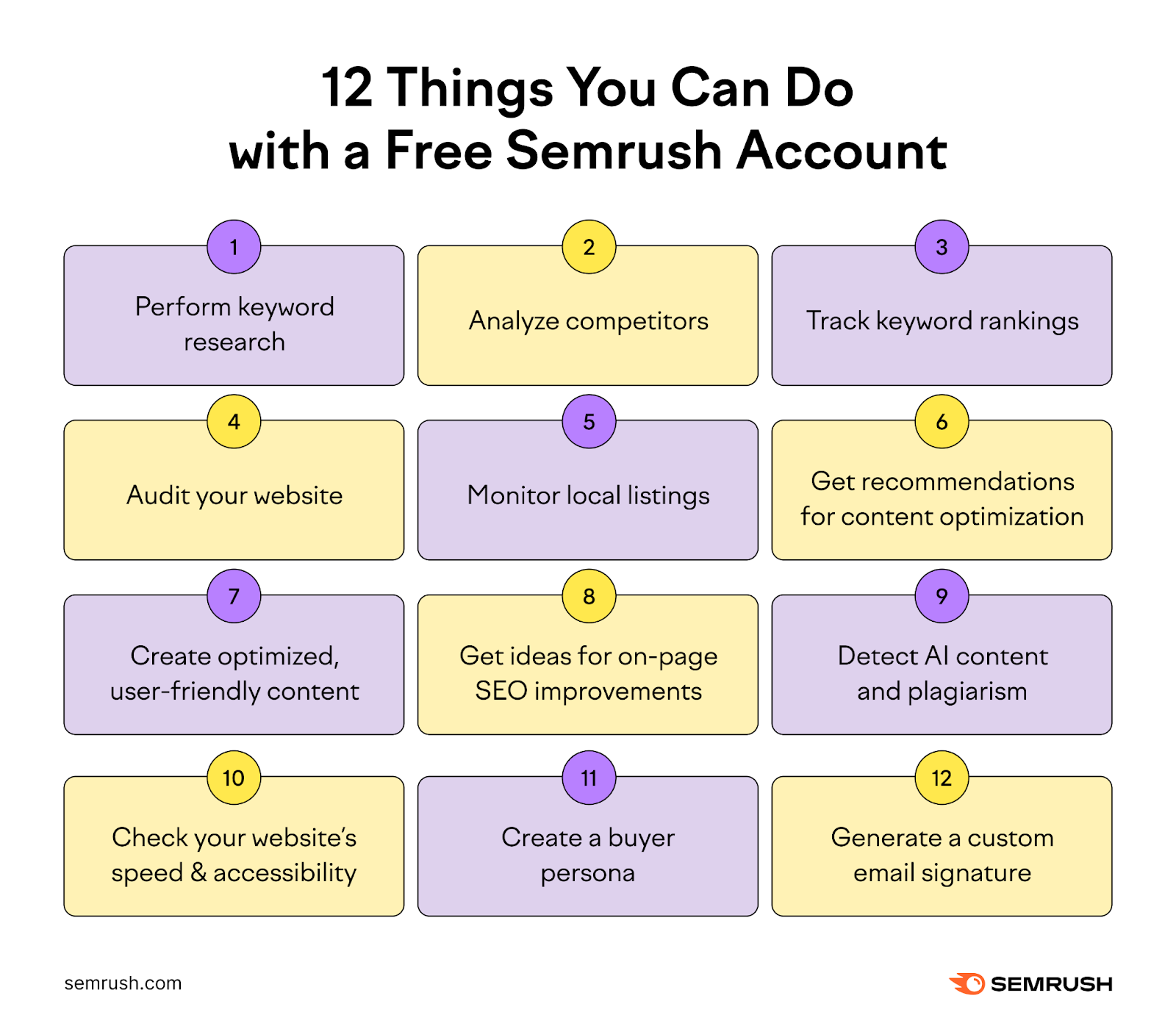 Using Free Semrush Tools for SEO 
Here's how to make the most of your free account.
1. Perform Keyword Research for Free
You can run 10 keyword searches per day using the Keyword Magic Tool or the Keyword Overview. 
Each search in the Keyword Magic Tool will return a report limited to 10 results.
So on a daily basis you can get 10 x 10=100 results to cover your keyword research needs. 
Like the one below: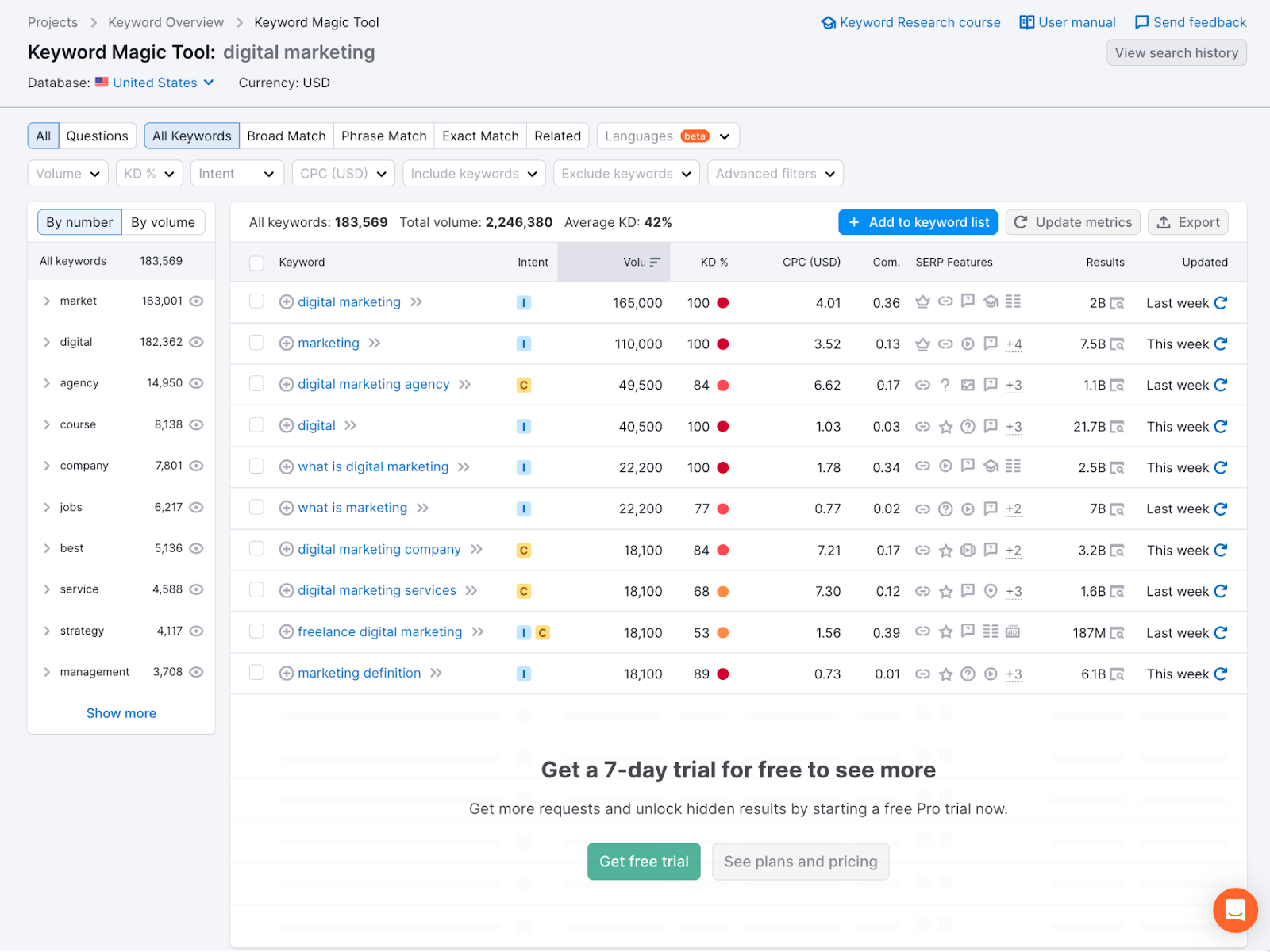 Or like this with the Keyword Overview tool:
You don't just get data around the monthly search volume (MSV) with your free account.
Here's just some of what you can do in one click:
Check how difficult it will be to rank for a keyword organically (Keyword Difficulty)

Get a breakdown of the global MSV into country-specific MSVs

Identify the search intent type behind your keyword (so you can decide what type of content to build in order to target it)

Discover if interest around it in the past 12 months has been growing, shrinking or has been relatively steady

Estimate what it costs to target this term with paid search ads 

Check the level of competition between advertisers bidding on the analyzed keyword within their PPC campaigns

See what features the Search Engine Results Page (SERP) contains (from featured snippets to reviews and ads)

Find out which the top 10 ranking pages are for a keyword

Get ideas for relevant questions or keywords to your seed keyword
All this (and more) for any of the 142 countries in our database. 
For over 25,000,000,000 keywords. (That's 25 BILLION in case you lost count with all the 0s.)
Pro tip: If you're interested in analyzing a keyword in-depth (for example, discover how search interest around it has trended for the past 12 months) run your search on the Keyword Overview tool for in-depth analysis. To discover more keyword ideas that are relevant to your seed keyword, run your search on the Keyword Magic Tool. 
If you reach your daily limit you will have to wait until your allowance gets refreshed the next day. 
(Or, you know… sign up for a free trial and up your limits for free for 7 days.)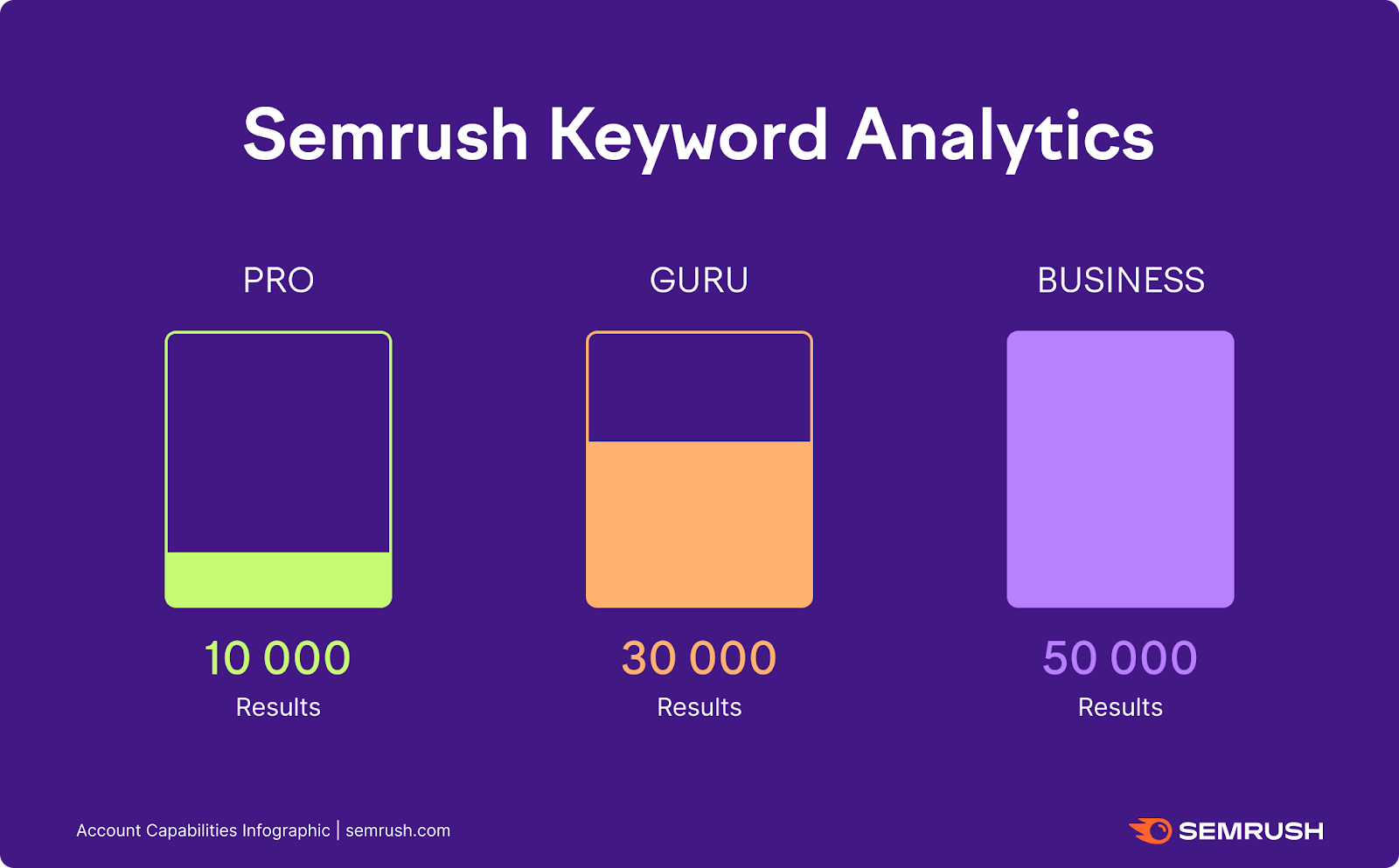 Should you choose to try out or sign up for a paid account, you can access even more results.
2. Analyze Competitors for Free
You can analyze up to 10 domains per day using Domain Overview.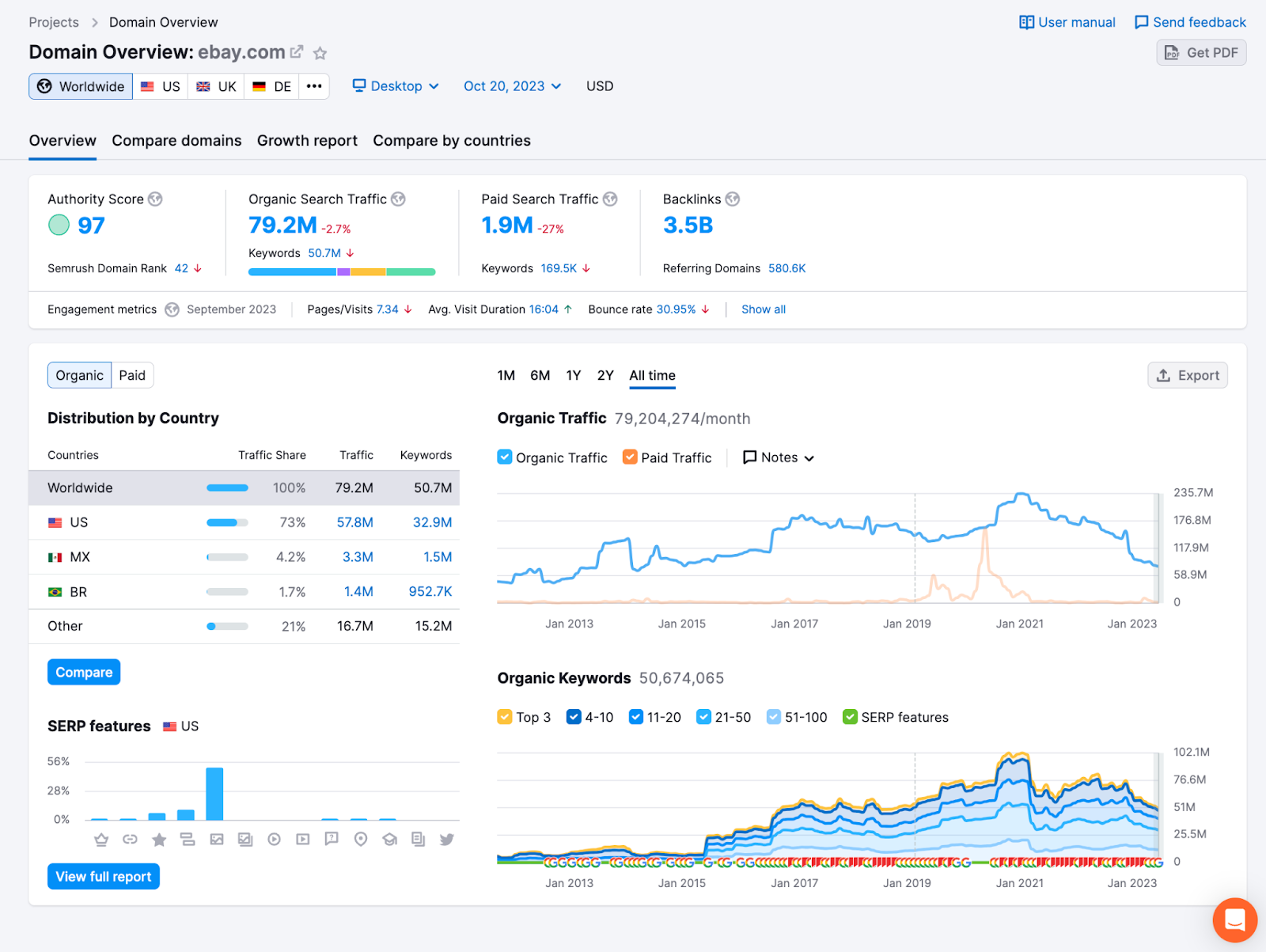 Whether you're running a competitor analysis, diving into your website's performance, or pitching to a prospective client, this is where you can discover a wealth of data around:
How many and which keywords a domain ranks for (in both Organic and Paid Search)

Positions distribution for these keywords

Main competitors (in Organic and in Paid Search)

Top keywords driving traffic

Branded vs. Non-Branded traffic split

Number of backlinks and referring domains
And so much more. 
See how this tool allows you to gain insights into both the organic and the paid performance of any domain? It's not just useful for your SEO efforts but also for any top-level analysis you're looking to run for paid strategies too.
One thing to bear in mind: Your daily limit of 10 searches refers to the total number of searches you can perform within one day using any of our keyword research and domain analytics tools. 
Meaning that if you search for "semrush.com", for example, in Domain Overview, that's 1 search out of 10. 
If you then click to view details about the top ranking keywords for this domain and get transferred to the Organic Research report, that's another search. 
If you then pick "seo software" as a keyword to type in the Keyword Magic Tool, that's another, so your remaining allowance after that will be 7. And so on. 
3. Track Your Keyword Rankings for Free
Free users can track up to 10 keywords using the Position Tracking tool in 4 easy steps:
Set up your project (you are allowed to set up 1 project as a free user, which gives you access to 7

standalone tools

)

Enter your domain

Set your location and device type

Create a list of

keywords

to track 
Position tracking allows you to monitor your rankings at local level (down to ZIP code). 
Which is particularly useful if local SEO forms an important part of your SEO strategy. 
You can also set up alerts so you're notified of any changes in rankings.
The tool will track your rankings and those of your competitors daily. 
You access all this data on the results tabs for your target keyword list. You are then able to check not only your ranking positions, but also your visibility or estimated traffic from these keywords versus those of your competitors.
You can discover a ton of information in Position Tracking, from daily fluctuations for each keyword to opportunities to earn featured snippets.
Based on these insights you can decide whether, when, and how to act.
4. Run a Free Website Audit
As a free user, you can crawl up to a 100 URLs with the Site Audit. This includes crawls of any given domain, subdomain, or subfolder. 
You will end up with:
An overall health score for your website 

Detailed reports about all the issues we find, grouped based on how serious they are ("Errors" are the most serious issues, while "Notices" will have a lesser impact on your organic performance)

Breakdown of each issue and recommendations on how to fix it

Thematic reports, which help you gain a clear idea of how your site performs in a specific area 
Thematic reports include:
Crawlability

: Is it accessible to search engines?

Security

: Is HTTPS implemented correctly?

Internal linking and site architecture

: Do you have orphan pages or deep pages on your site that search engines struggle to get to?

Structured data and markup

: Any issues with structured data implementation will be listed here.

And more…
5. Monitor Your Local Listings 
If local SEO is part of your growth strategy, start with a free audit within the Listing Management tool.
You can check the status of your local listings in more than 70+ authoritative directories in the US (from Google Business Profile and Yelp to Trip Advisor and Bing).
This feature can help you track your local listings in over 25 countries, including the UK, Australia, Canada, France, and Germany.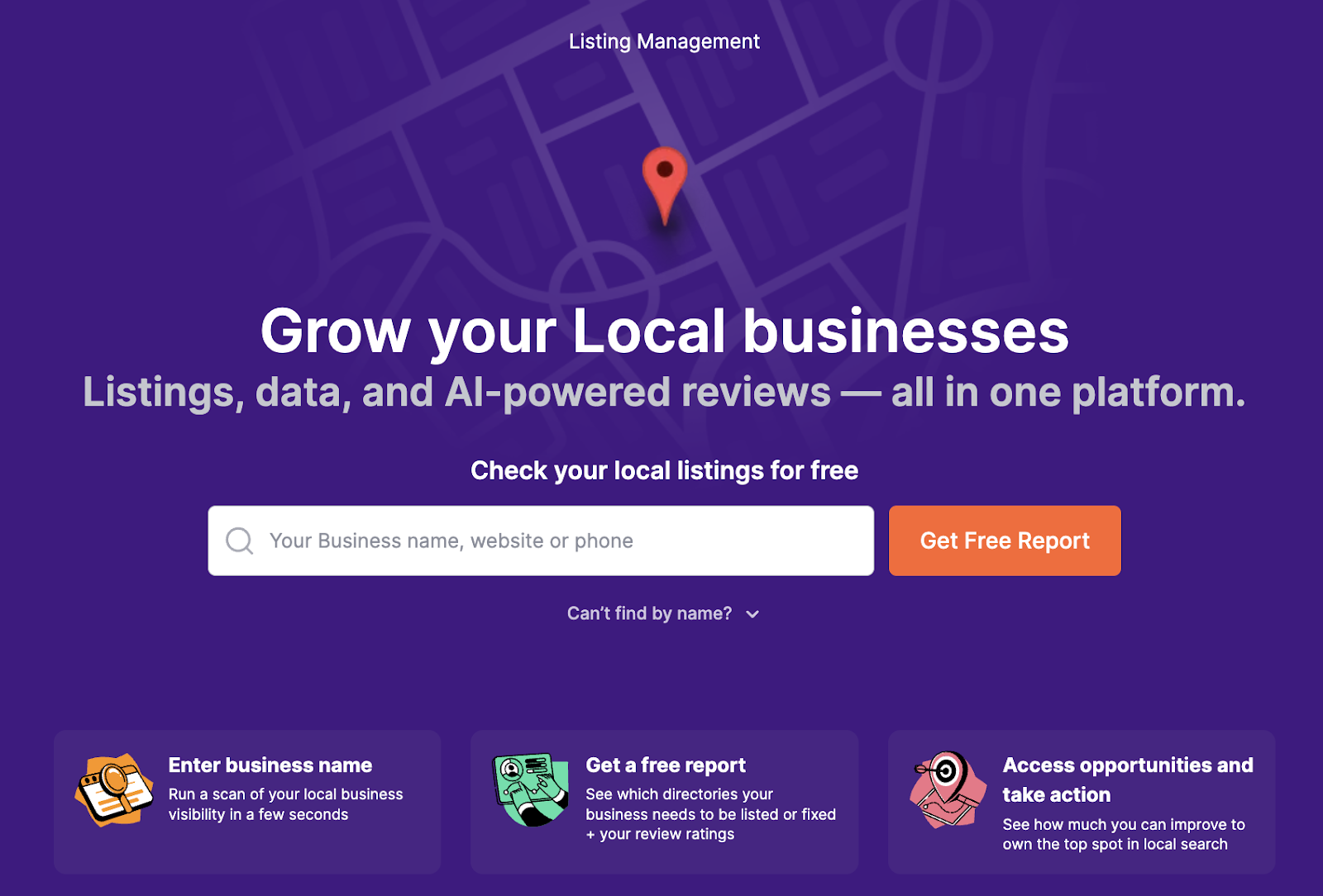 Simply enter your company name to generate the report with the status of your business listing for each directory.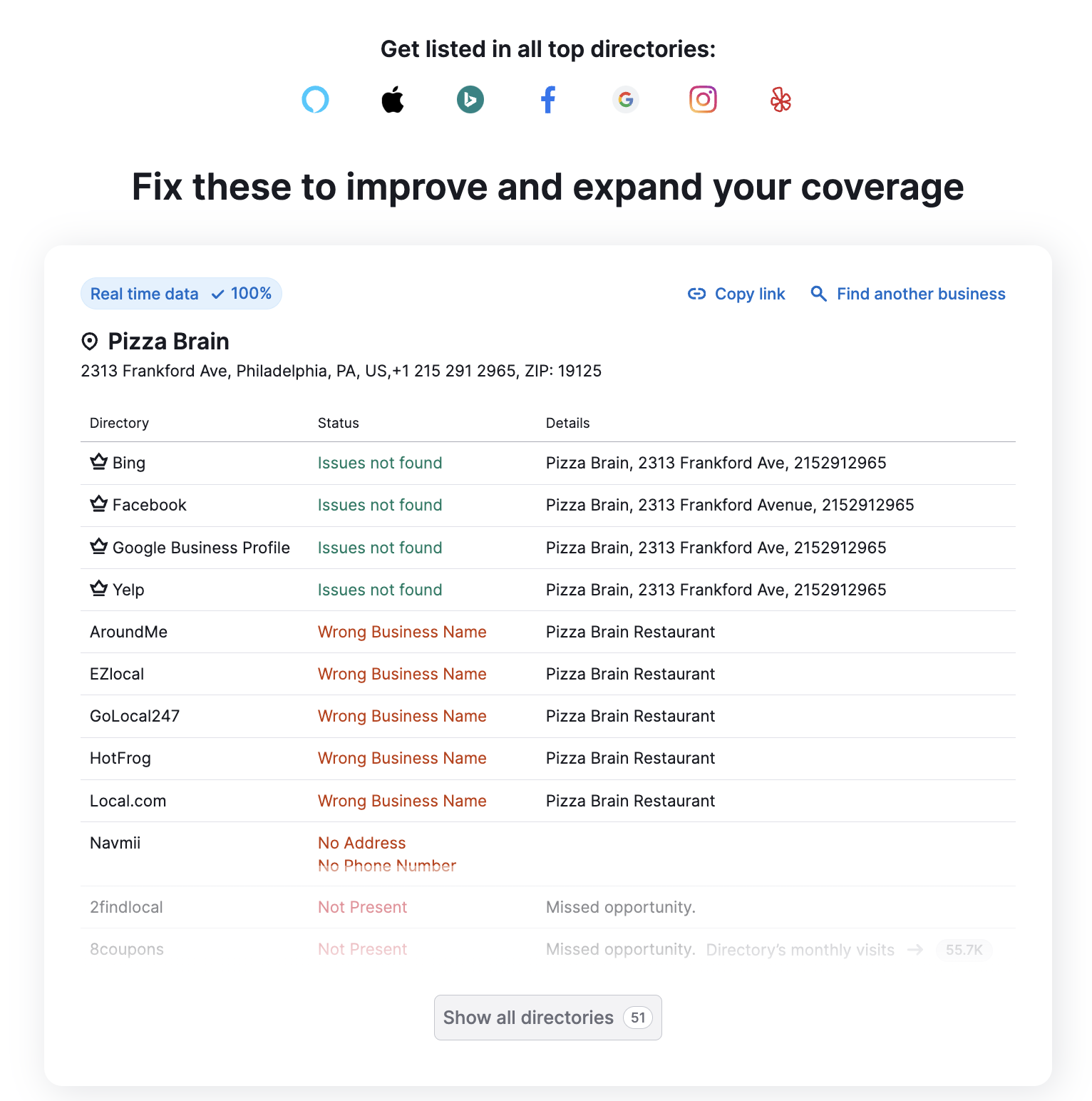 The findings from this audit can help you decide on next steps for your local SEO strategy.
Using Your Free Semrush Account for Content Marketing
There are three main ways in which a free user can leverage Semrush for content marketing. These are:
6. Get Recommendations for Content Optimization
Input one or more target keywords into an SEO Content Template and get insights into your competition, relevant keywords your content should include, and what your text's length could be.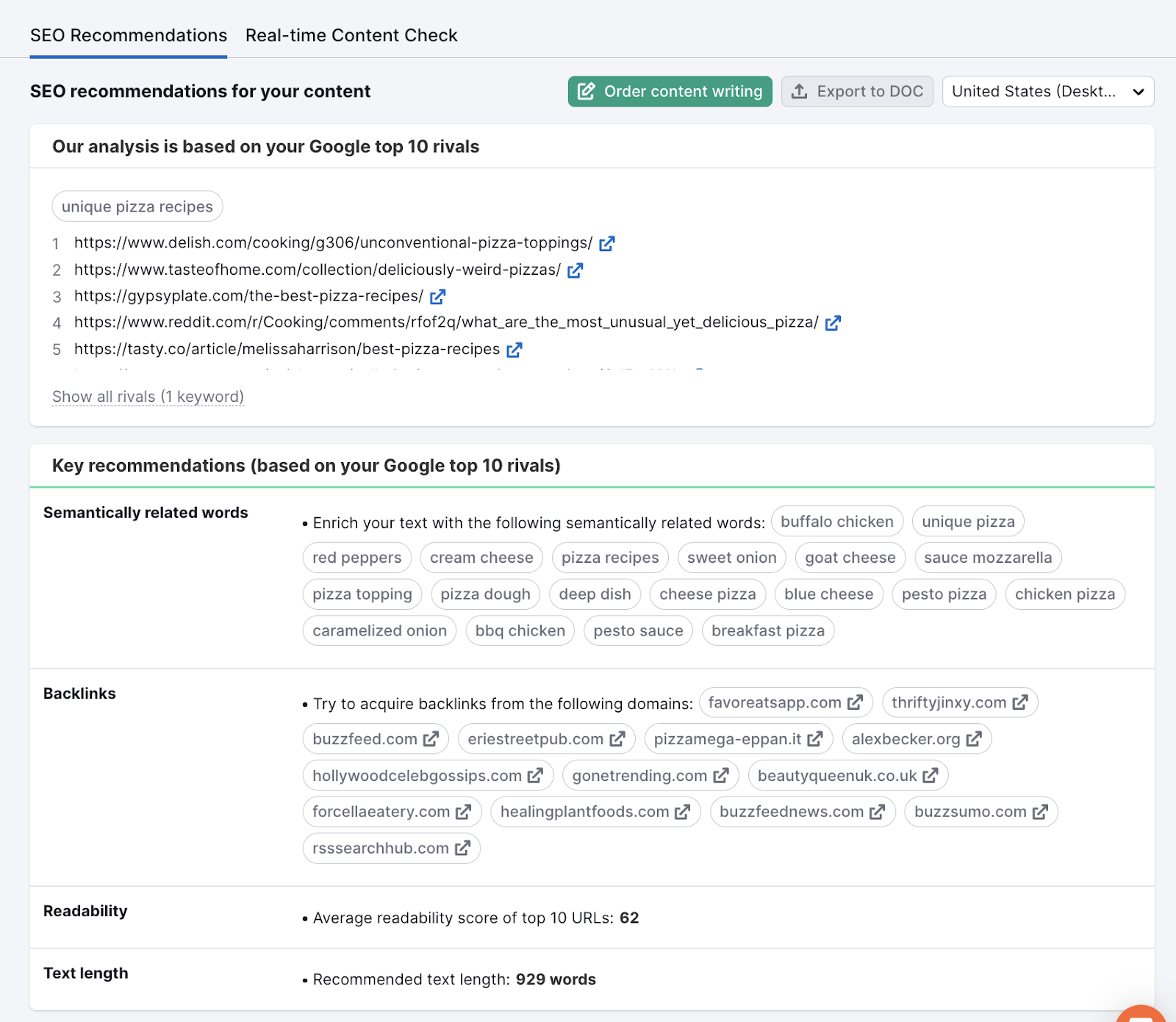 You can use these to create a content brief or your copy.
With a free account you can create only one SEO Content Template.
7. Create Optimized and User-Friendly Content 
Once you're ready to start writing, you can use the SEO Writing Assistant. 
This tool proposes ways to optimize your copy, improve its readability, and integrate the SEO Content Template recommendations, too.
You can add new content to it or import the content from an existing page. 
It also works as a plug-in with Google Docs, WordPress, and MS Word. During the life of your free account, you're able to create two SEO Writing Assistant documents.
8. Get Ideas on How to Improve On-Page Content and SEO
You need to create a campaign using the On Page SEO Checker. 
Simply add your target keyword(s) and the corresponding URL, and you will end up with a report with ideas on:
Issues that need sorting out 

Missing elements that are holding your page's performance back
Did you know? In addition to content-related ideas, the On Page SEO checker proposes technical fixes as well as recommends how to target SERP features, which secondary keywords to include, and where to get backlinks from.
The On Page SEO Checker and SEO Content Template tools function using "SEO Ideas units". Each target keyword you input into one of these, will count as one SEO Ideas unit. 
Free accounts come with only 10 units in total for the two tools. 
You're allowed to:
Create one SEO Content Template

Set up one On-Page SEO Checker campaign
So, you can use the 10 units (keywords) however you prefer across your On Page SEO Checker campaign and SEO Content Template.
Example: If you create an SEO Content Template targeting a single keyword, the number of SEO Ideas units you have for your On-Page SEO Checker campaign would now be 9. 
If you now want to use the SEO Writing Assistant, it will provide recommendations for the keyword specified in the SEO Content Template.
If you find yourself stumbling on the block of these account limitations, consider a free trial. This will allow you to use Semrush to its full potential for free for
Explore Free Apps
Once you have a free Semrush account, you can explore the Semrush App Center.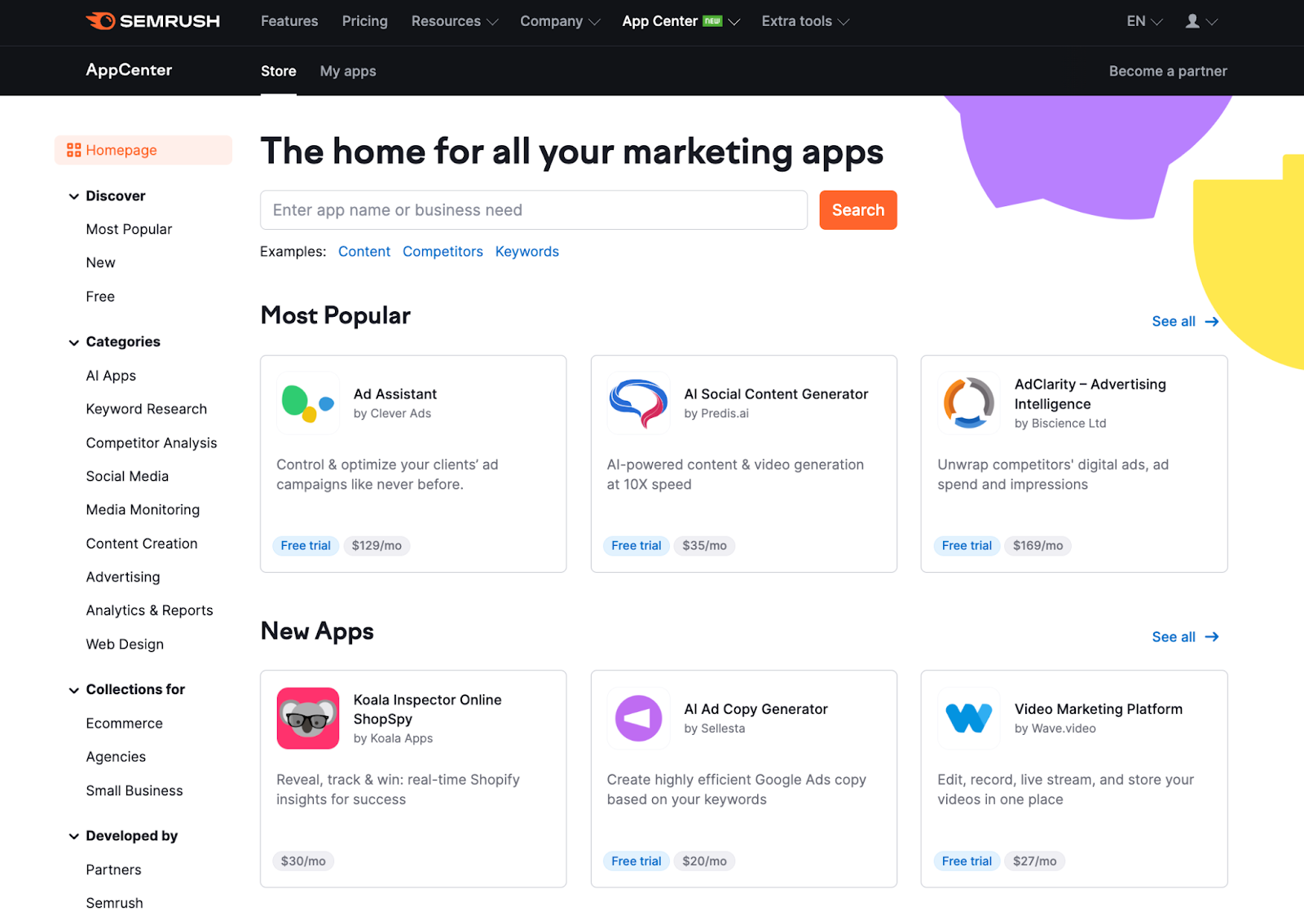 This is our marketplace of specialized marketing apps, featuring both apps built by Semrush and by our trusted partners. 
While most apps offer free trials and limited free-level access, you can also find several apps that are totally free to use, including:
Then, every other app that has a monthly subscription cost either offers a free-level with limitations or a free trial period to test out the features of the app. 
So, what can you do with these free apps?
9. Detect AI Content & Plagiarism 
Open the Plagiarism Checker and paste any piece of content that you'd like to check for signs of AI-generated writing or plagiarism. 
After pasting your content, you'll get a report with the text's likelihood of plagiarism, AI-written content, readability, reading time and any grammatical errors.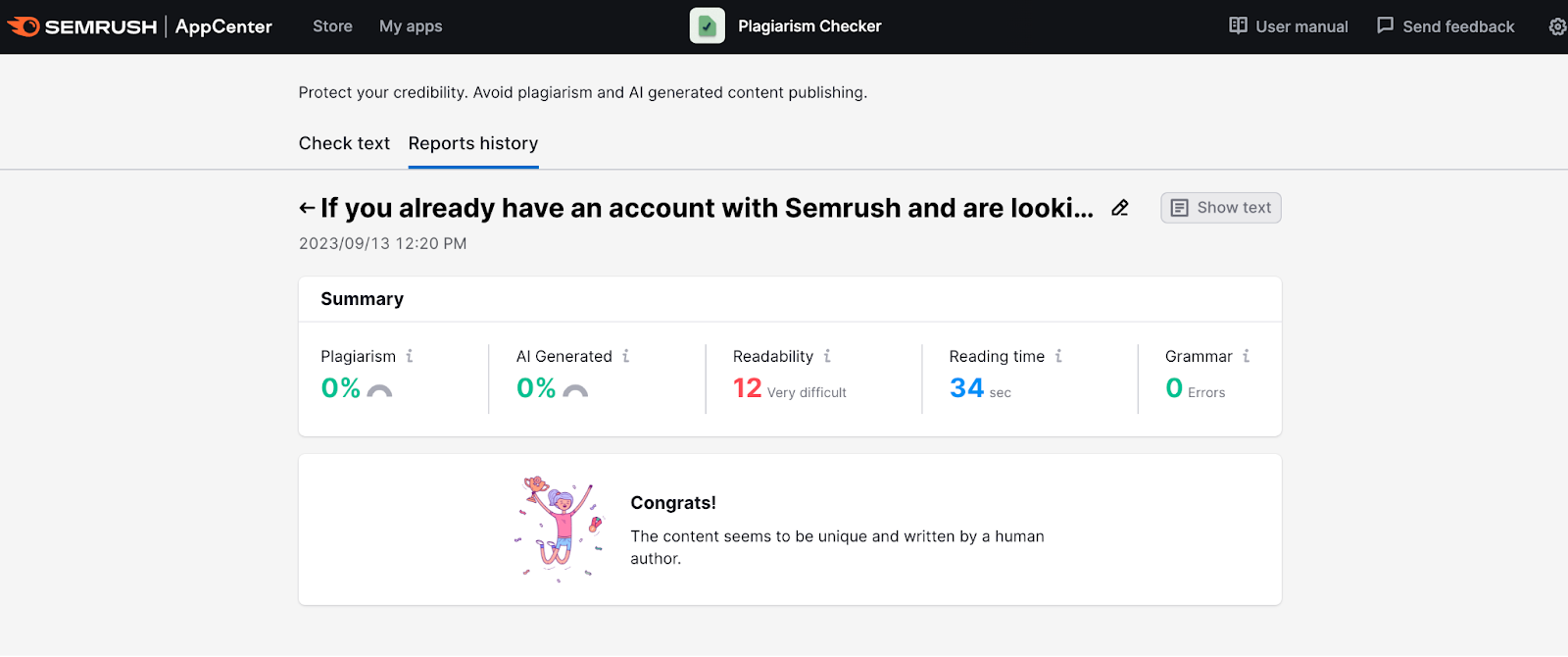 In a world with a growing use of AI tools to generate content, you'll want a way to detect AI at your disposal. 
10. Check Your Website's Speed & Accessibility 
To check your site's speed and accessibility, just enter the URL into the Website Checker app. 
You'll get a report within two minutes detailing your site's performance. There will be a total score, which is the summation of the checks on performance, accessibility, best practices and SEO.
This report will help you understand if any improvements need to be made to make your site accessible and optimized for search.
11. Create a Buyer Persona 
Marketing is all about knowing your audience, and the Semrush Persona Builder helps you document your audience personas for free. 
This tool offers pre-made templates so you don't have to start from scratch. Choose your template, start adding details, and customize with your own tiles.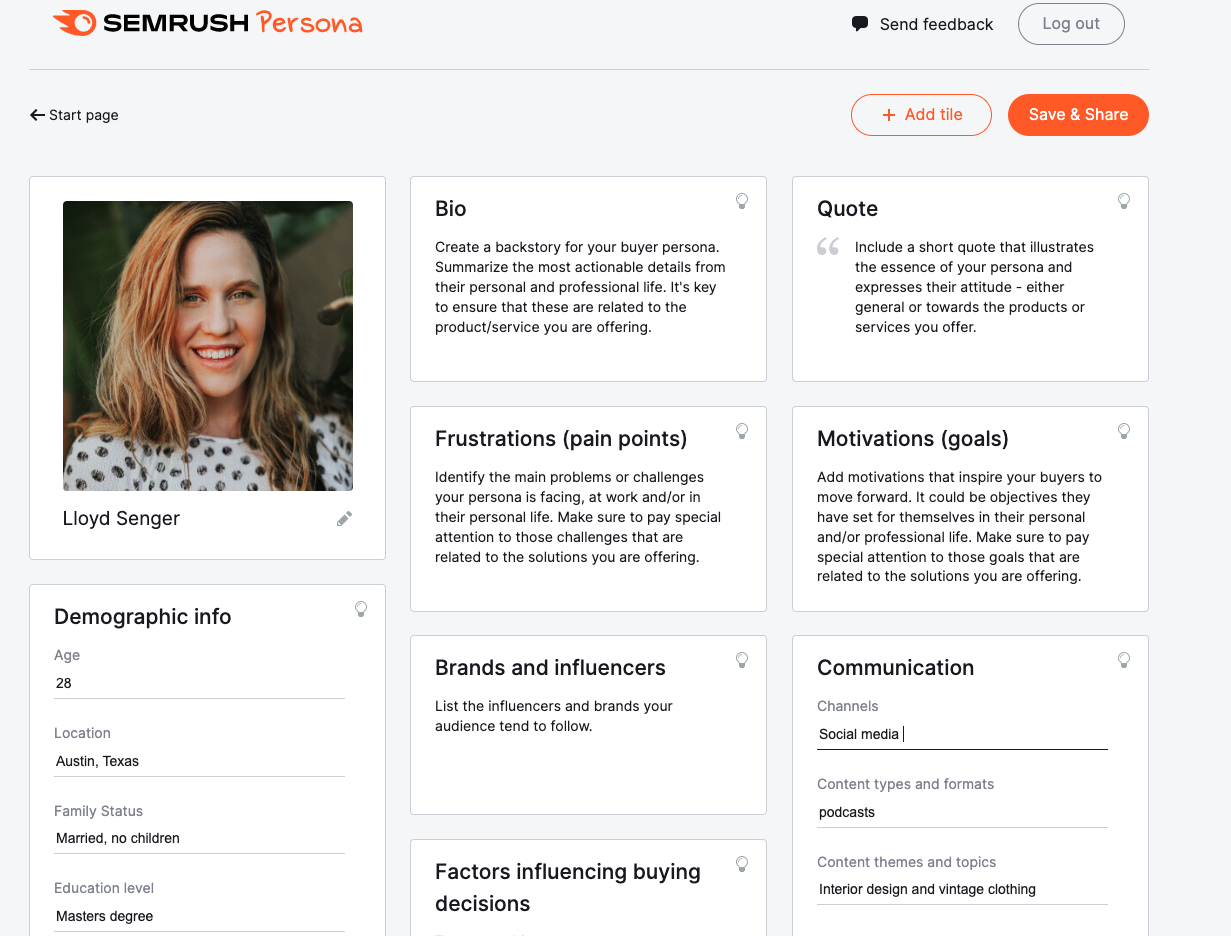 Add details about your ideal customer's demographics, frustrations & motivations, and more into a shareable document for your marketing team. 
12. Generate a Custom Email Signature
One more free app you can take advantage of is the Email Signature Generator. This can give you and your team a professional look with uniform email signatures that stand out.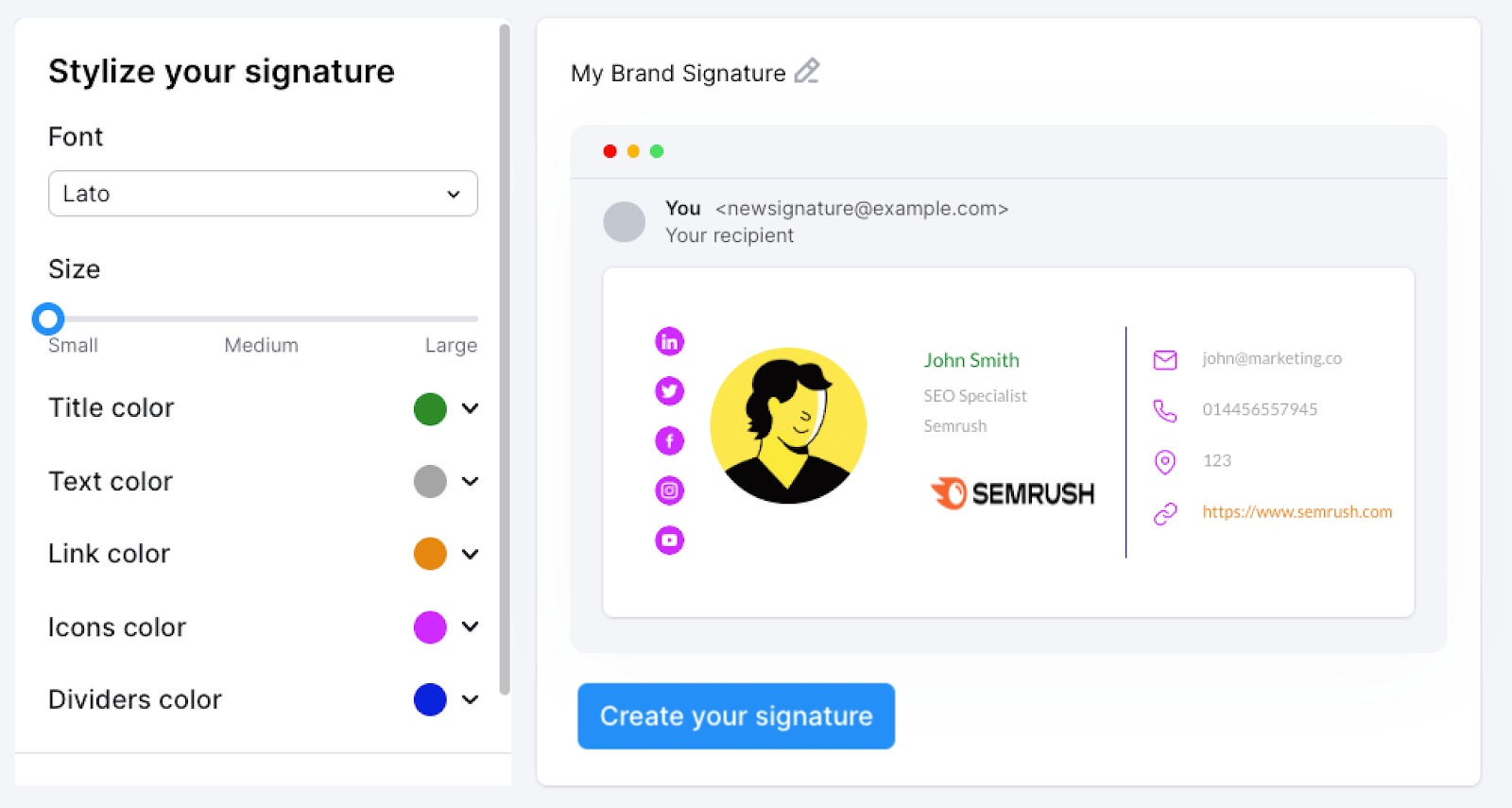 Customize with personal details, business details, and style to make it your own. 
How Else You Can Use Your Free Semrush Account 
Audit your website backlinks and identify those that can hinder your performance

Identify opportunities for link building

Plan and monitor a link building campaign

Track the search performance of specific content pages on your site 
In all the above cases, your limitations with a free account mean you can use the relevant tools for a limited scope of work.
The above should give you a good idea of what goes into a free Semrush account. You may decide that a free-level account works for you, even if it means limiting your resources. 
If you are interested in the paid options Semrush offers, check our pricing page for more information. 
FAQs
Do I need to add banking details in order to create a free account with Semrush?
No. All you need to do is set up your login details using your email address. You cannot use the same email address to set up multiple free accounts. 
When does my free account expire?
Free users can use Semrush for free for as long as they want. You will not be asked for your bank details and you will not get charged for using the tools available to free users.
Why can I not use all the tools I see on the side navigation?
If you're a free user you cannot use all the tools available on the platform. We do not "hide" features or tools from our interface depending on subscription levels, however based on your subscription level you may not be able to access some of these. 
Why does it say I have reached my daily limit for a tool I haven't used yet?
When using a free account, the limits to daily credits and/or the SEO Ideas units you can use are shared amongst different tools and projects. As a free user you can use:
Up to 10 credits in total (per day) across these tools:

Keyword Research

: Keyword Overview, Keyword Magic Tool

Competitive Research

: Domain Overview, Organic Research, Backlink Gap, Keyword Gap

Link Building

: Backlink Analytics

Advertising

: Advertising Research, PLA Research 

Up to 10 SEO Ideas units between the SEO Content Template and On Page SEO Checker

You can set up one project, which gives you access to the tools under "Projects" (e.g. Site Audit, Position Tracking, On-Page SEO Checker etc.)
Note: Think carefully before deciding which keywords you'll use in the SEO Content Template, SEO Writing Assistant, and On Page SEO Checker, as well as which domain you'll use to set up your project. 
I'm a free Semrush user. Can I export my data into reports?
Yes. You can create one PDF report within the My Reports section with your free account. You can schedule this to be sent out on a daily, weekly, or monthly basis. 
I want to cancel my paid subscription. Can I still use Semrush for free?
Yes. If you cancel your paid subscription with us your account will automatically be turned into a free account.